Before we dive into our 10 best affiliate woocommerce wordpress plugins article, it would be helpful for us to first look at the heart of affiliate marketing. Basically, it's your key to entering the world of online selling without the need to develop products, manufacture those products, keep inventory, and worry about processing sales. As an affiliate, all you worry about is selling and earning a commission on your sales while others take on all of the other responsibilities.
It's also a way to multiply your sales as your build your team of affiliate marketers. Like you, they will focus on selling and earning commission but their focus is only on selling what you are offering.
WordPress with WooCommerce is gaining popularity
If you consider usage as an indication of which platforms are best then there is little doubt that WordPress with WooCommerce is the platform of choice. If you then consider the ecosystem of plugins that add enhanced features, once again this combination holds a dominant position in the market.
Consider the following two charts:
For more detailed information check out BuiltWith's CMS statistics. They also have detailed statistics on E-Commerce platforms.
While there is some variance in the reporting, WordPress is the platform of choice for 27+ million currently active websites, and more than 3 million of these are active e-commerce sites. Check out this article to get a closer look at the CMS landscape.
When it comes to e-commerce, WooCommerce dominates to an even greater extent.
As an additional measure of the dominance of these two platforms, combined they have 55,000+ plugins that help extend their features dramatically. This is where Affiliate WooCommerce plugins come into focus.
Why Affiliate Marketing?
If you are new to the world of Affiliate Marketing it may be helpful to think about it like a thrift shop or consignment shop. The shop owner doesn't own any of the products being offered. They simply display them for others and earn a commission on each product that sells.
In the online world, affiliate marketing works much the same way but your product owners are nearly limitless, as are the number and types of products you can present for sale. Like in the consignment shop, you earn a commission on each sale but unlike the consignment shop, you have practically no overhead to deal with. All you need is a site and your marketing expertise, and the rest is taken care of by the likes of Amazon, eBay, AliExpress, Envato, and others.
You can have a look at this article by Maria Eves – Why Do Affiliate Marketing As A Business – for a deeper look into what this is and why you should be diving into affiliate marketing.
If you're already actively selling online there's a good chance you understand the true value of affiliate marketing. You may already be involved or at least be seriously considering how to take advantage of affiliate marketing.
You'll also understand the power that lies in the combination of WordPress and WooCommerce. This combination of tools makes it simple to set up any type of online store, manage products and inventory, track sales, handle fulfillment, and more.
Now add Affiliate WooCommerce Plugins that extend the power of these tools and you are ready to conquer the world. You don't need a degree in computer science either. You don't need any significant technical background. You have the advantage of being able to focus on managing your business while the combination of WooCommerce, Affiliate WooCommerce Plugins, and WordPress keep things running smoothly.
What is the biggest challenge in affiliate marketing?
One of the biggest challenges in affiliate marketing is keeping track of your earning and the earnings of your affiliates. This requires direct and consistent communication between you, the product owner, and your affiliates to ensure orders are properly processed, credits are applied, and earnings are paid out. Affiliate WooCommerce plugins exist to meet these challenges and more.
How do affiliate marketing plugins help site owners?
How these plugins accomplish this isn't magic. Primarily, affiliate WooCommerce plugins create dynamic links between your site and the product owner's site. This helps ensure you are making the right offers to your audience and that you get full credit for the sales you generate.
A common element across all of these affiliate WooCommerce plugins is the fact that they all automate the connection between your site and Amazon, especially for dropshipping. They also support both direct sales through your site and support for your affiliates so they can earn too.
You could accomplish affiliate marketing without a purpose-built plugin but it will be a lot like going into battle blindfolded. You might get lucky and win a few battles but it's far more likely that you'll suffer some potentially crushing defeats. Affiliate WooCommerce plugins open doors, automate processes and allow you to stay focused on the marketing, and with the right plugin, you'll get help with that too.
About Affiliate WooCommerce Plugins
In the world of Affiliate WooCommerce Plugins, there are 111 active plugins in the WordPress library. These are a mix of fully functional affiliate marketing tools, mixed with tools that provide specific support for particular marketing and sales functions.
We've sorted these out to find just those tools that offer complete support in affiliate marketing and then sorted through that list to determine which offers the most bang for your buck.
What remains are 10 Affiliate WooCommerce Plugins that give you all that you need, that are actively supported, have a sizeable and growing user-base and are available at a price that delivers value for money.
They are listed based on a combination of star rating and the number of reviews they've collected, ordered from the bottom up, but that is just to apply some measure of logic to this list. The fact is, every one of these 10 plugins will help you find real success in the world of affiliate marketing so review them, ask questions, and find your favorite.
10 Best Affiliate WooCommerce WordPress Plugins:
3-Star – 134 Sales – 55 Comments
This affiliate plugin is specifically geared toward selling eBay listed products. It integrates product listing from eBay into WooCommerce.
You'll be able to import specific products, all of the products offered by a specific seller, or just those products that match a specific category.
When sales occur that data is delivered directly to the seller's eBay account so they can credit your commission and complete the fulfillment process.
This plugin, while still fully functional, has not had a major update since November of 2011. However, once installed WordPress will prompt you to apply updates that will bring it into full compliance with the latest versions for WordPress and WooCommerce.
Take some time to review these two live demos – Front and Back End – to get a good feel for how this plugin works.
Based on the messages posted and the responses, this plugin is still actively supported and it does remain available in the Codecanyon WordPress plugin library.
3-Star – 121 Sales – 55 Comments
This offer makes it on our list because rather than being just an affiliate WooCommerce plugin solution, it is a bundle of plugins and a theme in one package. That means that right out of the box, this has everything you'll need to set up a fully functional affiliate marketing site quickly and easily.
With each of the affiliate plugins (Amazon, eBay, and Envato), you can target and import products directly, based on a wide variety of search factors. These product entries are automatically maintained so you are always certain that you're offering the right products at the right price, and you'll be getting full credit for your sales across all of these platforms.
One of the things we like about this bundle is the integration of Amazon search into the front-end. This allows you to earn on any product offered by Amazon when your visitor simply uses your site to search for what they want. It's a great way to take what might have been a lost sale and convert it into a live selling opportunity.
Like our #10 pick, this one hasn't delivered a major update for a while. The last major release that's available in the plugin store dates back to August 2020 but it is also being actively supported and through the WordPress dashboard, it is receiving regular updates that are keeping it current.
Review this bundle and you'll find specific information about each of the included elements. The included theme also provides a live preview using their Bravo Theme. Click here to learn more.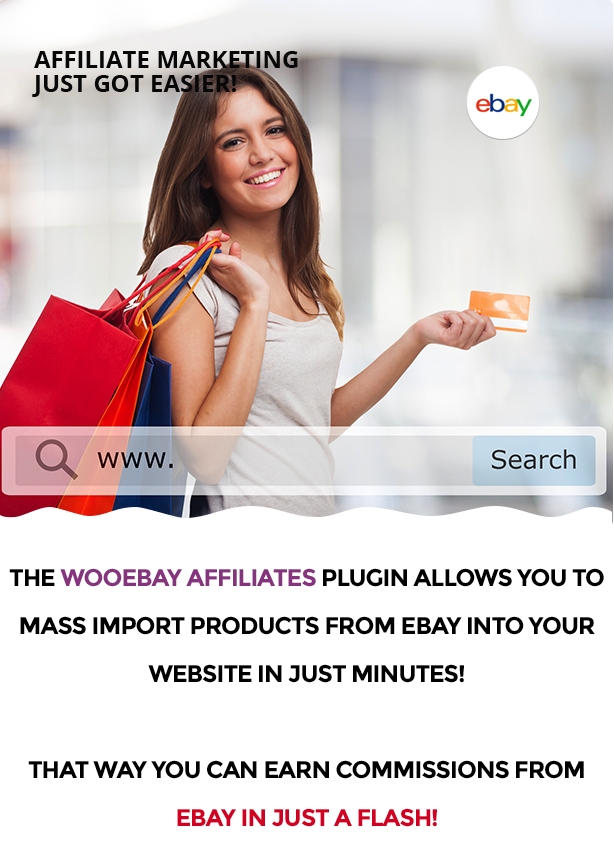 3.5-Star – 233 Sales – 80 Comments
eBay was one of the first online platforms that focused on attracting affiliates and they are still aggressively working to attract and support affiliates with commission formulas that reward revenue generation. All you do is send traffic and they track how much that traffic spends and as that number grows, the percentage of that revenue that you earn also grows.
This plugin focuses on automation, starting with one of the fastest and most powerful import tools on the market today. You can focus on specific categories or grab everything on a "Best Sellers" or "Top-Rated" list and import them all in one pass. If you have a specific list of products you'd like to grab just input a list of ASIN instead.
The other nice feature in this plugin is the automated content spinner that helps you create unique product descriptions for everything you sell. That will help your listing shine above all those that simply copy what is already in eBay and it offers you the opportunity to adjust your keyword focus.
Check this out for a live plugin preview.
Like all of the top affiliate WooCommerce plugins, this provides advanced search capabilities and automated synchronization that ensures your listings are kept up to date. You'll also find that you can target by geography with multiple eBay country accounts and you'll have multiple reporting levels that will ensure you can keep track of all of your results.
They have not updated the web store version of this plugin since November 2017 but they have been keeping it up to date within WordPress and WooCommerce. Chats also indicate that the developer is actively supporting this plugin.
3.5-Star – 725 Sales – 339 Comments
This is the first affiliate WooCommerce plugin on our list that fully supports multi-level marketing. It is also the first that does not link directly with any other product platforms so there is no automation with Amazon, AliExpress, or anyone else. You'll need a separate plugin to deal with that functionality.
What this does do is allow you to build and manage a network of affiliate marketers and manage each of those members very effectively. This means you'll have support starting with the registration of each new affiliate, you'll be able to control how their affiliates are added, you will control the levels at which each affiliate earns as they add members to their MLM hierarchy, and it is tightly integrated into WooCommerce so everything is controlled within that environment.
The plugin also supports direct buyers, with the advantage of being able to upsell them into an affiliate membership, again, with full automation.
Commissions are set at various levels and by product category too. So, decide how deep commission earning can go and how much is earned by product or product category.
You'll find a live preview here.
The last time this plugin was updated on the marketplace was back in November of 2020 but it has been updated since directly within WordPress and WooCommerce. It is also being actively supported through chat and a support ticket system.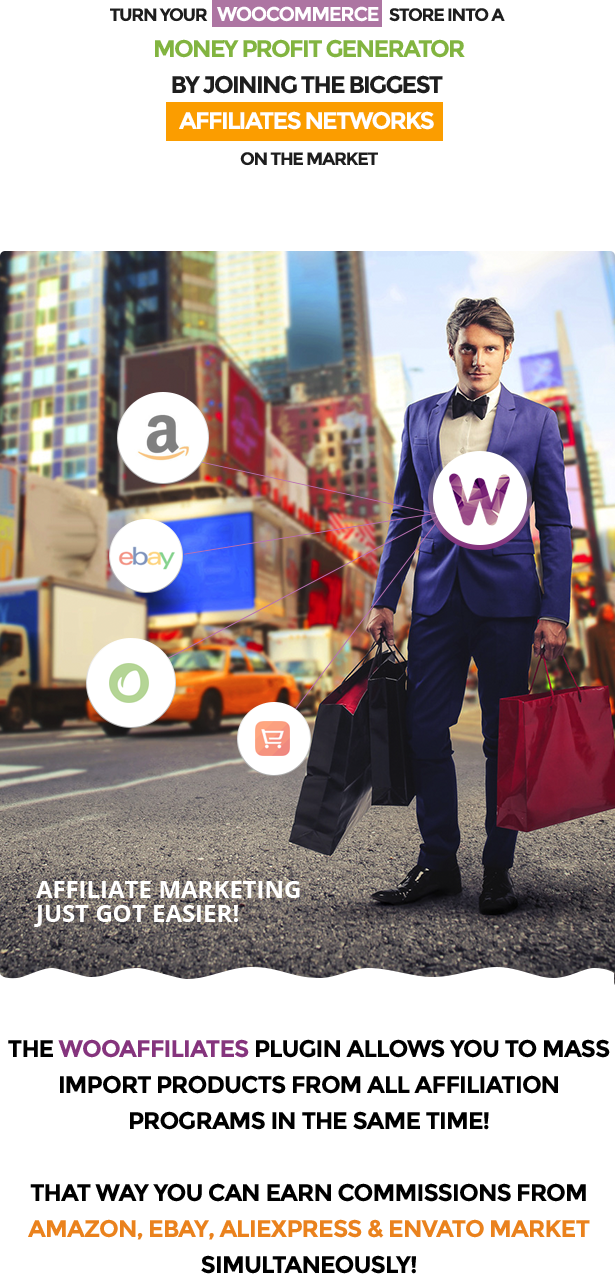 3.5-Star – 576 Sales – 294 Comments
With all of the major affiliate marketing sites included, this affiliate WooCommerce plugin is one of the most complete products available. It integrates directly with Amazon, eBay, AliExpress, and Envato, making this an all-in-one affiliate marketing solution with the opportunity to earn simultaneously on all of these platforms.
It provides a mass import function that will grab products from all of these platforms and load them into your store in a single pass and without any unique encoding requirements. The process is billed as insanely fast too so you can be up and running in a flash.
If this sounds at all familiar, this is from the same author who made our list with WooeBay, so you'll find all of the same functionality here. It just gets extended to include all of the major platforms rather than just one.
This is also bundled with a fully functional WordPress/WooCommerce theme so out of the box, you have everything you need to be your affiliate marketing adventure.
With the theme included, you'll find a live preview here.
Like its smaller cousin, this hasn't been updated on the CodeCanyon site for a while. The last time a new version was posted there was in January of 2018. It is being actively updated within WordPress and WooCommerce and it is being actively supported through chat and support ticketing.

4-Star – 188 Sales – 111 Comments
This is another in the affiliate WooCommerce plugins offered by AA-Team and is built on the same code platform as WooeBay and WooAffiliates. The only real difference is that this version is focused on helping you sell any of the 9 million+ products available in the Envato marketplace, and that includes this plugin.
It includes all of the same functionality we like with the others, including advanced search, quick item import, SEO Content assistance, and full compatibility with WooCommerce. Also, and like the other plugins in this product line, it is packaged with a fully responsive theme that makes the entire setup process a breeze.
Additionally, this plugin and the packaged theme is integrated with WooCommerce Advertise and that makes it easy to advertising widgets and banner across your wordpress site to bring great focus on specific product and offers.
The included theme and plugin can be previewed here.
The last major update to be loaded onto the CodeCanyon store dates back to November 2017 but like all of the others in this product line, it has been consistently updated within WordPress and WooCommerce. It's also being actively supported through chat and with support tickets.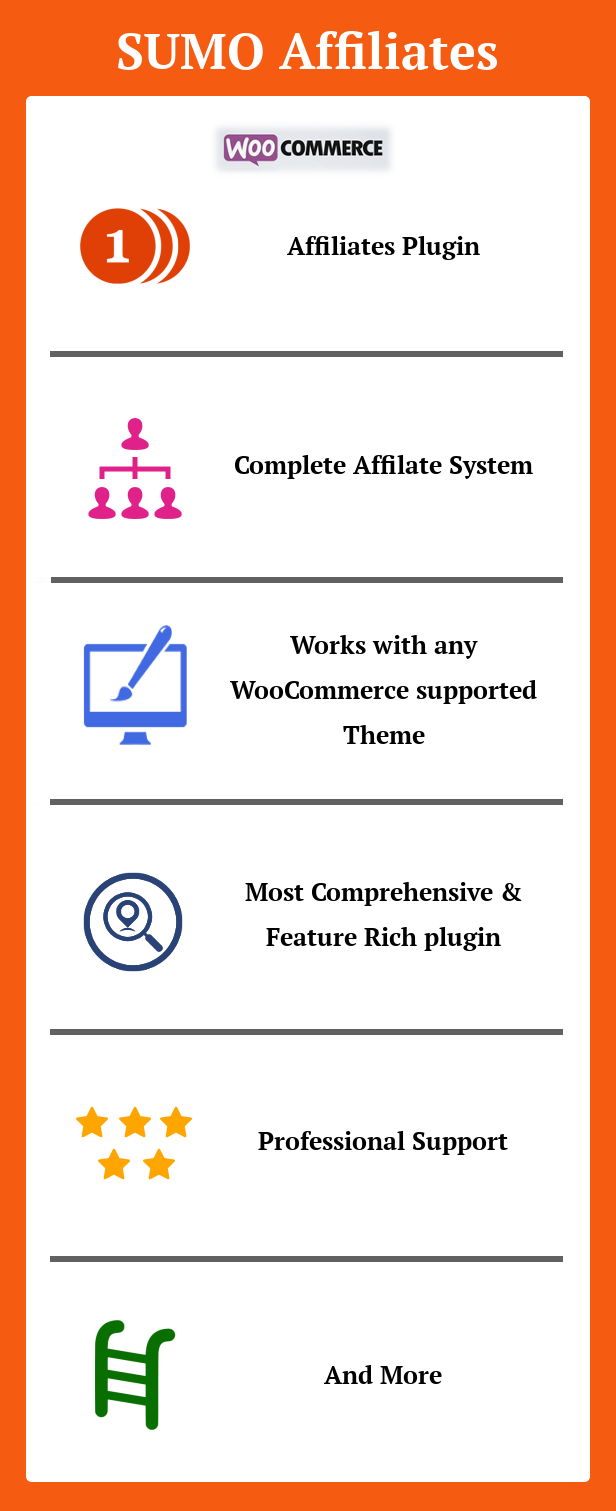 4.5-Star – 535 Sales – 217 – Comments
Let's start with what this isn't. This isn't an affiliate WooCommerce plugin designed to capture products from other affiliate platforms and integrate them into your online store. For these features, you'll need a different plugin.
What this is, is a fully functional affiliate management system that gives you the tools you need to build and manage a network of affiliates for most any type of product and most any form of MLM program.
This includes functionality to support signups, to track individual member performance, to develop and manage hierarchical affiliate structures, and to manage the accruing of commissions and the automated payout of those values. The plugin provides control panel support for each member as well so they can effectively manage their downlinks.
In addition to being tightly integrated with WordPress and WooCommerce, it's also fully functional with WPML so your network can be supported across a wide range of languages.
The most recent update to the CodeCanyon store was in August of 2020 but with regular updates, it is fully compatible with the latest versions of WordPress and WooCommerce. It is also being actively supported through chat and their online ticketing system.
Check out the live demo here.
5-Star – 62 Sales – 21 Comments
First, this 5-star rating alone may not offer a particularly accurate picture of this item's value. Just 3 reviews are accounting for this perfect rating. We include it here based on the comments, all of which are very positive. So, even though they haven't all given an actual rating, they certainly seem to be loving this affiliate WooCommerce plugin.
As the name suggests, this plugin is focused on Amazon. It offers full support for Amazon affiliates where you have your affiliate API key and where you are then earning commission directly from Amazon. But this is just one of the ways you can earn with Amazon.
You can also use this plugin to take advantage of Amazon's drop shipping functionality. Just grab the products you want to offer using this plugin and then price them according to your unique market. You'll automatically pass that order through Amazon and have them drop ship on your behalf.
That gives you 2 great ways to earn with this affiliate WooCommerce plugin and with far less hassle than you'll encounter with many other plugins. This can be especially helpful when you want to offer products in Amazon countries where you may not have an account set up.
The latest version of this plugin is currently available on CodeCanyon and it is being actively supported there as well. It is fully compatible with the latest versions of WordPress and WooCommerce and integrates seamlessly into any WooCommerce compatible theme.
You can browse through a front-end demo and back-end demonstration video here.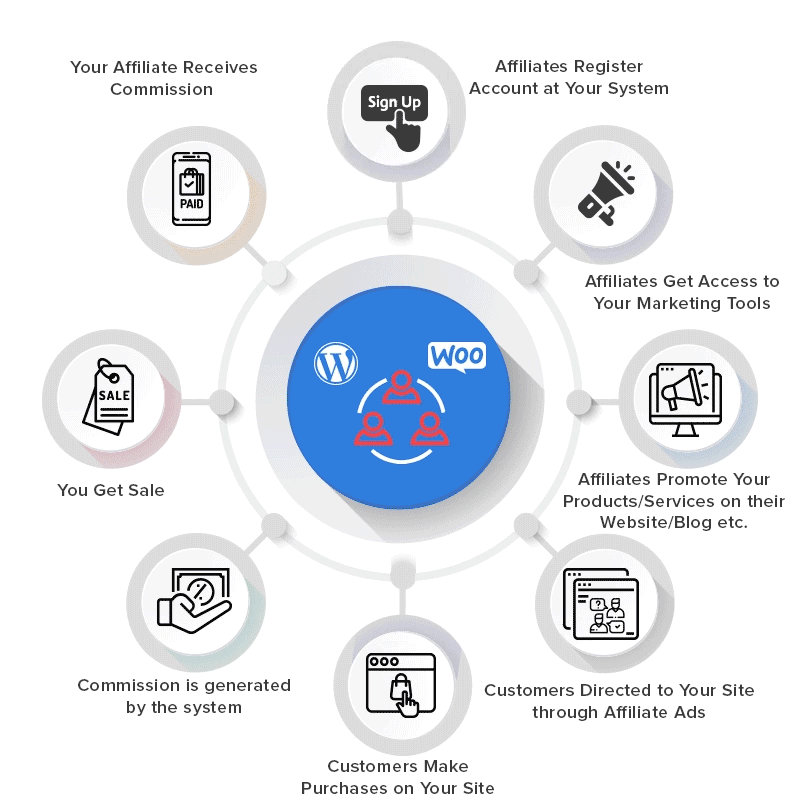 5-Star – 798 Sales – 345 Comments
With 68 reviews and an overall average of 4.85 stars, this affiliate WooCommerce plugin comes very close to perfection for those looking to build a robust network of affiliate marketers. This is not a tool for gathering products from platforms like Amazon though. For that, you will need a different plugin.
If you are a network marketer looking to build an effective network marketing team this plugin automates all of the key features you are going to need. This includes marketing support, signup, hierarchical development, and tracking. Earning allocation and payout, product marketing across your affiliate network, and a full range of reporting so you can keep everything in focus.
This product also gives your affiliates access to your marketing tools so they can enjoy success as they build their downlinks and sell the products that will result in commission earnings.
On the MLM side of this plugin, you can define the natural structure of your network so each member can have one or more affiliate members based on your setup choices.
The latest version of this affiliate WooCommerce plugin is currently available on CodeCanyon and it is fully compatible with the latest versions of WordPress and WooCommerce.
Explore their live demo here.

4-Star – 31,246 Sales – 7,132 Comments
This is, by far, the most widely used affiliate WooCommerce plugin in use today and despite others that have higher ratings, it is why we've placed it here on our list. With so many active installations, combined with a well-regarded developer in this space, it has earned this #1 position.
This plugin includes so many features it would be hard to cover them all in just a few paragraphs but some of the keys revolve around the tight integration with Amazon around the world.
You will be able to easily identify products or groups of products and import them directly into your WooCommerce shop and then just as easily keep them updated. This includes all of the images, full descriptions, pricing, and shipping options.
It also includes some of the most advanced reporting features of any plugin in this category. By tapping directly into the advanced reporting features Amazon already provides, this feature makes all of that available directly within your WordPress control panel. That means you can assess performance and make adjustments without having to bounce between WordPress and Amazon.
This also integrates with Product Advertising API so you can get the most from drop shipping too. That doubles your opportunities for earning with Amazon with this one plugin.
This is not an MLM support plugin. If you are interested in building an affiliate network, you'll want to consider some of the other affiliate WooCommerce plugins we've covered above.
The latest version was uploaded to CodeCanyon in October of 2020 and additional updates have been delivered within WordPress and WooCommerce. This plugin is also being actively supported through chat and with their ticketing support system.
This live demo is found here, and it includes examples using a wide array of available themes.
In Summary
So, there you have it, 10 of our best Affiliate WooCommerce Plugins, covering all of the leading online shopping platforms and providing support for direct product sales and network marketing management. Most are easy to use and install and all will open the door to affiliate marketing and all of the very real benefits associated with becoming an online seller on these platforms.
I use a combination of WooAffiliates for product integration and SUMO Affiliates to manage my affiliate network. I find that combination provides all of the tools I need to achieve my goals with a minimum of hassle and just the right amount of control over the nuts and bolts, but that's just me.
Take a close look at these affiliate WooCommerce Plugins and select your tool or combination of tools. To nurture your affiliates you may also consider using Newsletter plugins to net them. As affiliates are self employed, whenever they face obstacles, it would be best if you have an online community with a forum where affiliates can share information and help one another out. Should you be running a global business with customers around the globe, thanks to your affiliates, it will be good to look at currency switcher plugins to make checking out a breeze for your paying clients.
Start enjoying the very real potential of affiliate marketing and let us know how it goes. You could well discover new ways of creating success that we'd be thrilled to hear about. If the 10 best woocommerce affiliate plugins that we have curated here is not a good fit for you and you have more energy to review other plugins, you can check out other reviews from Cloudways, Helpiewp, and envato.