Are you finding an effortless way to customize your wordpress site without any programming skills? This is where drag and drop wordpress page builders are the solution, for anyone without coding experience to build and customize their wordpress site in their desired way.
In this post, we compare the best drag and drop wordpress page builders and how useful they are to help you build your wordpress site with a professional appearance, in an affordable way.
Why Use a Drag and Drop WordPress Page Builder Plugin?
When starting a wordpress site, most beginners face the common obstacle of changing and customizing their wordpress page layouts, widgets, headers and footers, especially the homepage. When you apply a wordpress theme, be it a premium or a free theme, most of the time beginners are not able to properly make use of them, without any coding experience.
This is where drag and drop wordpress page builder plugins solve the problem for beginners/non-coding users. As simple as the wordpress page builder is, it allows you to use drag and drop action to build your website, literally just drag and drop the icons, buttons and everything that you need.
It is one of the main reasons why many users switch from wordpress to Wix or from wordpress to Square and many more providers that embed inbuilt drag and drop functions.
Page builder plugins allows you to easily move, customize and arrange content via what they call modules or blocks into the page. What you see in page building mode is what visitors see – 100% exactly the same. For your homepage, you might want it to look different from other pages, differentiated by unique layouts or widgets – this is exactly what a page builder does. No coding or programming skills needed at all. You can save tons of money on hiring developers or coders to build your site.
Not only beginners use wordpress page builder plugins, agencies and advanced users also are avid users of these plugins. This is because the coding of web pages take up much more time than drag and drop function, hence agencies and advanced users can now increase their website creation speed and iteration speed for clients. This results in more earnings for them as they can take on more jobs in customizing and building wordpress sites in double quick time.
Since its such a great innovation or invention to the wordpress realm, there are also many types of wordpress page builder plugins available. In this post, we curate and compare the best wordpress page builder plugins so you can easily evaluate which one suits your needs best.
In curating and comparing these wordpress page builders, we evaluate using these 3 criterias: how easy it is to use, how flexible the plugin is as well as the final design appearance. So now, lets jump in and check out some of the best page builder plugins for wordpress that you can use.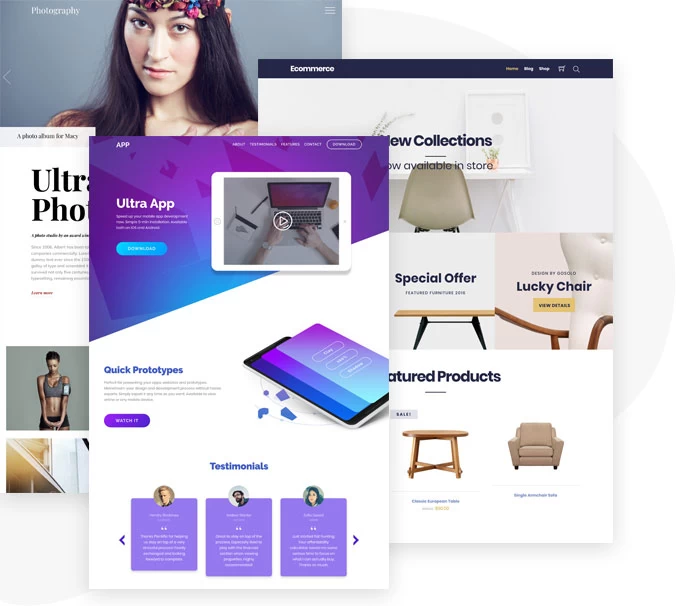 The first in our list is Themify. It is first and foremost a popular WordPress theme shop that offers built-in Themify builder that works with all of their WordPress themes. If you are using other WordPress themes (non-Themify themes), you can use the Themify Page Builder plugin.
This page builder plugin is pretty simple yet highly intuitive as it comes with quite many "ready to use" blocks/modules that you can easily "drag and drop" add to your posts or pages. Several of these modules however may need you to download individual WordPress plugins to work.
The Themify plugin has more than 40+ pre-designed layouts for various businesses and industries such as your work out niche type of gym, food and beverage restaurants, personal blog or professional portfolio, audio and music, ecommerce and online stores as well as niche in photography. This means its kind of a multipurpose page builder plugin with presets available, saving you quite a lot of time customizing layouts to your specific niche.
You can easily import layouts with the click of a button, alter, remove and replace content, and create a professional, attractive web page in just minutes, depending on your desire.
Themify Builder brings convenience to the forefront as it allows you to edit your posts or pages directly from the admin area, of course also when you are viewing your wordpress site 'live'. With this 'live' editing feature, it increases productivity by a huge margin as you get to visualize exactly how your edits affect the final outcome, real time on your website.
In addition, you can find ready-to-use layouts from Themify Builder to apply to your posts and pages.
Pricing wise: It costs $39 For the Builder Addon Bundle while the core plugin is free for download.
Evaluation: Themify Builder is a convenient and 'multipurpose' page builder plugin for your WordPress site. While this page builder delivers convenience with its ready to use layouts, you may need to spend some time on it to get familiar with it.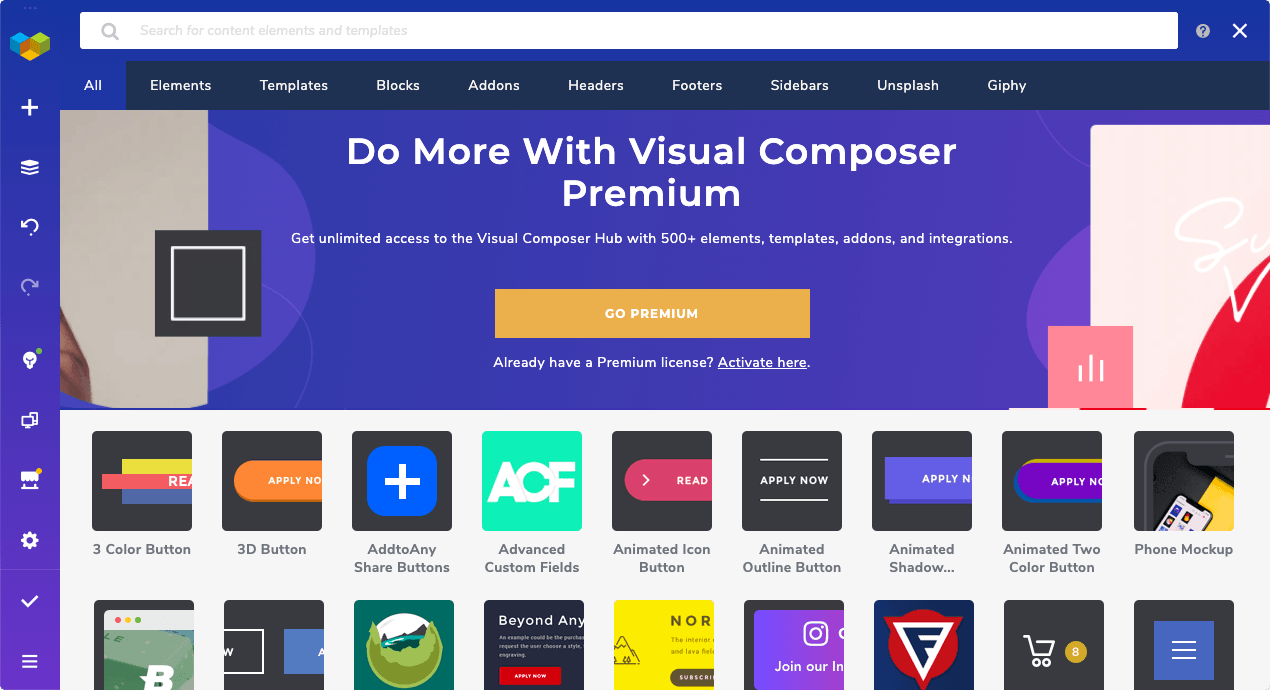 Next up, we have Visual Composer Website Builder. This page builder is quite a user-friendly WordPress website editor that empowers you to build and customize website layouts very quickly – great for agencies and solopreneurs with complex sites to create or businesses to support.
This builder has a simple drag and drop feature, a host of professional ready made templates, innovative content elements and a variety of well thought out features for user to build a website.
Similar to Themify Builder, this plugin also empowers you with real-time frontend editing function to customizing your webpages. On top of that, the Visual Composer builder differentiates itself from the rest by allowing the entire customization of a page including logos, menus, headers, footers, sidebars, widgets etc.
This powerful feature alone makes it not just a page builder, but essentially a website builder.
When it comes to making changes or edits to the appearance of any element on your page, you can easily drag and drop attractive backgrounds such as carousel, gradient, parallax, slideshow, zoom in/out, video and other elements. Not only that, this powerful website builder also provides options for creating all types of grid layouts on your page, with flexible rows and columns to your desire.
What happens when you decide to upgrade or change your wordpress theme? With Visual Composer, you can change your themes without trading off the customization hard work on layouts as it works well with all wordpress themes. This is a pretty good safeguard and insurance.
Integration wise, it works well with the new wordpress Gutenberg editor, even with other plugins such as Yoast SEO etc. The Visual Composer Website Builder exudes professionalism and thoughtfulness, as the plugin solves a problem of helping your website stay color palette – consistent, by reminding you of the palette used previously as you build other pages.
Pricing wise: It costs $59 for a Site License.
Evaluation: Visual Composer is not just an awesome page builder plugin for beginners to start their wordpress site, it is also for advanced professionals with plenty of pages to design and customize. It simplifies what is needed to make a website look professional almost effortlessly. With the real time frontend drag and drop function, non coders can also make a professional website since customization is now made possible for anyone. The one potential downside is that users might have a steep learning curve getting familiar with the editing interface.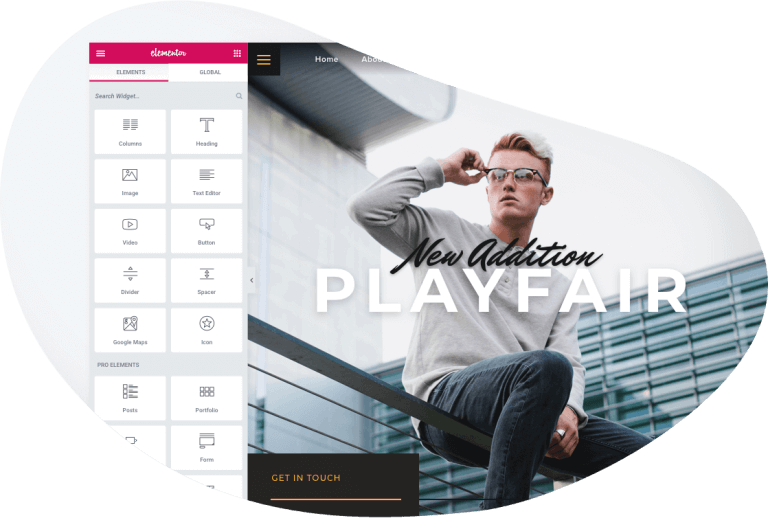 The third in our list is the Elementor drag and drop WordPress page builder plugin.
Similar to the two above plugins, you edit your pages 'live', so what you are editing is 100% what you will see live on your site. In Elementor, the interface is very user friendly, no video tutorials are needed to get started. It is very intuitive whereby you drag elements such as sections and columns from the left to the right.
Elementor comes with plenty of ready to use widgets and website elements, such as html, forms, call to action buttons, quotes and much more with their premium versions. It will also allow you to add widgets created by other WordPress plugins.
You can either start from scratch and build your layout from a blank state as you can customize the headers and footers, literally anything you see on the page or insert templates that are ready for use.
This page builder plugin has tons of ready-to-use templates that you can insert into your wordpress site. After inserting template, you can easily remove and/or replace the content or sections you wish to. If you like certain layouts that you have designed and wish to reuse them on other pages or even other sites you have, simply save them as a template and insert them into the relevant pages or sites.
Pricing wise: It starts from $49 for a site license.
Evaluation: Elementor is a very popular page builder plugin for millions of WordPress users, because of its easy to use interface. On top of that, it as an extensive addon/extensions ecosystem, with elementor addon and essentials etc. With plenty of ready made templates as well as blocks, creating a beautiful website can be done by anyone. Some of the less than ideal feedback for this plugin is that due to code output not being very efficient, elementor sites may experience a slower loading speed.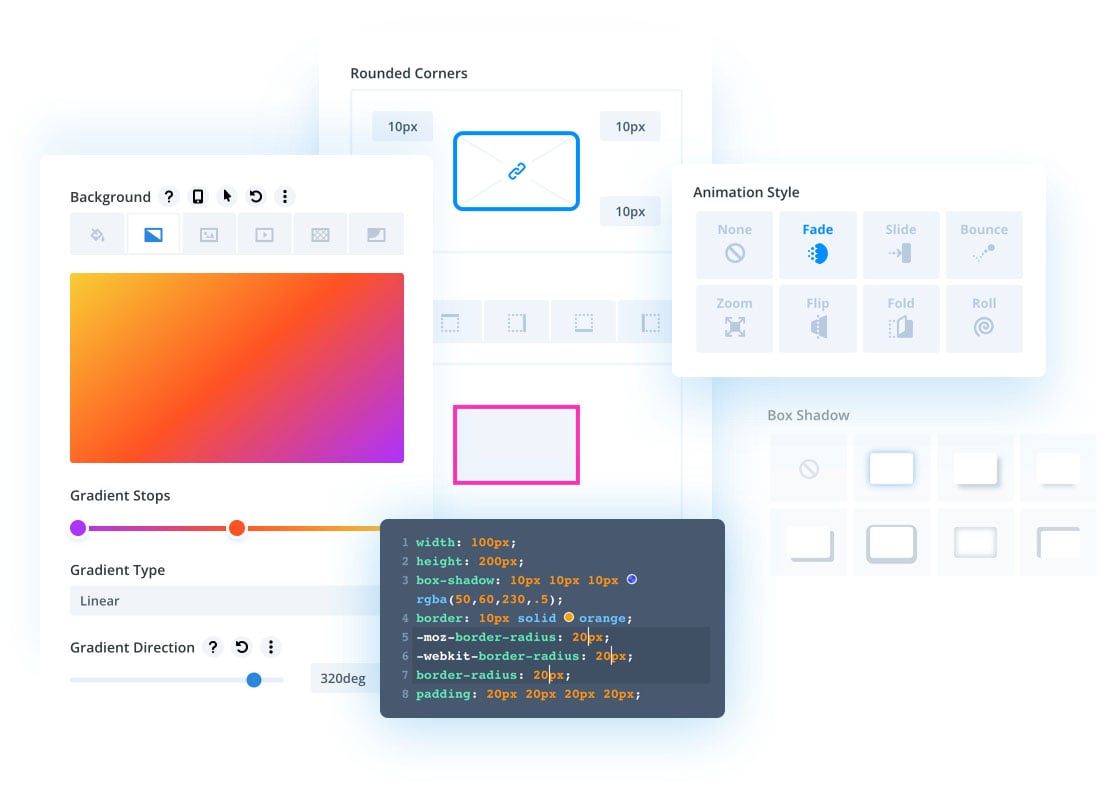 The fourth on our list is Divi. This wordpress page builder plugin is similar to Themify builder in the sense they are both drag and drop themes and are also plugins. User experience and interface wise, it is extremely easy to use, similar to Elementor. Regarding layouts and ready made templates, it has about 20+ of them for various niches.
The Divi Builder is a visual drag and drop page builder, so what you design is literally what the outcome is. Such live editing and real time outcomes saves one step in previewing the updated page. You can just jump in straight to edit, drag and drop elements on your web pages or posts.
In your layout, there are 46 pre-made content modules ready for your drag and drop design. You can make use of the advanced design settings in Divi and customize the elements as your imagination allows.
Divi not only allows you to create any custom page within minutes, it also enables you to save layouts for repeated future usage on your wordpress site. After your customization of the page layout, save it and you can export it into other pages down the road, similar to Elementor.
Although the Divi Builder plugin comes from the Divi Theme, it is designed to work well with other wordpress themes.
One of the advantages it has over elementor is that Divi has a bundle package where for one price, you will get the Divi theme, the Divi page builder plugin, and all other Elegant Themes products that come along with it.
This means you can save on the cost of buying a premium wordpress theme by using the included Divi theme and/or using the Divi Builder plugin on any other wordpress theme you might already have.
Pricing wise: It starts from $89 per year and you can also get the one-time lifetime option.
Evaluation: Divi is an awesome elementor page builder alternative. Not only does it give you a powerful page builder with limitless design options, their huge range of content modules empowers you to build literally any type of websites that you can imagine of. Their one-time lifetime purchase is also one of the best offerings amongst other competitors.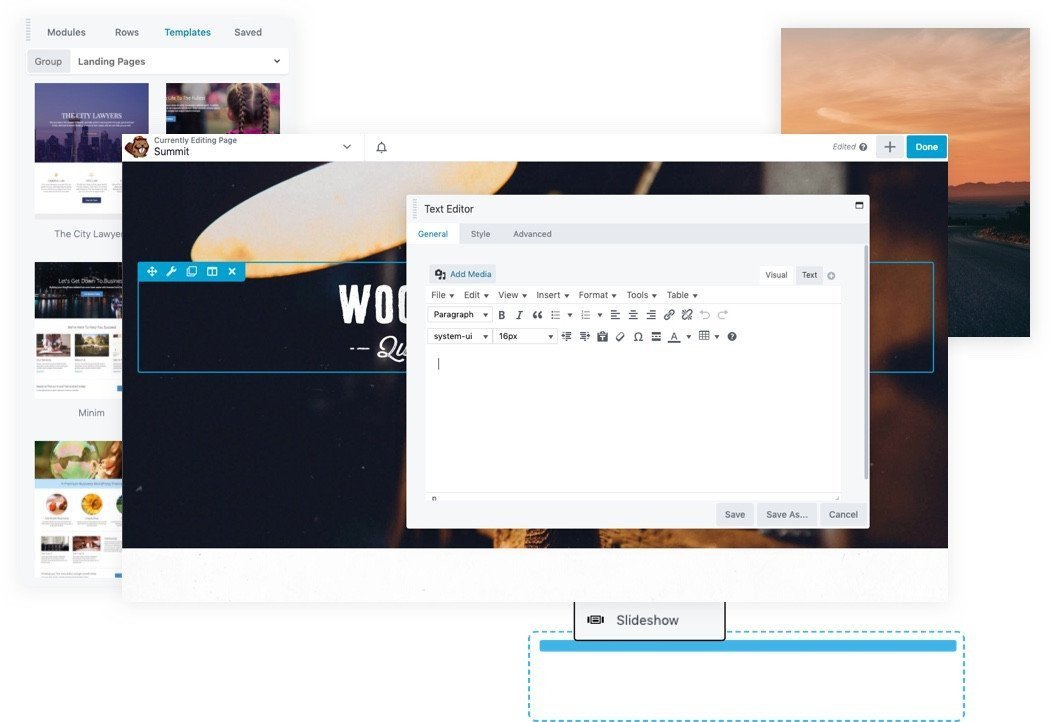 The fifth on our list is Beaver Builder. It is a popular drag and drop page builder plugin for WordPress, largely due to their easy-to-familiarize user interface, thanks to their well thought out and useful onboarding introduction tour.
This drag and drop page builder plugin empowers you with real time 'live' edits, where you see all your edits as you drag and drop icons and elements from the sidebar onto your web page. If the premade elements are not to your liking or doesnt match your overall design style, simple click on it and edit its properties to meet your needs.
Beaver Builder provides modules that allows you to add and customize literally anything and everything you need such as carousel, sliders, grids, content blocks, backgrounds, buttons etc.
If you are in a rush or need inspirations from premade templates, you can utilize the more than 30 professionally prepared templates as your web pages or landing pages. This means with the Beaver Builder page plugin, you can create and build a visually appealing website as quickly as you are satisfied.
One of the best features of this page builder plugin is that it is optimized for beginners. This means a quick and short learning curve to learn and master how to use it as a pro. Other than working well with any other wordpress themes, it is also updated to work well with the new Gutenberg editor.
Pricing wise: It starts from $99 for Unlimited Sites, likely aimed at agencies and solopreneurs with multiple sites or projects.
Evaluation: Beaver Builder is one of the more popular page builder options compared to others, thanks to easy to use and learn interface and user experience. Not only it caters to needs of beginners, it also is well positioned for agencies and professional wordpress users to speed up site creation and multiple iterations without compromising visual appearance. The downside to it is probably the significantly higher starting price barrier compared to other options.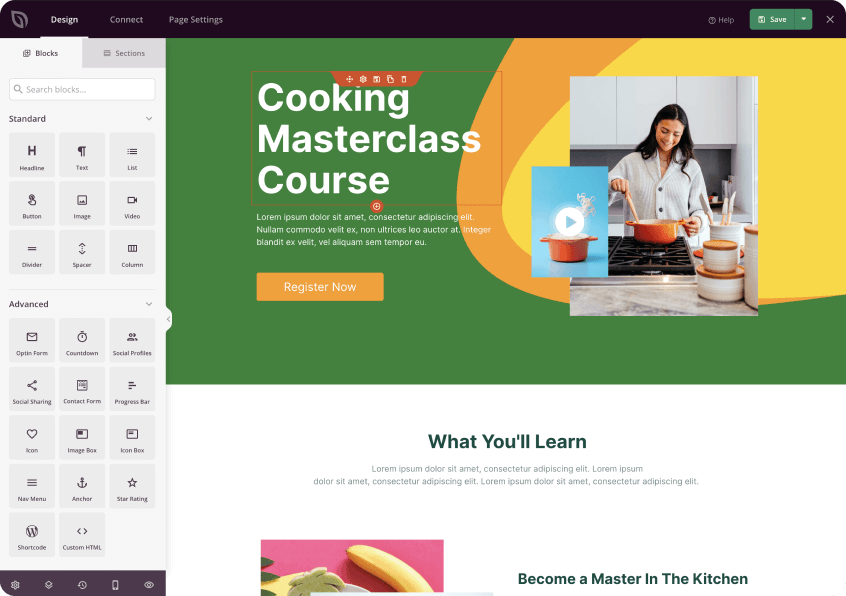 The sixth on our best page builder plugins for wordpress list is SeedProd. It is a pay-only premium drag and drop page builder wordpress plugin, meaning no freemium. Relatively new to the market, it touts itself as one of the fastest in terms of speed (beneficial to SEO) and easy to use interface.
Seedprod comes along with more than 100+ professionally made templates that you can quickly select something that matches your niche and start a site in just minutes. Of course, if you like to customize their templates or start one from scratch you can also do so without programming skills.
Similar to Divi and Elementor, you can save templates or re-use the elements, blocks, sections and color palette etc on pages you need to, without repeating the actions of drag and drop. They have prepared templates designed for landing pages, registration pages, 404 pages, sales pages and even coming soon pages etc. This means you can really just select what you need and save quite some time.
What you have from the above powerful page builder plugins, you will also have them here at Seedprod, including forms, buttons, content blocks, countdown timers etc. Some of these blocks can be adapted through just a single click, saving even more time.
Yes, it works well with any other wordpress themes and other plugins, where you can swiftly and effortlessly connect to your newsletter marketing services such as Mailchimp, ConvertKit, ActiveCampaign etc to launch your subscription related campaigns.
Apparently agencies find a lot of value in using this plugin as they can utilize Seedprod's custom domain mapping feature to launch micro-sites within wordpress itself – to handle different clients landing pages just from one wordpress installation. This is great news for agencies.
Pricing Wise: It starts from $39.50 for a single site license.
Evaluation: SeedProd's page builder features are advanced and useful in helping users save time from premade templates to re-using of elements. Speed wise it claims to be one of the fastest. Pricing wise it is also affordable, aimed at single to multi site users. The only downside may be that it is still pretty new to the market.
Concluding Thoughts on Best WordPress Page Builder Plugin
You might have come across varied opinions on which is the best wordpress page builder plugin. Hopefully, this post has shortened your consideration list, while empowering you with useful information to decide based on your unique needs and the type of features you require. To sum up,
If you want the most value in terms of functions for an affordable price (lots of features for a good price): Try Elementor Pro, Divi, Beaver Builder.
If you're keen in just a simple page builder that can launch your site fast with theme included: Consider Seedprod, Divi, Visual Composer, Themify
If you are going for a freemium WordPress page builder: Check out Elementor
If you need a powerful page builder with support for advanced programming: Consider Divi, Themify, Visual Composer, SeedProd.
Can the new WordPress Gutenberg Block Editor work like a Page Builder?
Although on the surface, the block editor also known as Gutenberg resembles wordpress page builders, it is not quite a page builder. It only uses blocks that are content elements in designing simple pages and blog posts. In case you are thinking that this can solve the problem, it still cannot work as a page builder.
We hope this article has been useful in helping you find the best WordPress drag and drop page builder plugins for your website. You may also want to see our comparison to find the best WordPress contact form plugins and best WordPress slider plugins.