Today we will be looking at the top 4 of the best selling wordpress event calendar plugins on codecanyon to use on your website. If you need it for appointments, events, or even to collect payment for bookings from your potential customers, you will be delighted to review these as they are truly the best sellers verified by transparent sales numbers on the marketplace.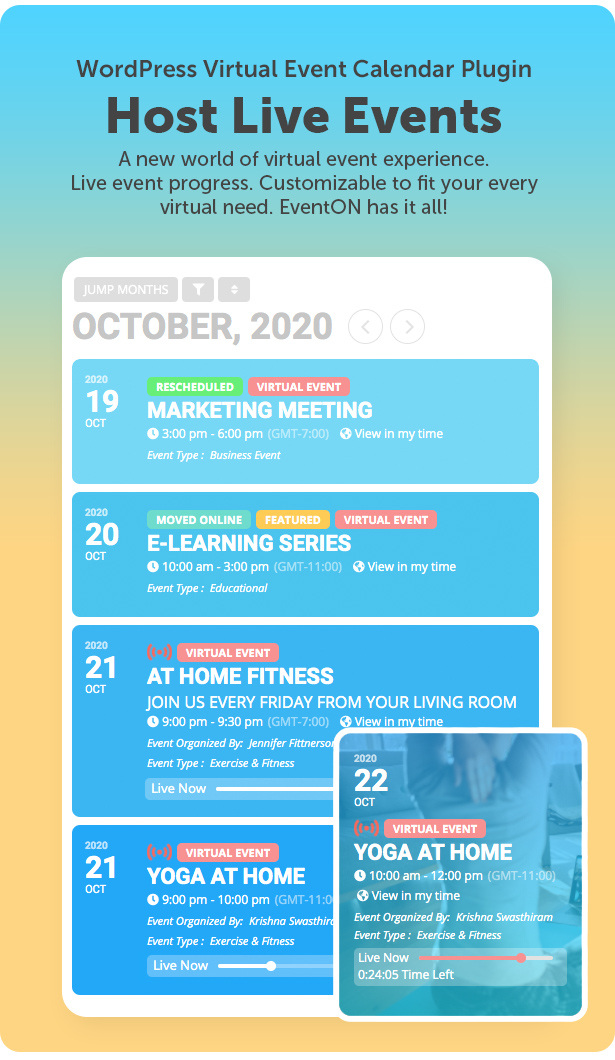 The EventON Event Calendar Plugin for WordPress is the number 1 best selling plugin on codecanyon marketplace. From an overview, it comes packed with more than 200+ useful features like highly customizable repeating events, multiple event images, unlimited event creation etc. You even have various calendar layout designs, event locations and organizers that are compatible with addons. It also contains advanced features like multi data types and language corresponding events and so much more.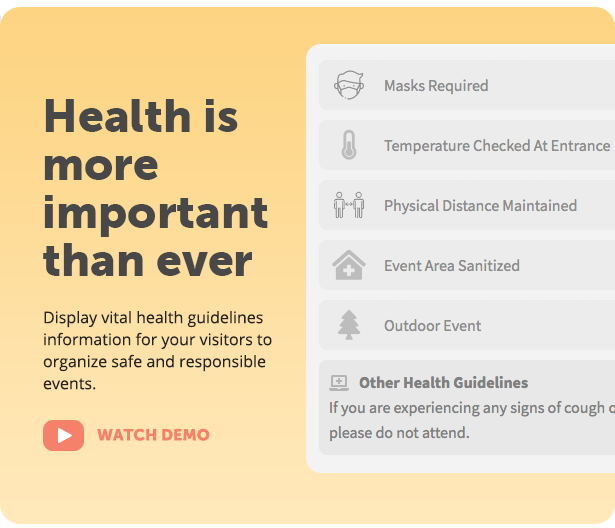 It can be said to be a new world of virtual event experience especially in this pandemic era. You have Live event progress and almost everything customizable to fit your every virtual need. Indeed expandable beyond imagination with various addons that is payable.
Design wise, it is a beautifully crafted event calendar that presents events with the minimal clutter-free appearance. Sleek and professional designs these days stand out. The plugin owner takes pride in designing EventON to stand up to latest design trends in the industry. Sales numbers can't lie on a marketplace, only at $25 dollars at this time of writing, all of the goodness comes packed in the #1 best selling Event Calendar plugin at codecanyon.
LIVE NOW VIRTUAL EVENTS
EVENTS HAPPENING NOW
This is an example of a Real-time live events calendar view. It auto removes completed events and auto loads next event on time, so you need not worry.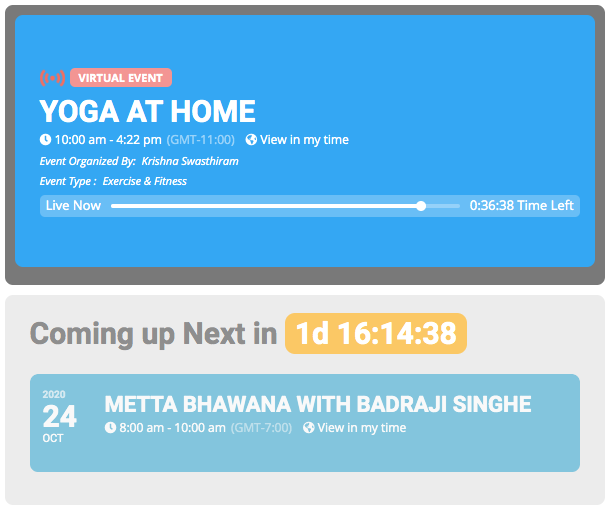 Colorize Events to Your Hearts Desire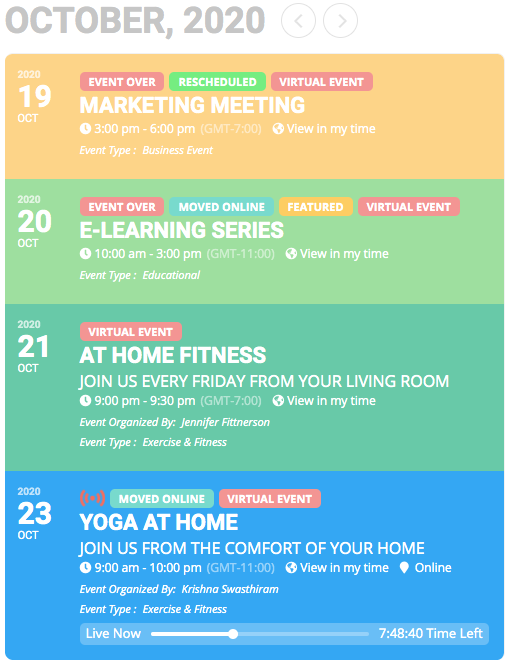 For those of us who care about colors and layout styles, you will be happy to know you can set unlimited colors for events and easily choose various event top layout styles to reflect the vibrant colors of the events.
Elegantly Crafted EventCard
The built in search function is right on the calendar, makes searching such a breeze. Sometimes it is hard to find events due to button layout design, but the EventON plugin is really intuitive as you can easily scroll to month and year to see events for the exact time period. The rest is self explanatory.
Event Tiles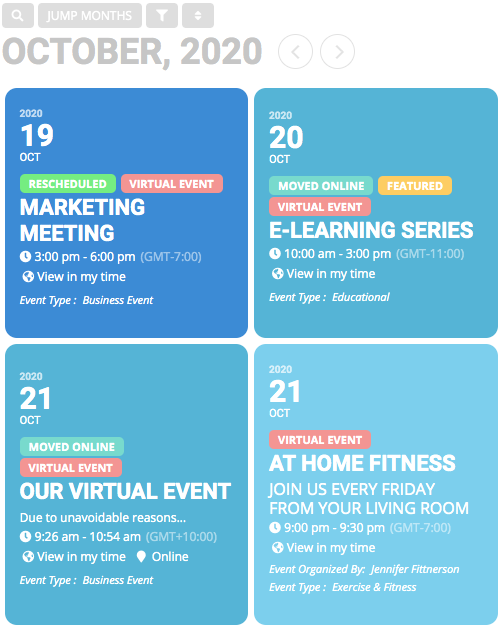 As you can see, the cleanly designed event tiles layout offers a beautiful alternative layout for your calendar. Your customers will be able to find the event information quickly with the tiles while drawing their attention to the optimal thanks to the minimal design of the tiles.
Events Bubbles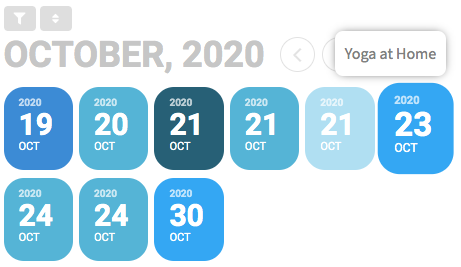 When there is less space to display, a bare minimum event bubbles is the solution for you to show events in a colorful and fun manner.
Events Lists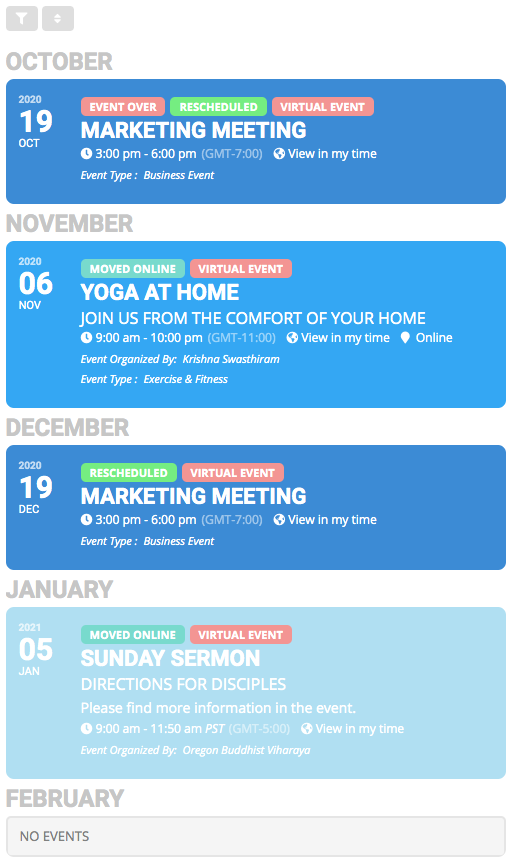 If you prefer a list view, you can create event lists to show events from multiple months in one place. Be it upcoming events or events from the past, you can easily hide or show empty months, all in one calendar – great convenience.
Minimally Colored Calendar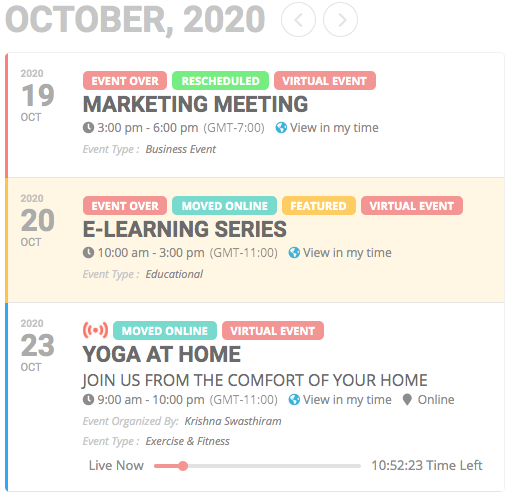 Prefer minimalist style? Well then nothing can beat the minimal design, you can always leave the calendar layout styles to the default minimal color styles and be sleek.
Easy Back-end Experience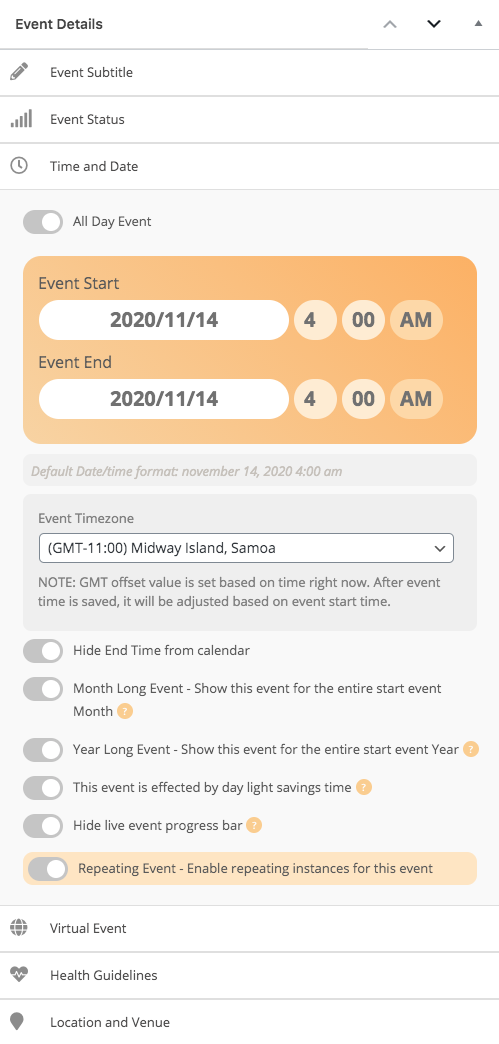 The EventON plugin is really built for customized user experience. Most of the aspects of the calendar can be customized easily from back-end UI, where you can install, add events, make changes and show off the events.
Cool Shortcode Generator & Gutenberg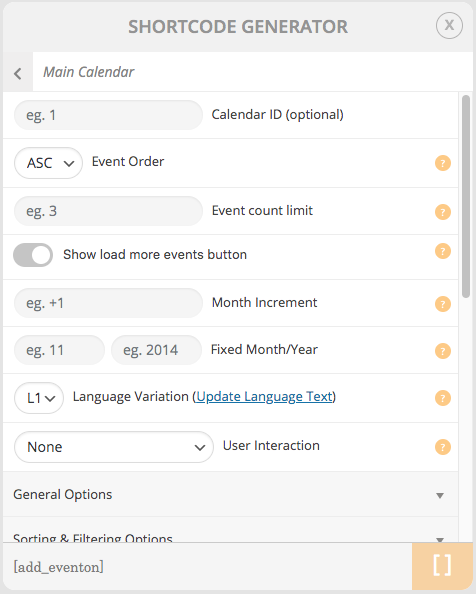 You even have a cool shortcode generator and gutenberg. Now you can easily create various calendar types with the super duper easy and fun to use shortcode generator build right into WordPress as part of gutenberg blocks. How convenient is this?
Pluggable Functions for Developers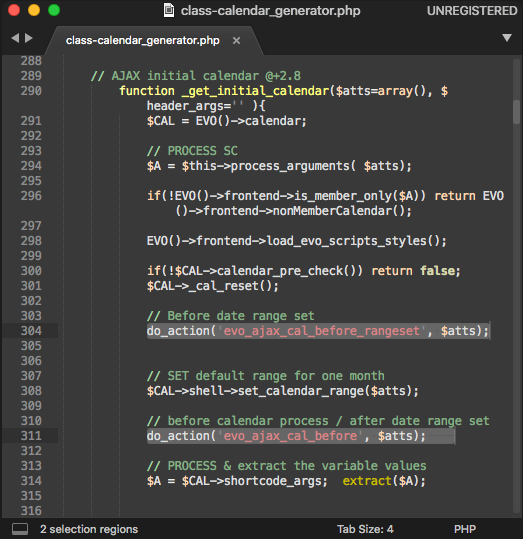 Most aspects of EventON gets run through pluggable filters, so developers can easily hook into them to create or alter dynamic features and isnt this such a great feature?
Just Some of the Exciting Features
It supports single and multiple day events, creation of single day events and events without end day or time, creation of all day events. You can even duplicate events in wp-admin and so much more that I cannot list down all of it.
Essential Addons Bundle
If you have more complex customized needs, explore the essential addons, it is quite worth the value.
If you look at the 3RD PARTY INTEGRATIONS, you have Font Awesome, Google maps API, Google fonts API, moment.js, Visual Composer – Deprecating, Elementor Widget, Gutenberg Block with EventON Shortcode Generator, Woocommerce, Zoom API, Paypal Basic – almost all of the stuff that you need is here. This is why it is the best event calendar wordpress plugin in codecanyon.
Reviews from Users
We also need to look at existing users reviews to get a better gauge of how it really is worth and working well for buyers.
For all the above value the price is only $25, what a steal. Item rating is 4.40 out of 5, based on 2135 ratings. If you are not yet convinced, the sales numbers of 50+k would definitely convince you that this is indeed very popular and useful, otherwise ratings and sales for it wouldnt be that high. If this plugin suits your business needs, do check them out for more details here.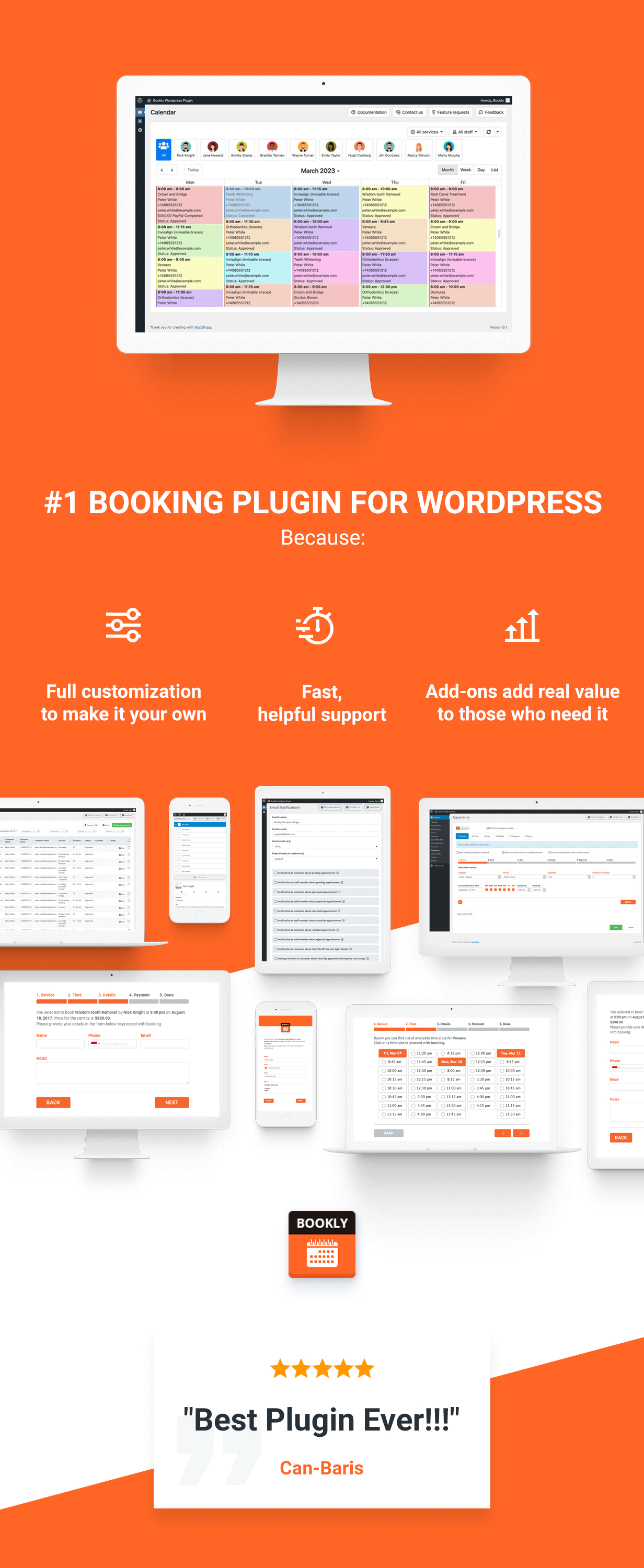 Bookly PRO is the #2 best selling plugin for events calendar booking on codecanyon. It is an automated online booking & scheduling plugin for WordPress that has a fully customizable booking form with online payments, notifications, and Google Calendar sync – so if your business needs to accept online payments and sync calendars of clients and staff this is it. It is going to be a quite a scroll as i think it deserves the attention for the value it brings.
An Intuitive WordPress admin panel
Whether you're a WP pro or beginner, their clean panel design will suit your skills and preferences. Bookly Pro can be set up with almost no effort and you have a world-class booking system working for you almost immediately. The managing of features and appointments couldn't be easier.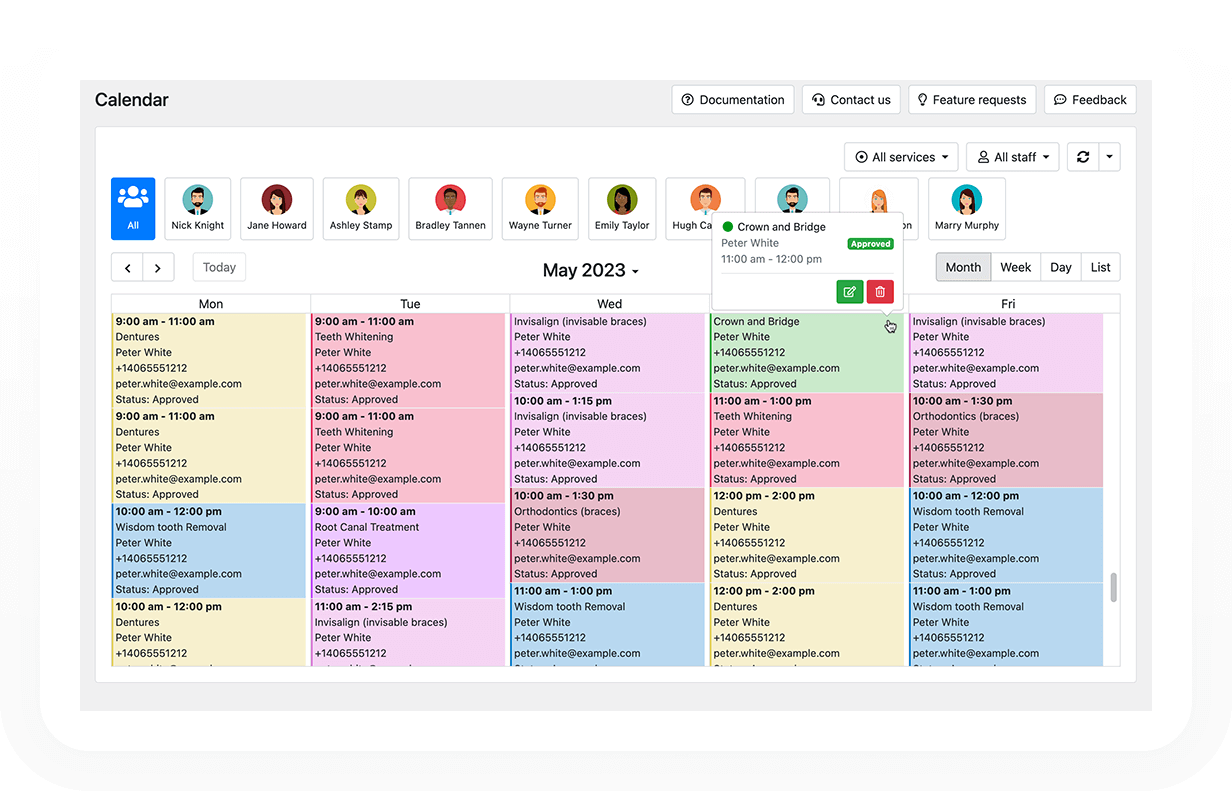 A Sleek, simple design
You have a sleek interface that has been smartly designed to fit into any web page. The booking page is simply designed to make using it so easy for clients, no more (getting lost resulting in) drop offs anymore. In addition, being able to book an appointment easily from your website will help your business brand impress customers.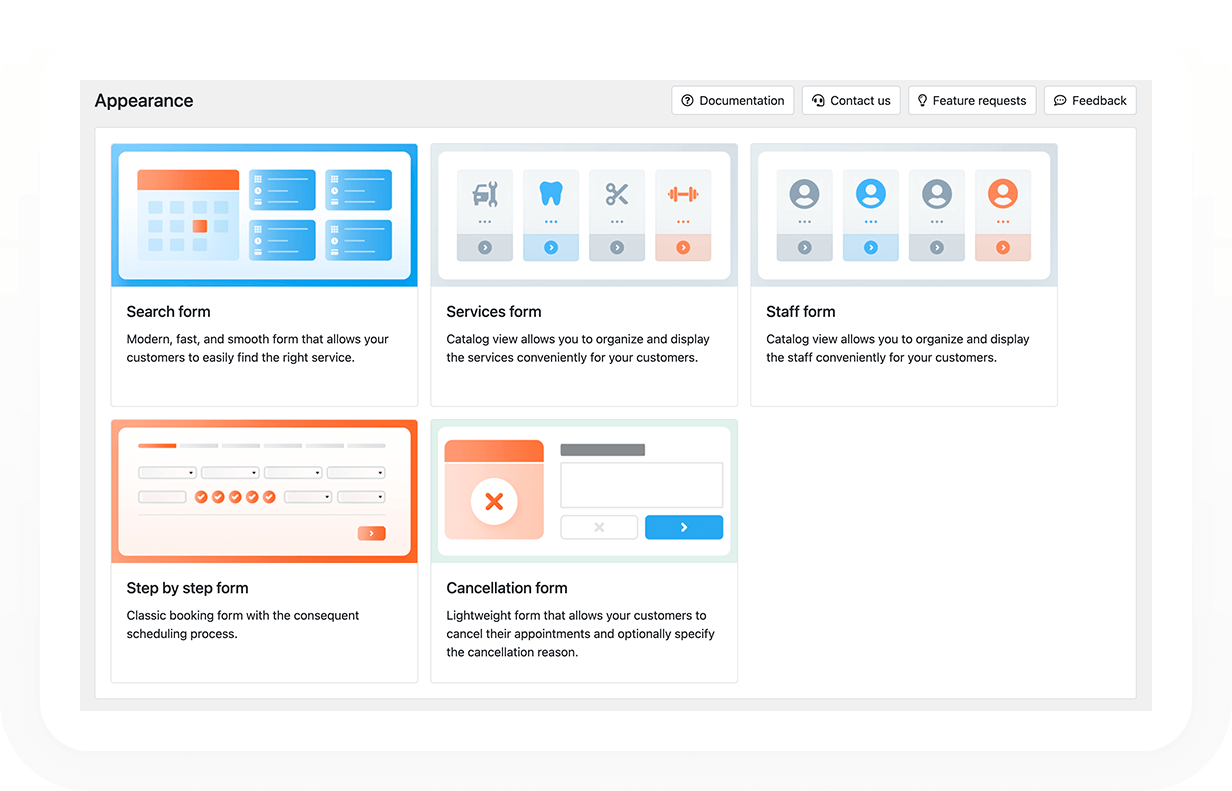 Customization of Bookly Pro
The booking form is fully customizable to suit your business needs. With Bookly Pro booking plugin, you can:
Change the layout of each step in the booking process
Show or hide specific fields
Add new fields to the process
Change the colors to blend perfectly into your scheme
Reorder service provider list, categories list and list of services
Customize any of the text on the form.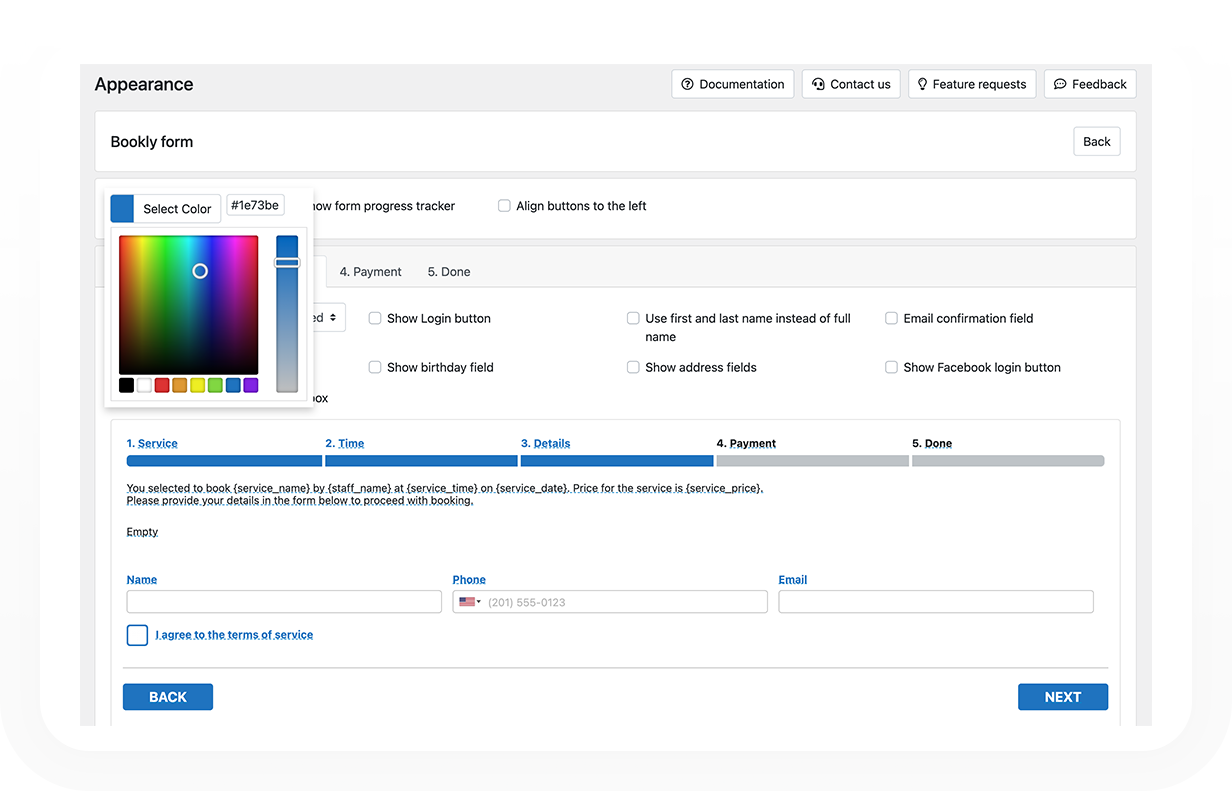 Add an unlimited number of booking forms on your website
Bookly Pro allows one to create & publish multiple booking forms within your WordPress site. All of the customer appointments booked in those booking forms will appear in one consolidated place – your Bookly Calendar, I find this real neat and convenient.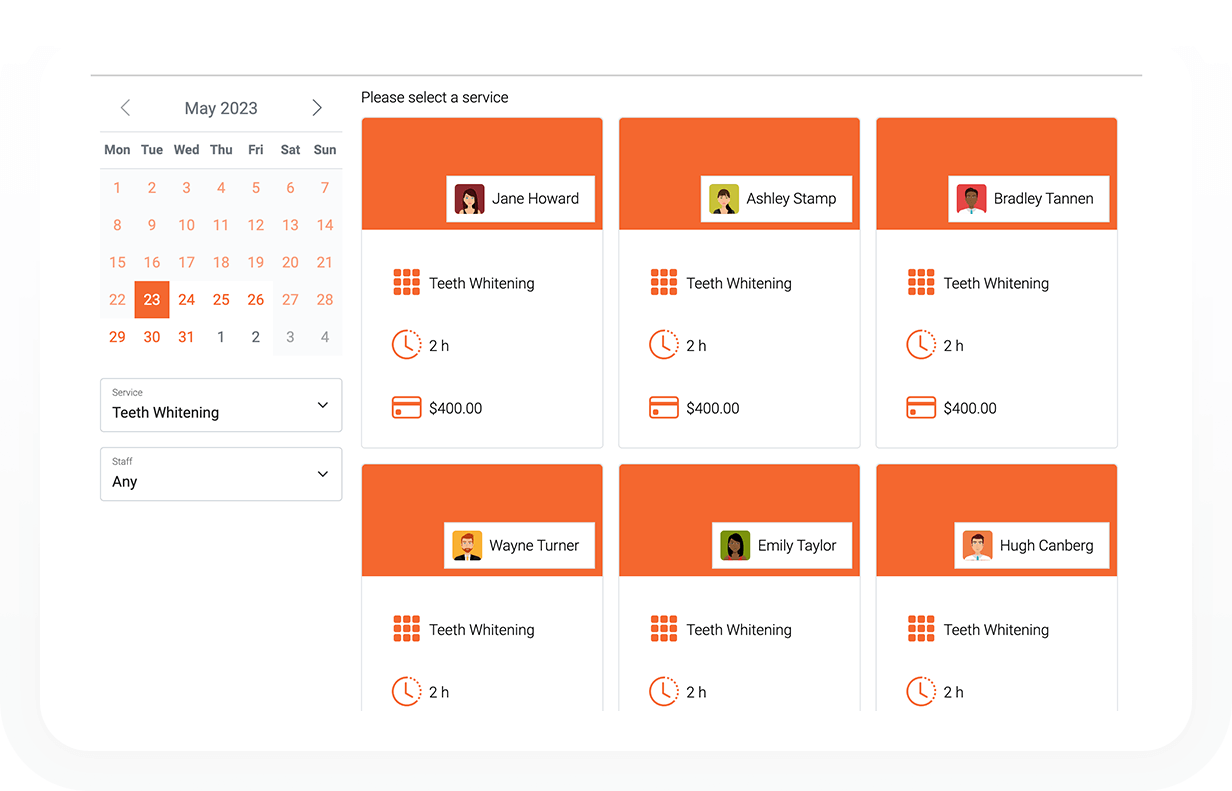 Ability to Send SMS, email notifications & reminders to team members – avoid late/missed bookings
You and your team will always stay on top of the game. Reminders of upcoming and updated appointments made through the booking plugin will make sure nothing slips out of your hands and you will never again miss an appointment booking. To lose customers this way is the most unforgivable reason, so now this is taken care of.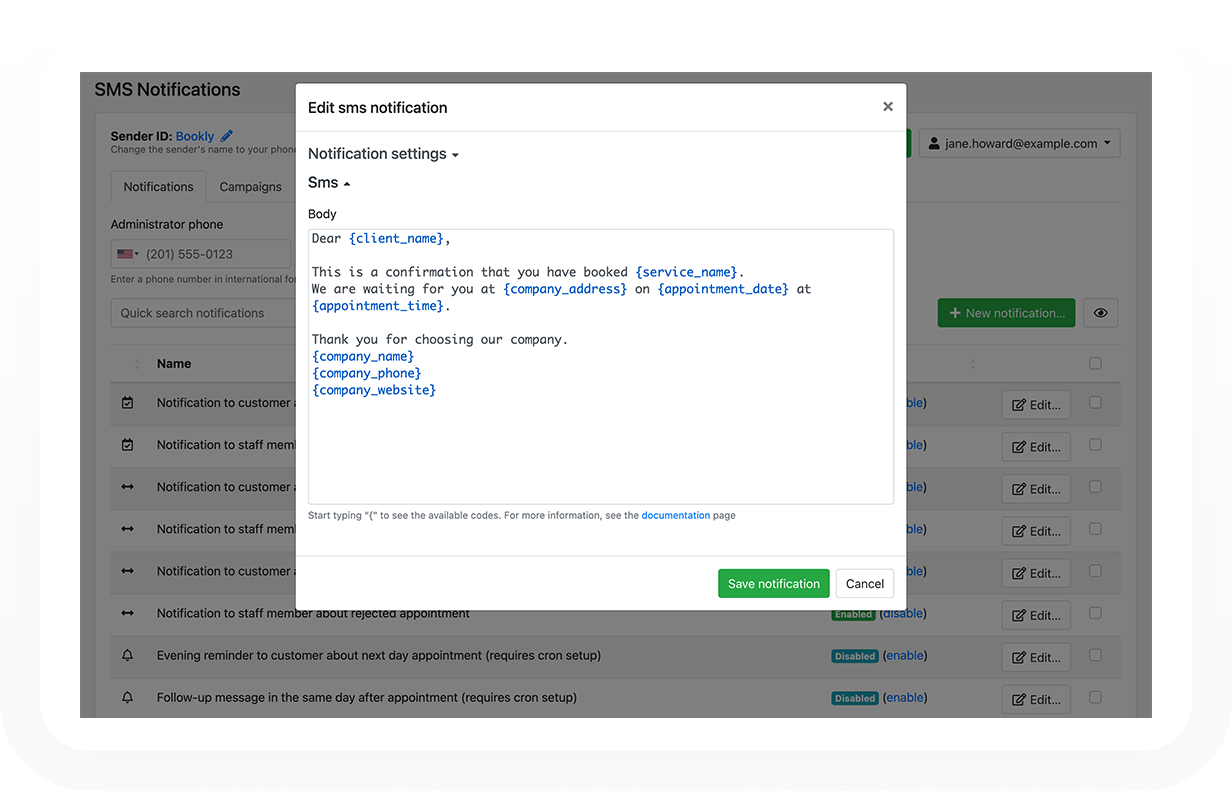 Also Keep your clients informed
The last thing you worry about is when your staff are on time but your clients aren't. Your clients will get notifications on pending, approved and cancelled bookings, based on your customization needs. Remind your clients about appointments, bookings, thank and appreciate your customers, personalize your outreach messages however you wish. You can even send tomorrow's agenda's to your staff and combined notifications for ecommerce checkout cart purchases – to increase sales.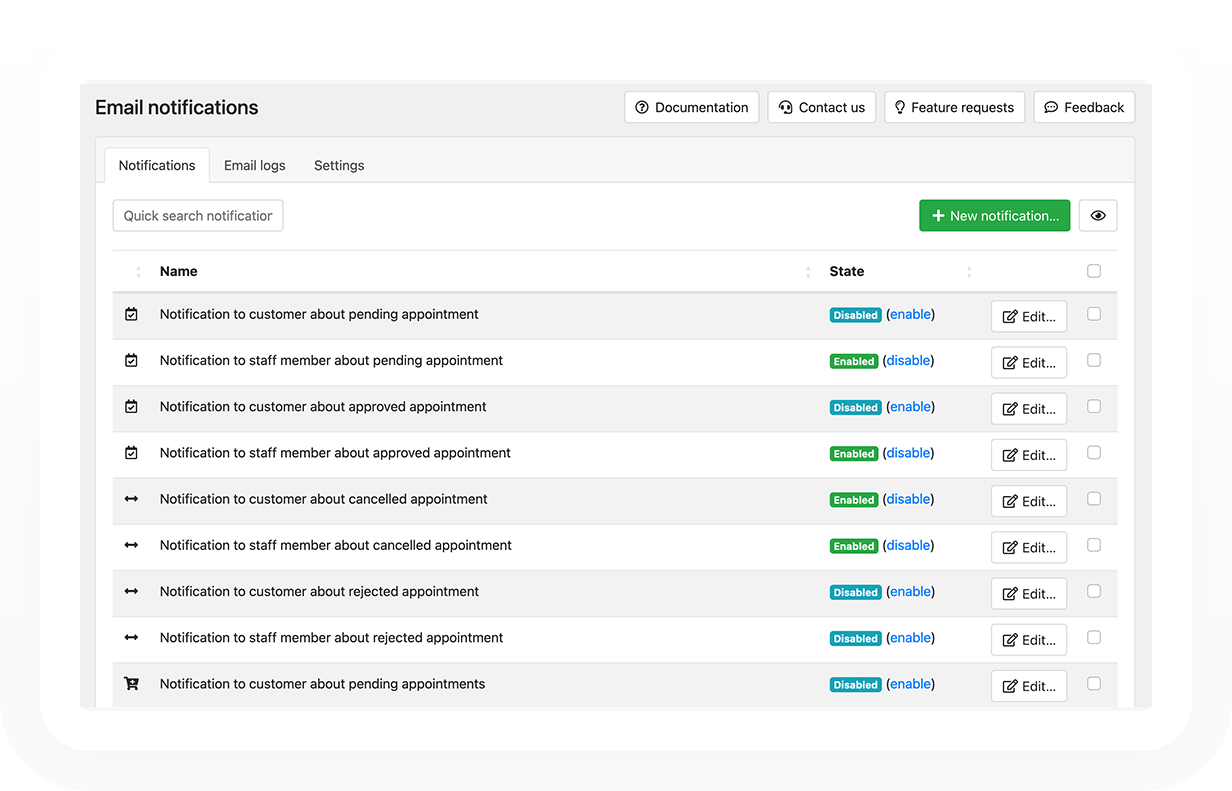 Switch between calendar views
Choose between the daily, weekly, and monthly modes to view your business workload, bottlenecks in different ways that will keep you competitive and lean.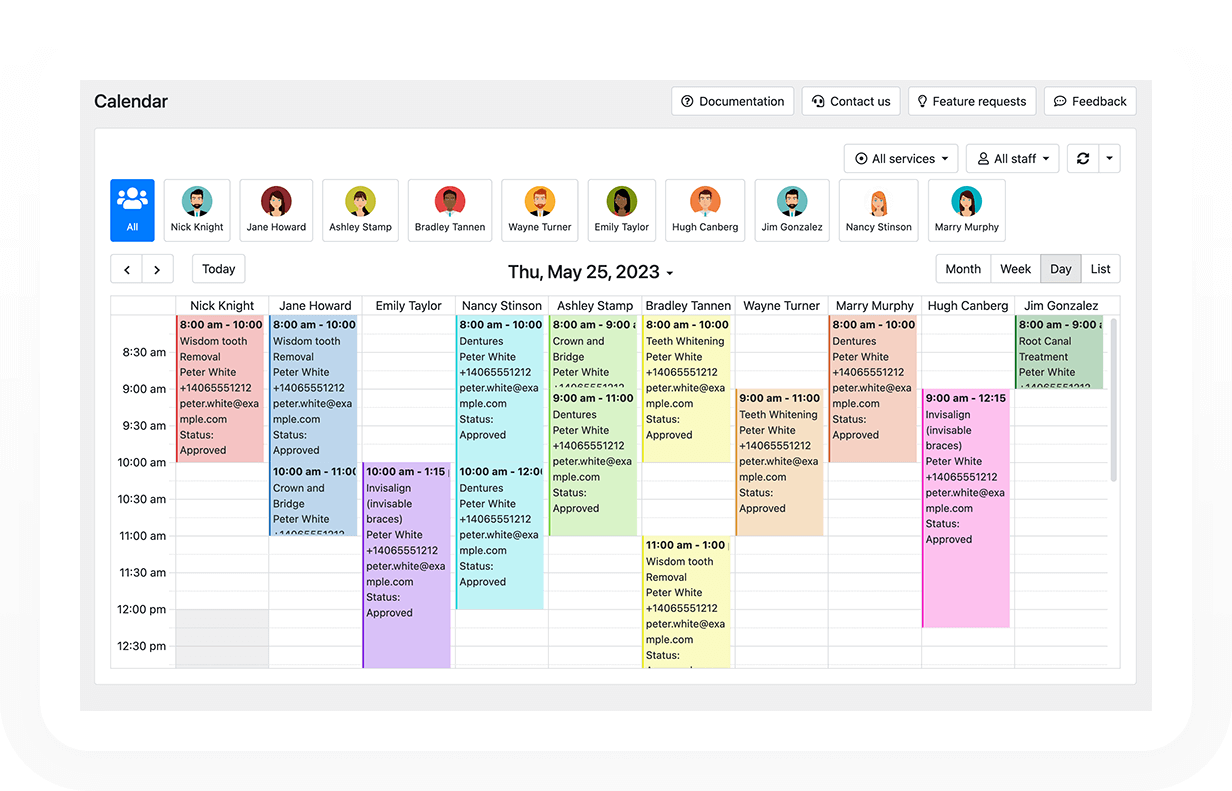 Give clients modern convenience with full mobile integration
The booking form automatically readjusts itself to fit the mobile site, hence nothing is compromised. Your clients can then make booking appointments anywhere, at any time.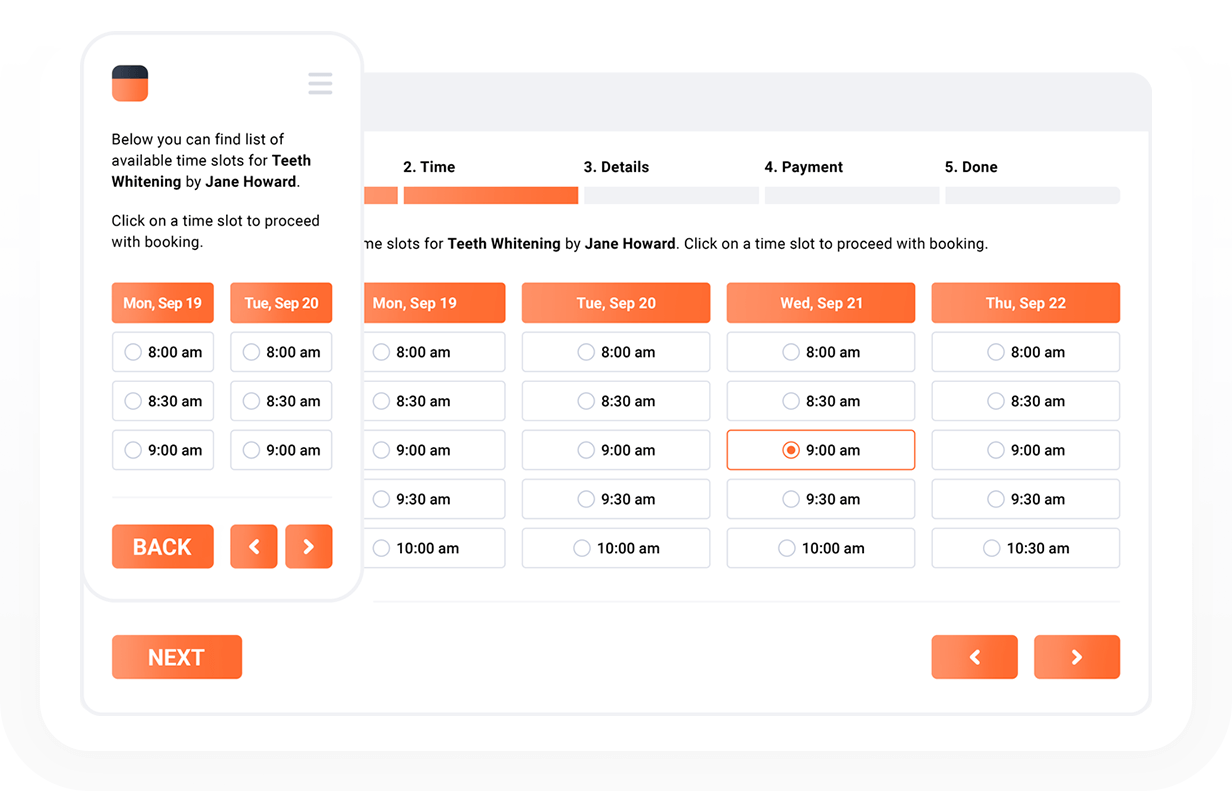 The backend is also well thought of, as it also adapts to fit your mobile screen, so your team can manage bookings anytime, anywhere.
Adding unlimited services and staff members
Whether your business is a one-man show or a huge organization, Bookly Pro adapts to suit your needs.
You can:
Add unlimited new services and staff members
Link your staff members with the services they provide and with their personal Google calendar
Match each of your team members to one or more services.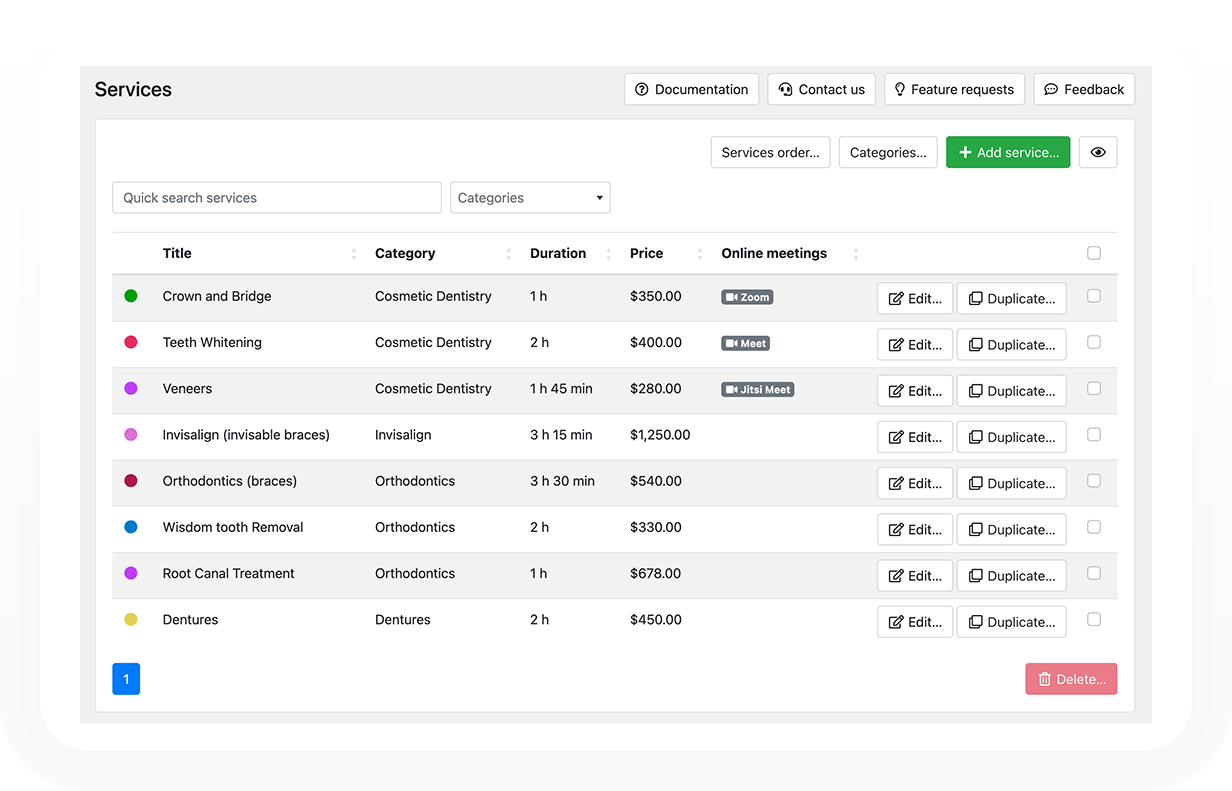 Allow clients to book in their native language with full translation support
Guess what, Bookly Pro is compatible with WPML, supporting multi-language websites. The .po and .mo files allow you to translate your Bookly Pro installation yourself, if you wish to.
The Bookly Pro plugin comes with 12 built in languages:
English
Russian
German
Spanish
French
Italian
Dutch
Portuguese
Romanian
Swedish
Chinese
Japanese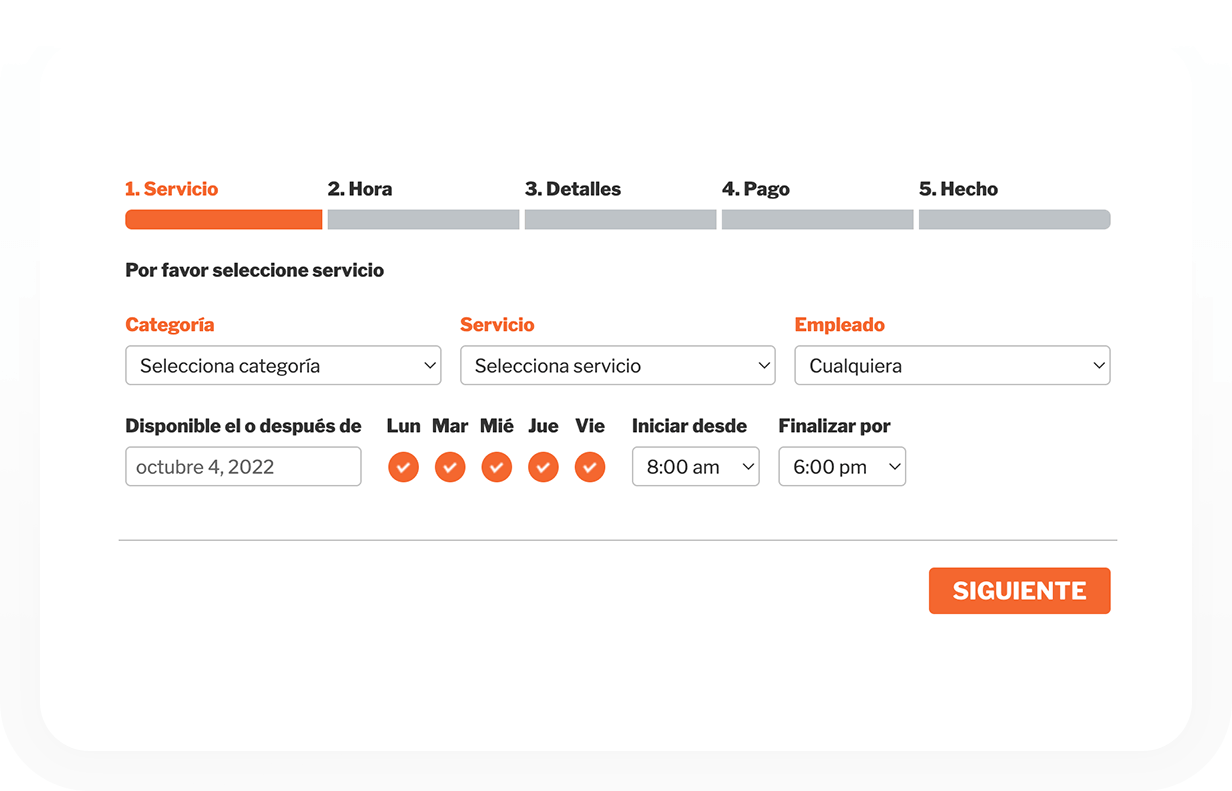 Integration of Woocommerce into your Bookly Pro
If you need a booking plugin for your WordPress ecommerce business, you will be relieved. Woocommerce integration allows you to use their payment gateways (especially if your clients pay in different currencies) – for both the solopreneur and established business corporations.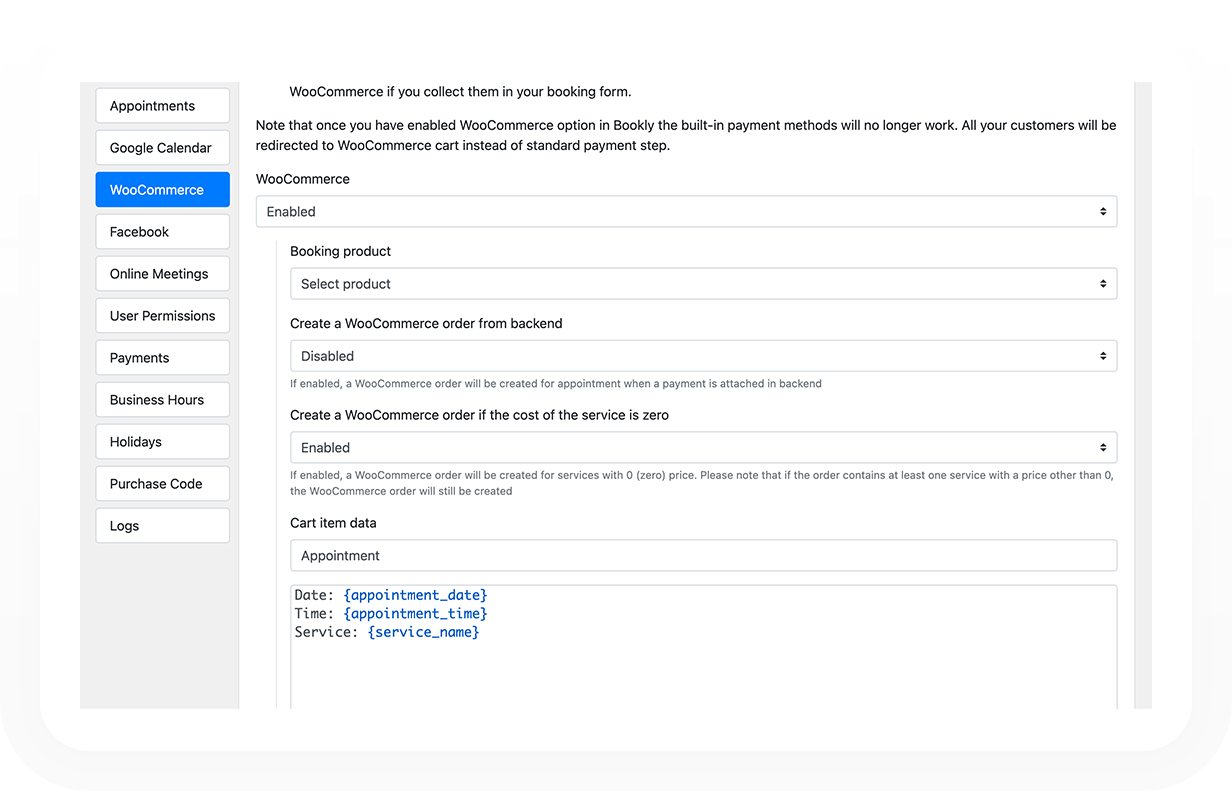 Managing one's customer base effortlessly
A good CRM system is always needed, to prevent messiness and losing control of your client base. With Bookly Pro you get an unlimited, sortable and searchable customer list, whenever you need it.
You can also:
See booking and payment stats for each customer
Store internal notes about a customer
Add a new customer directly from the calendar
Create and assign WordPress user accounts to customers
Delete associated WordPress account when deleting customers
And import and export customer lists
I think this is a great feature truly effortlessly.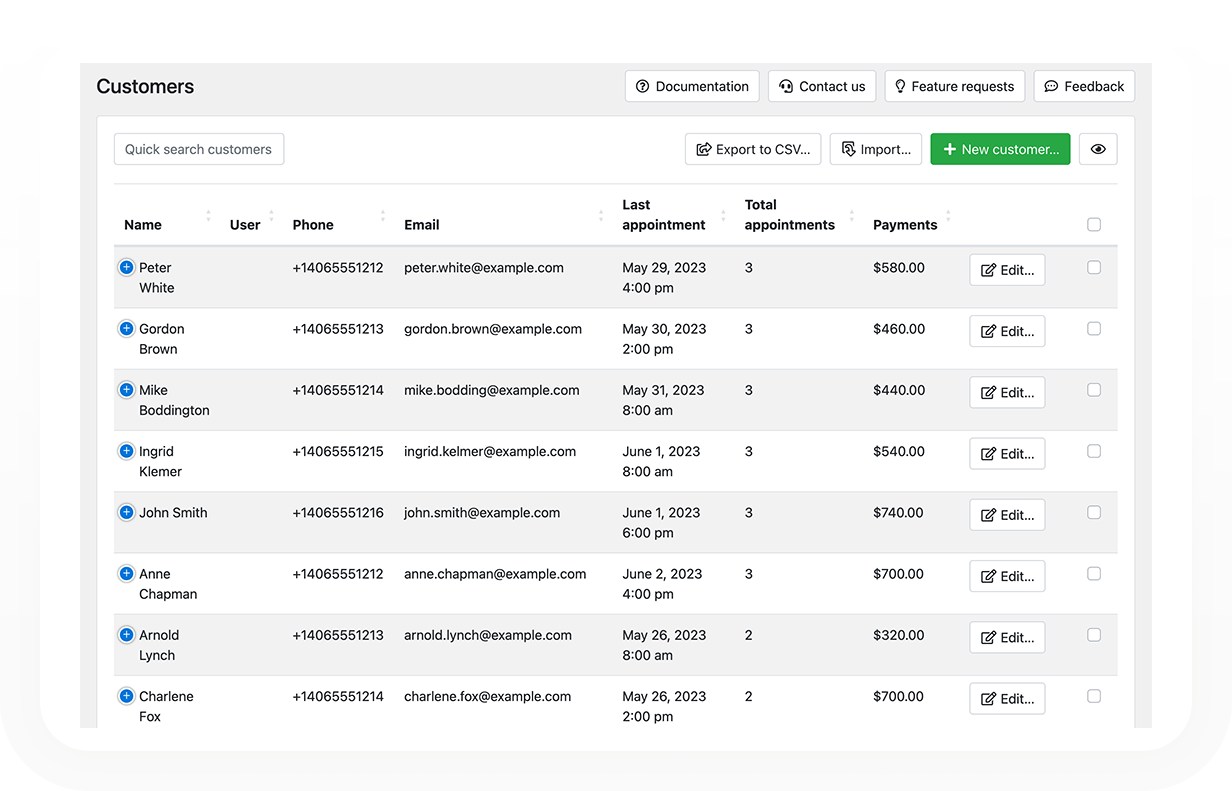 Set different charges for different staff members
Perhaps your business is in the service line or you have different tiers of staff members charging different rates for the same service. Here you can add prices to reflect that with Bookly Pro, showing your customers the range of options they can choose. No more unhappiness internally and externally as well, as clients know what they are going into with their eyes wide open.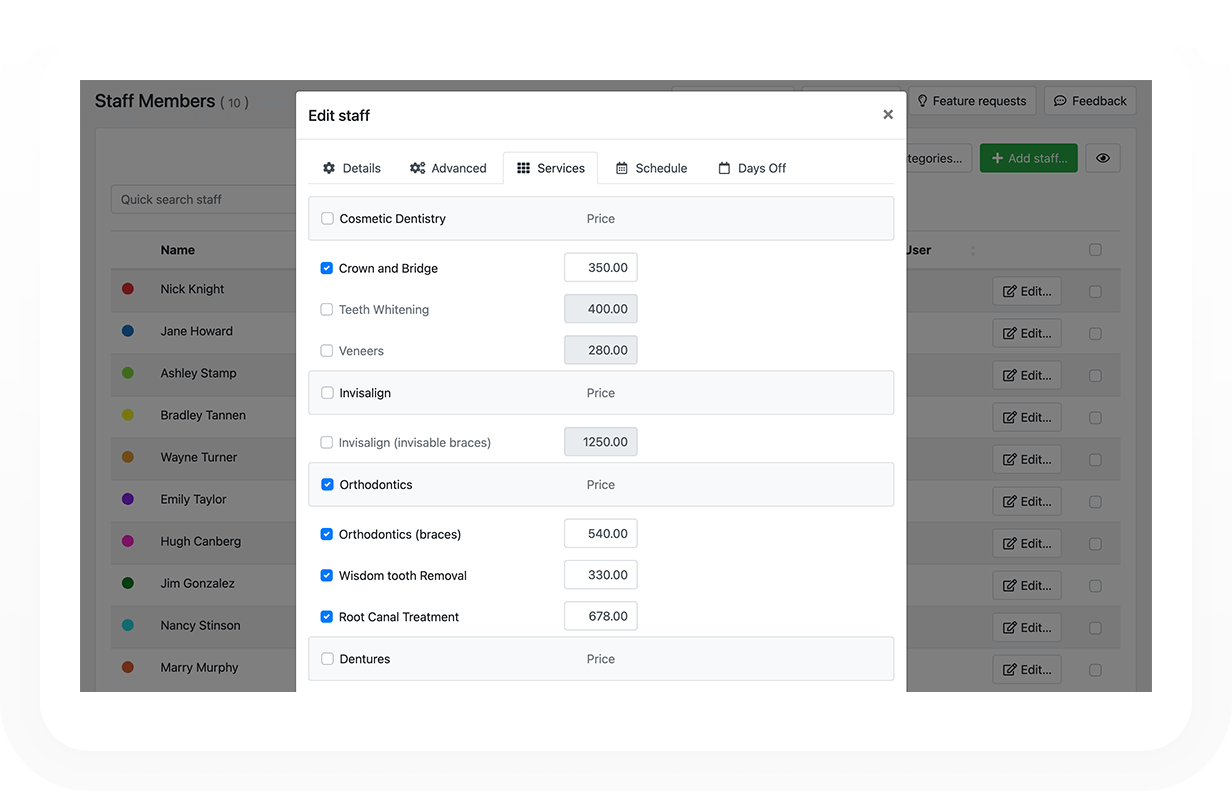 Custom schedules for individual staff members
With work from home new normal, your team and clients may not be of the best use by sticking to fixed business hours. You can discuss with them and create individual appointment hours for each staff member on the Bookly Pro plugin.
Other than formally scheduling breaks, your HR problem is also solved here as you can add annual leaves right from the plugin. Not that you would think of this feature from a booking plugin, but this is the value added.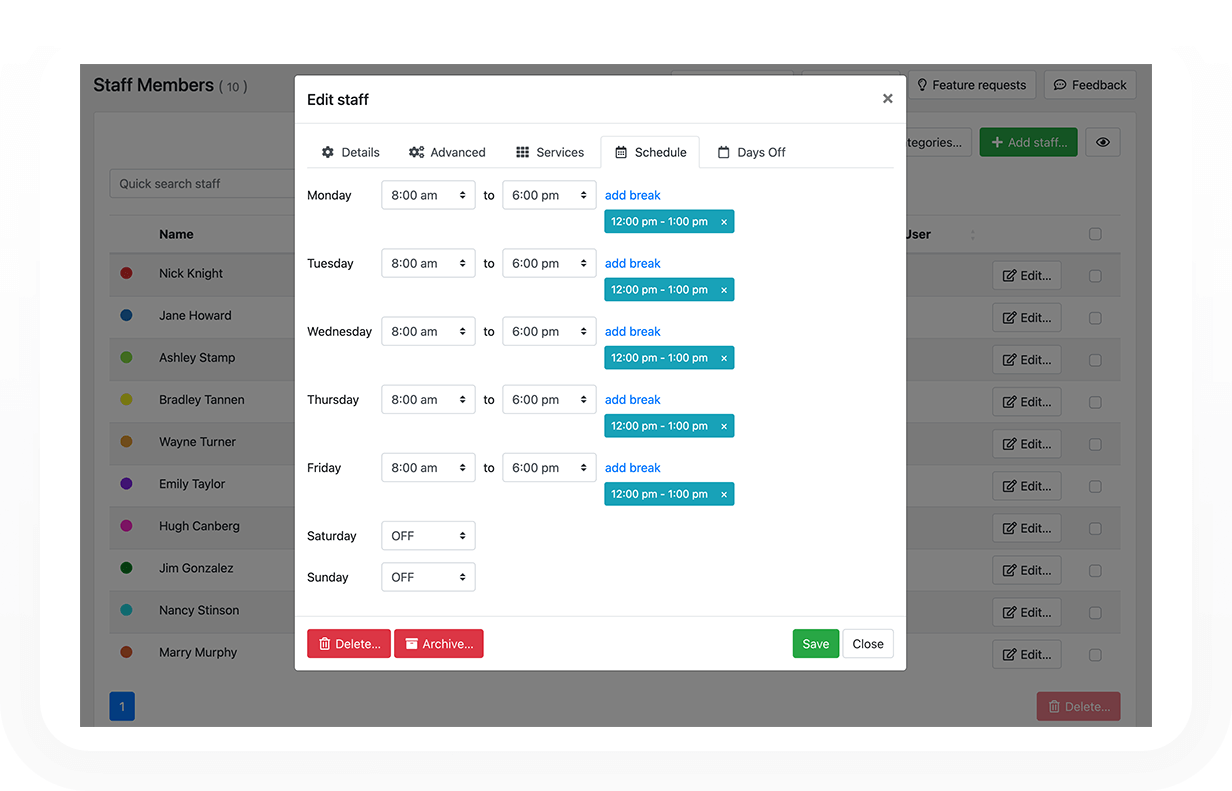 Synchronization of Bookly Pro with your personal Google Calendar
With the integration of the Google Calendar and Bookly Pro you can manage your team's workload, hours and appointment bookings with maximum productivity, with minimal unhappiness or zero.
Most booking plugins only offer a one-way sync, but here they have made a rare two way sync possible!
This is how it works, time slots booked in Bookly Pro are automatically marked as busy in your Google Calendar. Then the busy slots in Google Calendar are taken into consideration when Bookly Pro plugin proposes available time slots to your clients.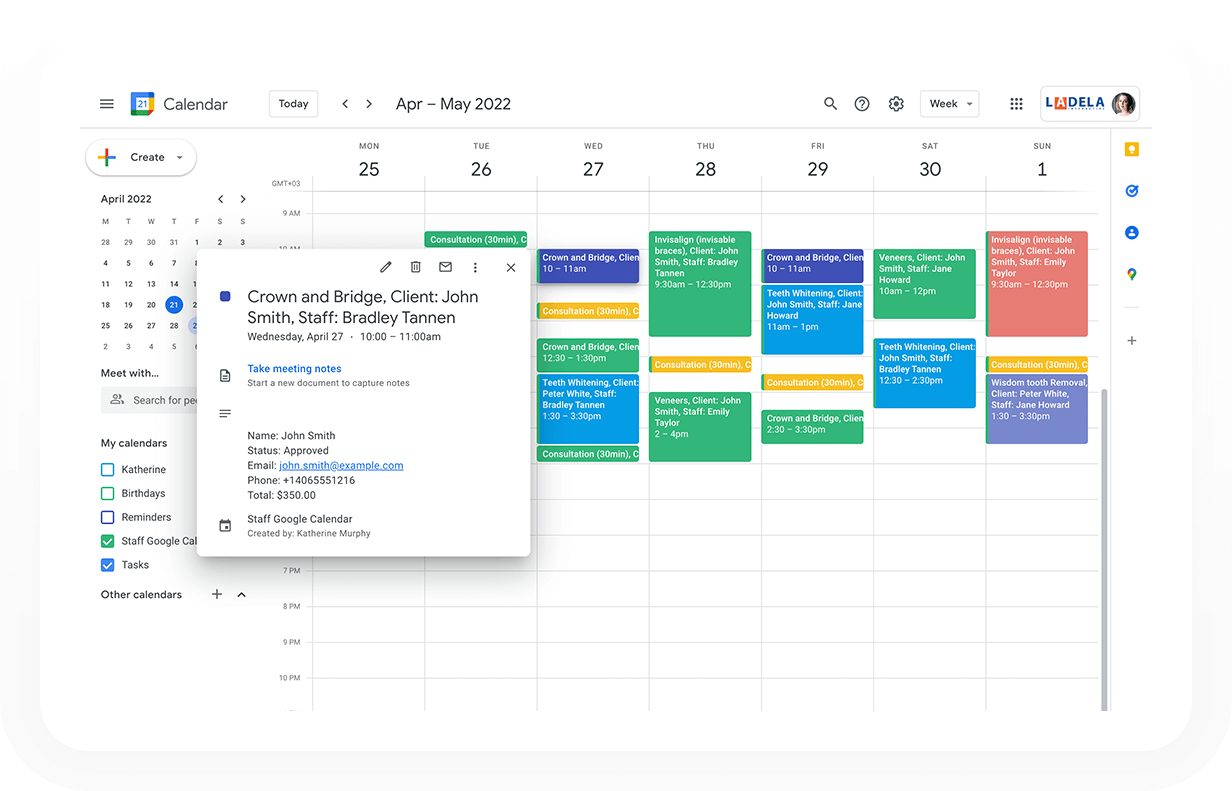 Collecting secure and flexible payments
Speaking of the most important feature; securing online payments and cash on delivery work together seamlessly to make your service accessible to all your customers. You have Paypal Express Checkout included in Bookly Pro, and there are several add-ons for payment gateways which can be integrated with Bookly Pro to help drive more customers from the booking plugin right to your business.
To ease your payment reporting process, one can also filter and sort a list of complete and pending payments, hide the payment step for free trial services. The ability to customize is crucial for a booking plugin (especially for WordPress), and Bookly Pro truly has done well in this.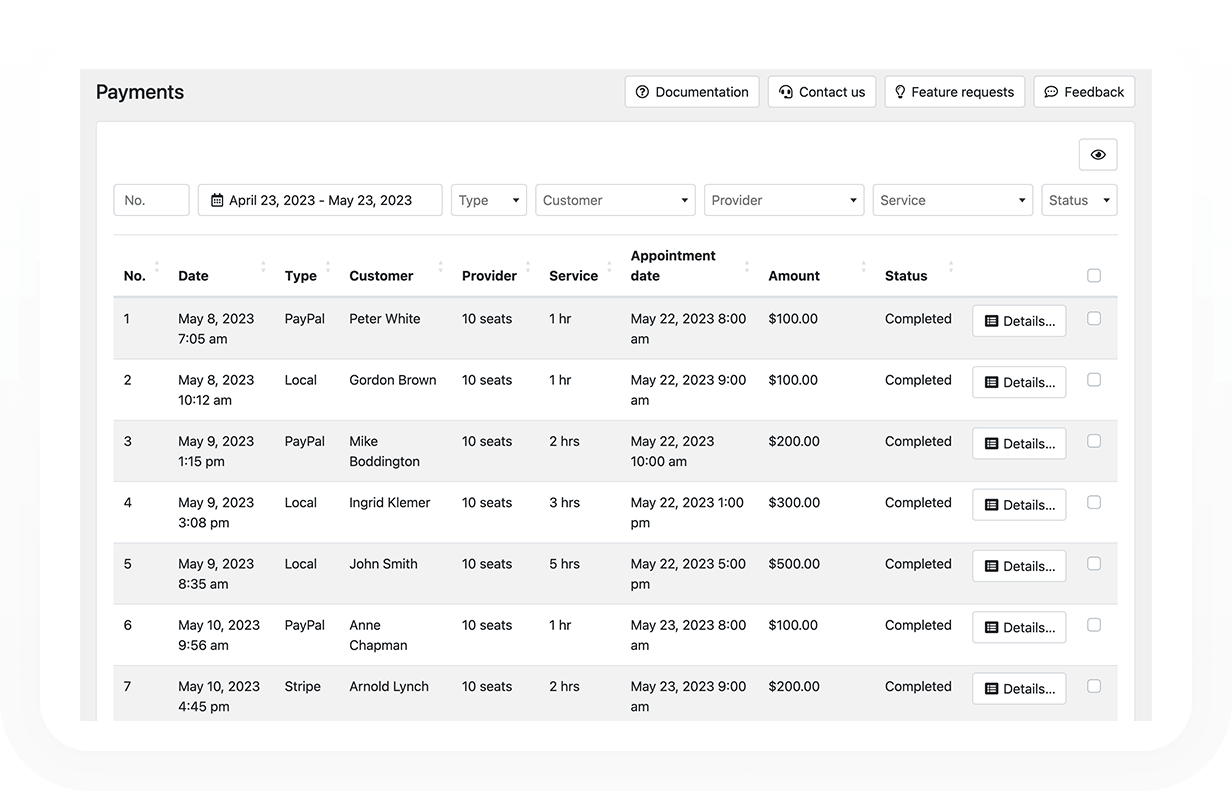 Sorting of services by categories
You may have different types of services offered to clients so you might find this feature very useful as you can do some of the below:
Set the duration of each service separately
Adjust minimum time slot lengths
Set visibility to public or private for each service
Set service category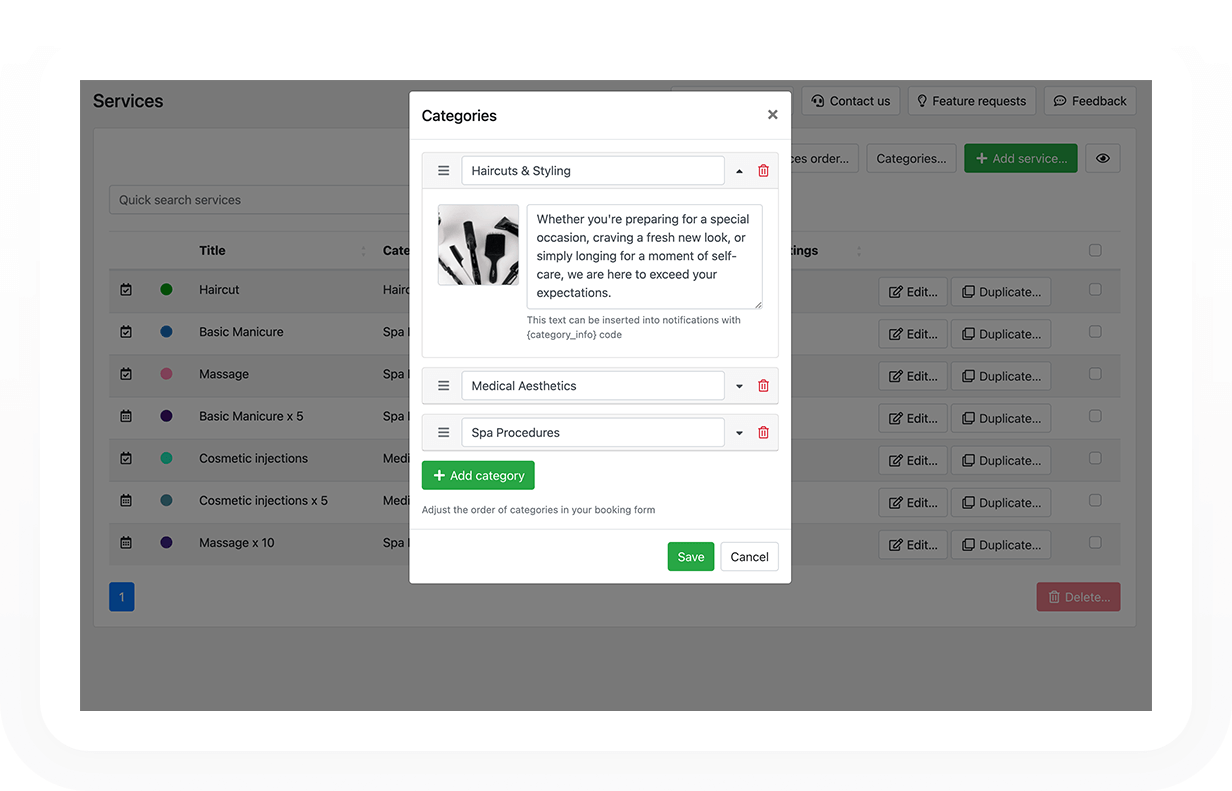 Confirming bookings manually
You may have VIP clients messaging you for appointments or being unsure of the date and time but would like to reserve it first. In this case, you can have appointments created in pending status. They will stay this way until you confirm them manually. Both automatic and manual ways are within your control.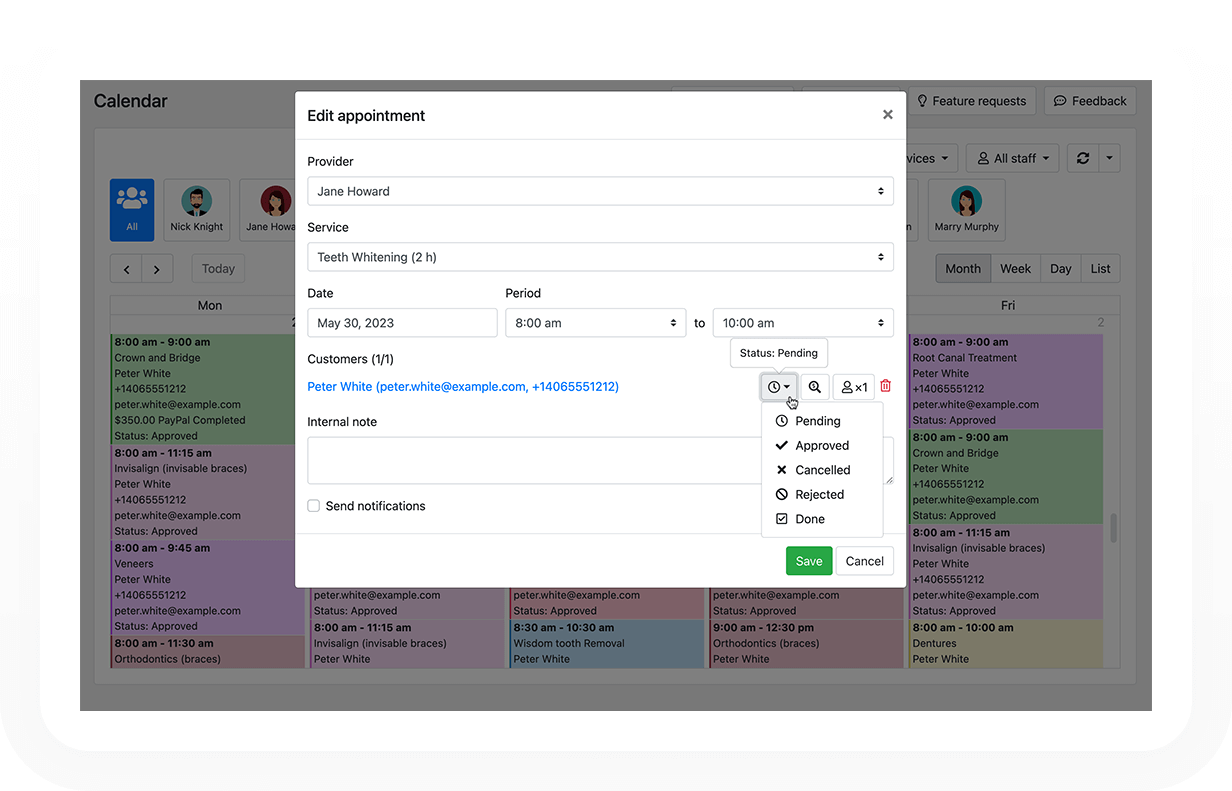 Allow customers view and edit their own bookings online
Should your clients wish to view their appointments, they can login with their credentials, which are automatically sent to them by Bookly Pro should you choose to create WordPress accounts for all customers.
Your clients can then view, reschedule or cancel their appointments – giving them flexibility and increasing client satisfaction, and of course no hassle on your customer support end, elimination of such a manpower cost/hours means more profits for you, the business.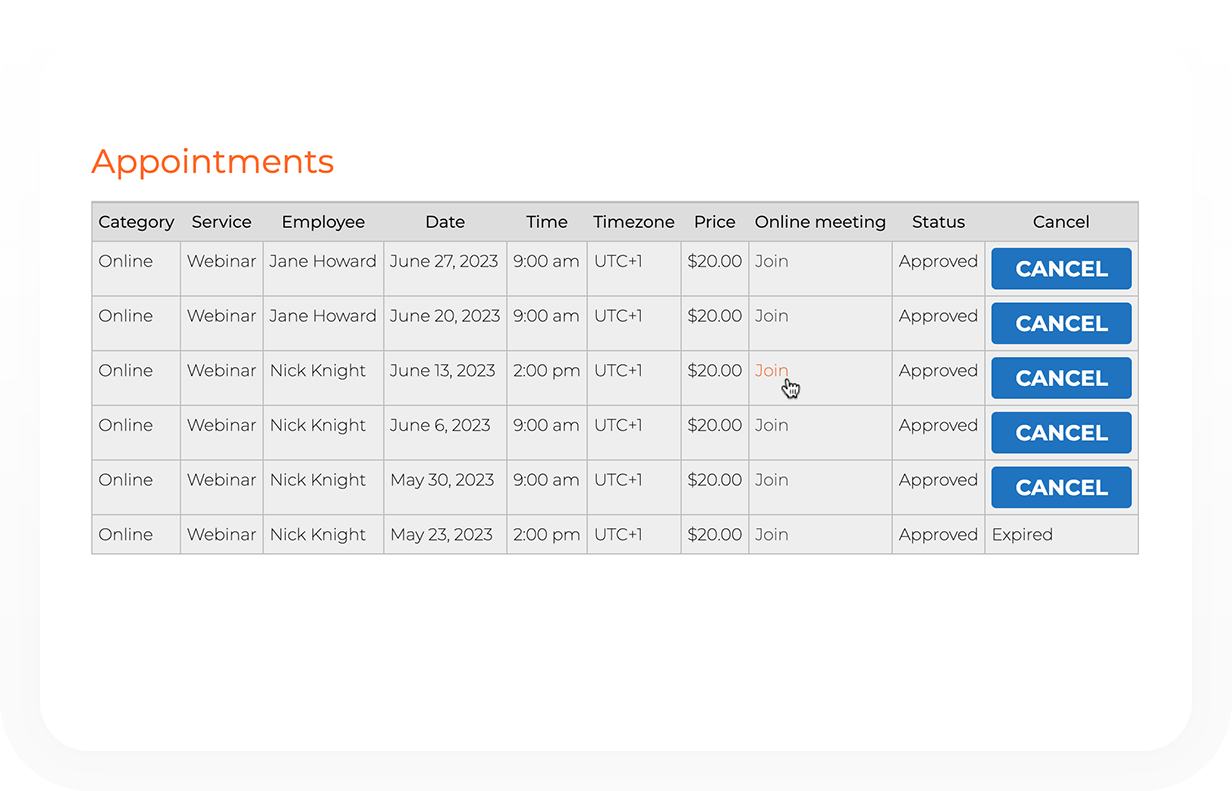 Having Built-in analytics
Get a clear data insight on how effectively your business is functioning by viewing statistics for bookings, customers and payments received right in Bookly Pro admin area, giving you real time knowledge and control over improvement if necessary.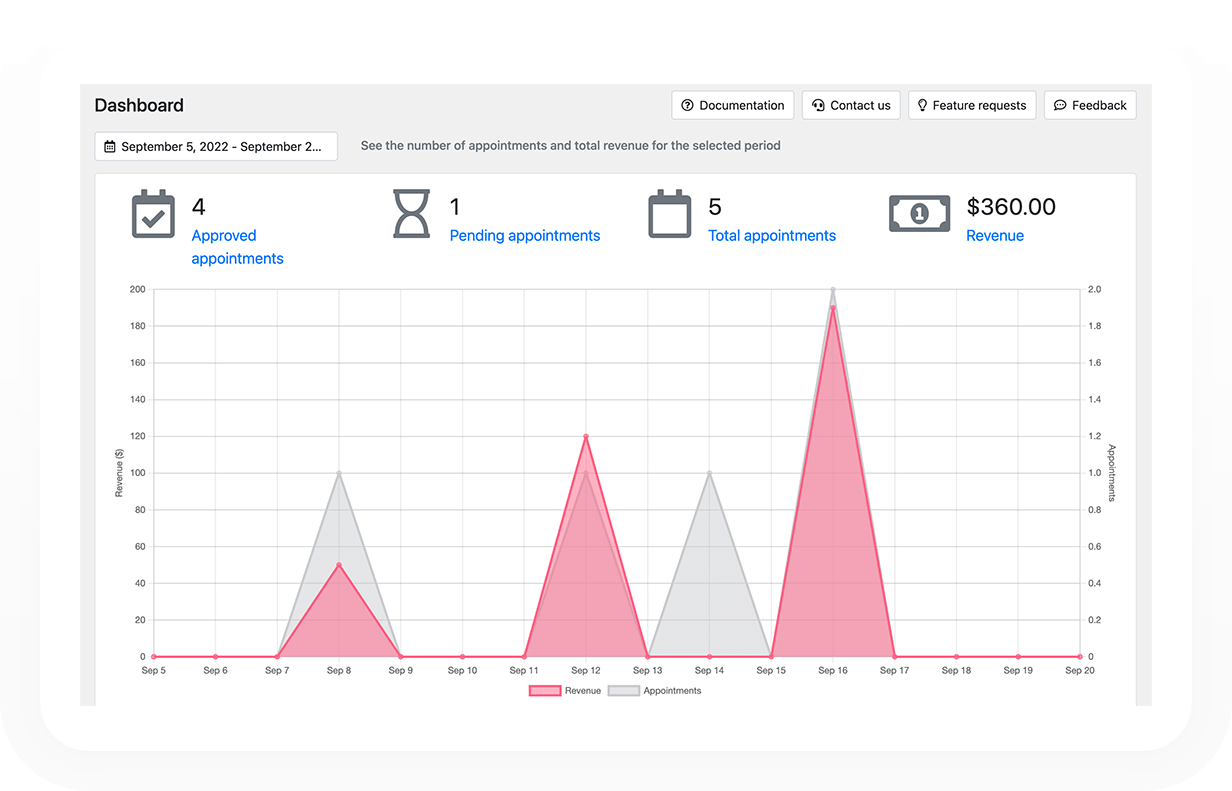 Super useful addons only if you require
Bookly shopping cart
Building of your own form
Accepting group bookings
Giving coupons to incentive return visits
Personal staff cabinet for staff
Allowing recurring appointments
Accepting deposit payments (very important function to prevent no show/flaks that has a negative business cost)
Allow customers to choose locations for their appointments
Allow customers to join the whitelist/wait list
Allow them to attach files in a booking form like image or document for review before appointment
and more
If you are wondering how does it look like for your clients, it is as easy as the few steps below:
Step 1: Choose Service
Upon arrival at the page containing the booking plugin, the client enters the below information:
Desired service
Desired staff member
Desired date and time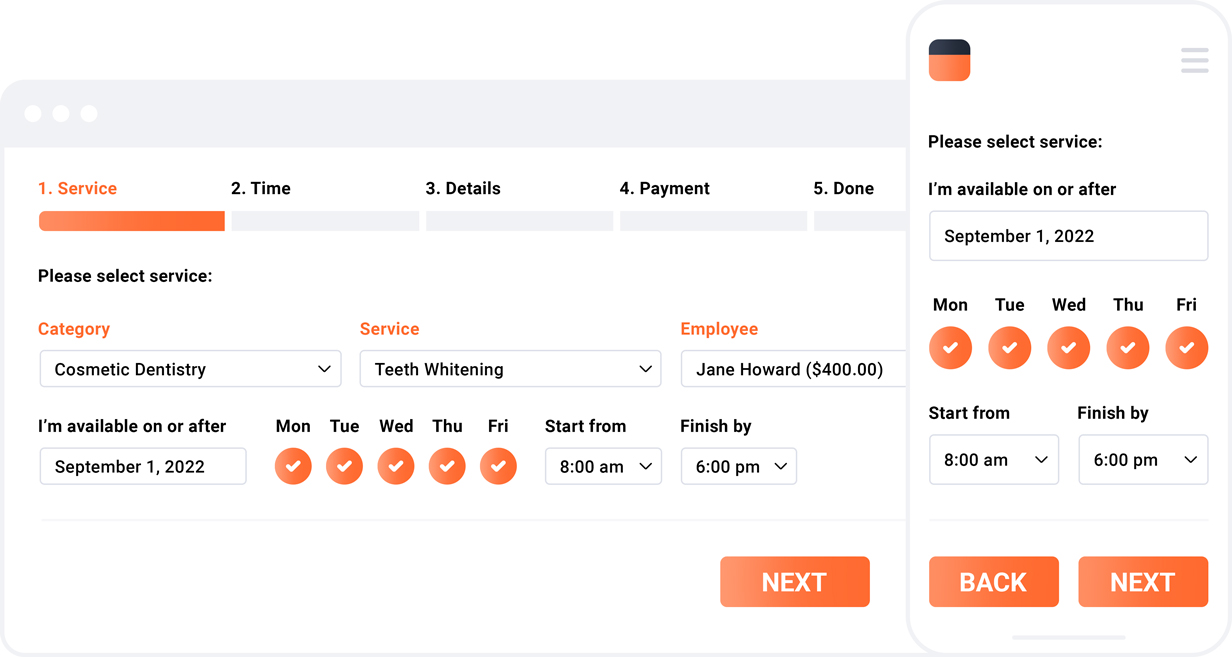 Note: Here customers can decide on the number of people they wish to book but only with Group Booking add-on, you can increase the capacity of a service in the Services tab and untick the 'Number of Persons' checkbox while integrating the plugin with your pages. So you do need to pay extra for this feature.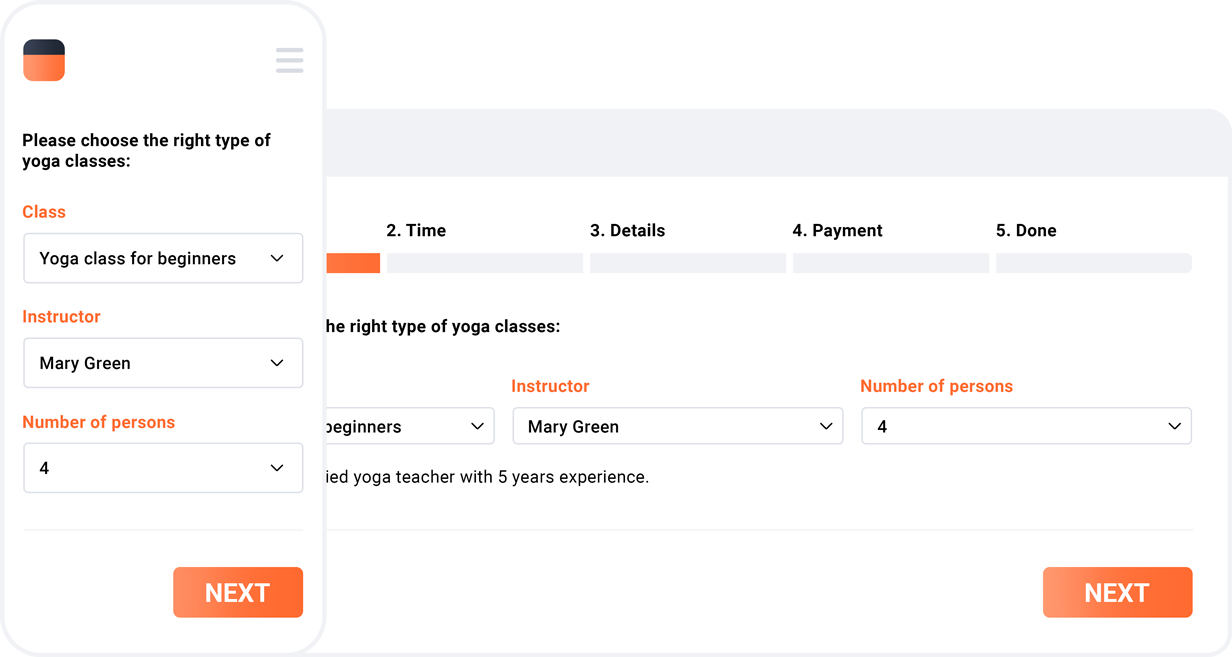 Service Extras, one of their most popular add-ons, allows you to add extra products or services to an appointment. When added, a new step will appear in the booking process, pictured below.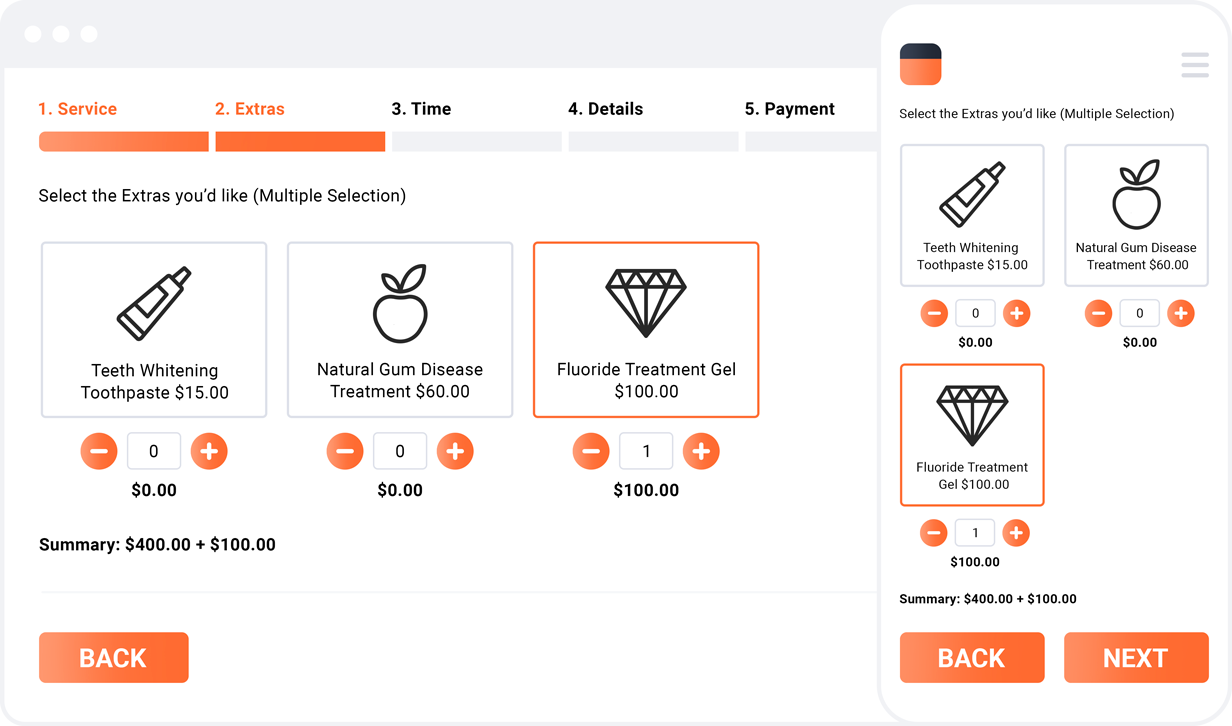 Step 2. Pick a Time Slot
With available time slots, the customer can browse through the scheduling list and choose the time that best suits them.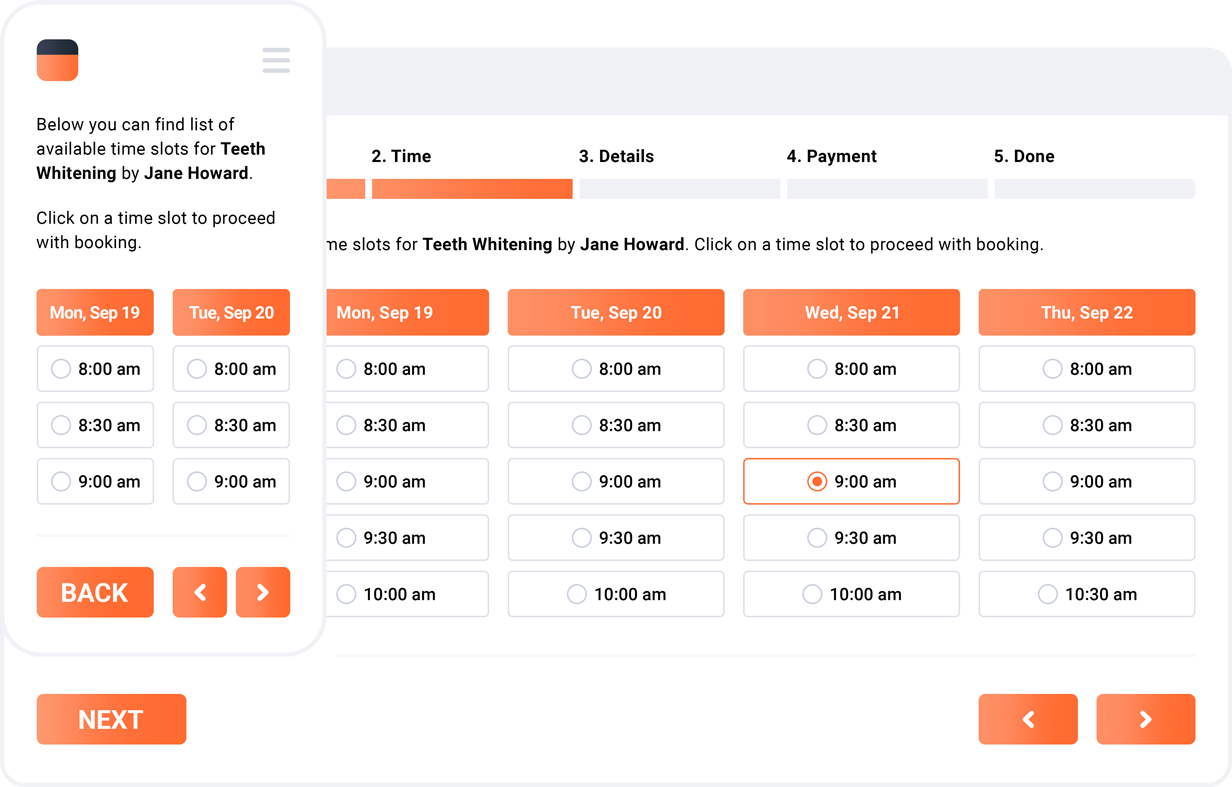 Step 3 (optional): Book Multiple Appointments in One Session
With the Cart add-on, clients can book multiple appointments in one booking session as they come with their friends or family members. This feature adds an option to 'book more' right after Step 2. The 'book more' button will bring them back to Step 1, while storing the current booking on their cart (How to set up the Cart Add-on).
Two add-ons are worth mentioning at this point. The Chain Appointments add-on allows the client to book different services in one visit to reduce clumsiness. For example in a dentist's office: a cleaning, whitening and check-up can be booked in sequence – which is very commonly practiced.
Multiply Appointments add-on allows your client to book identical services one after another. This is useful for group bookings where clients are assisted individually.
All booked appointments will be displayed together with their dates, times, staff members, and prices so clients are clear right from the start.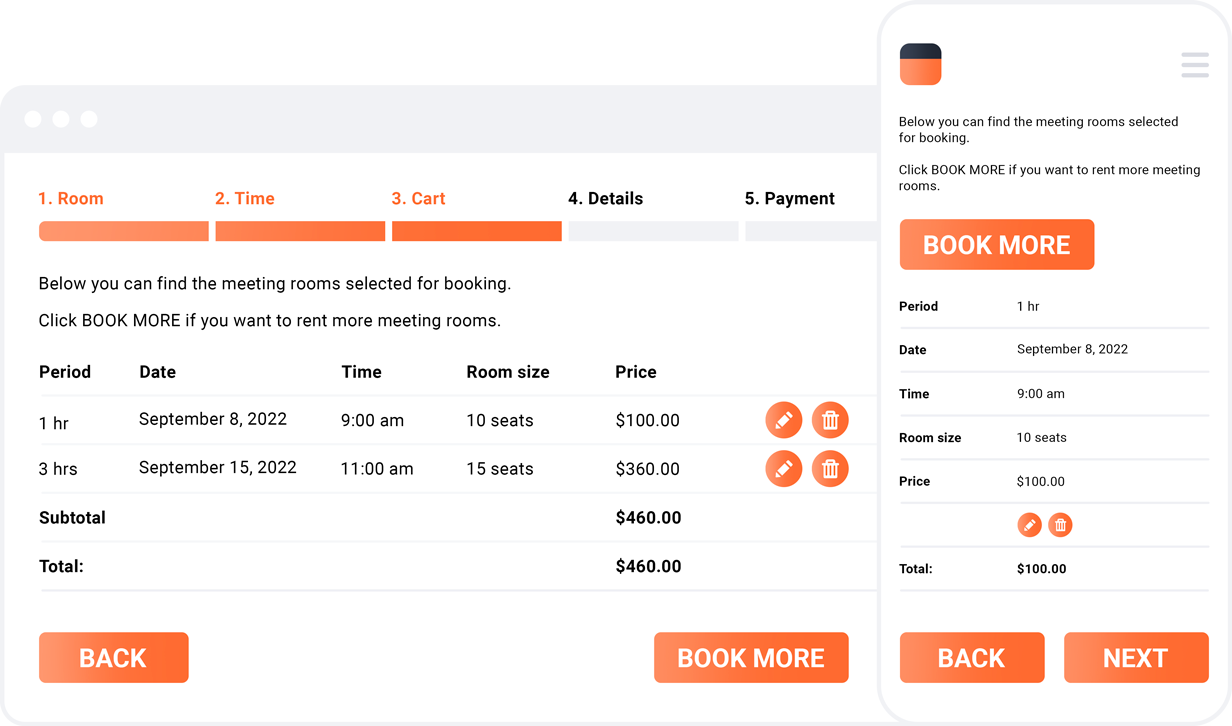 Step 4: User Info
Here's where customers insert their details for operational or marketing purposes. The default fields are name, phone number and email. These default fields cannot be removed, but the phone number can be replaced with a Skype ID. More fields can be added as desired with addons.
Customers can also leave notes on the booking system. Like their favourite spa cocktail or a request for 2 parking spaces etc.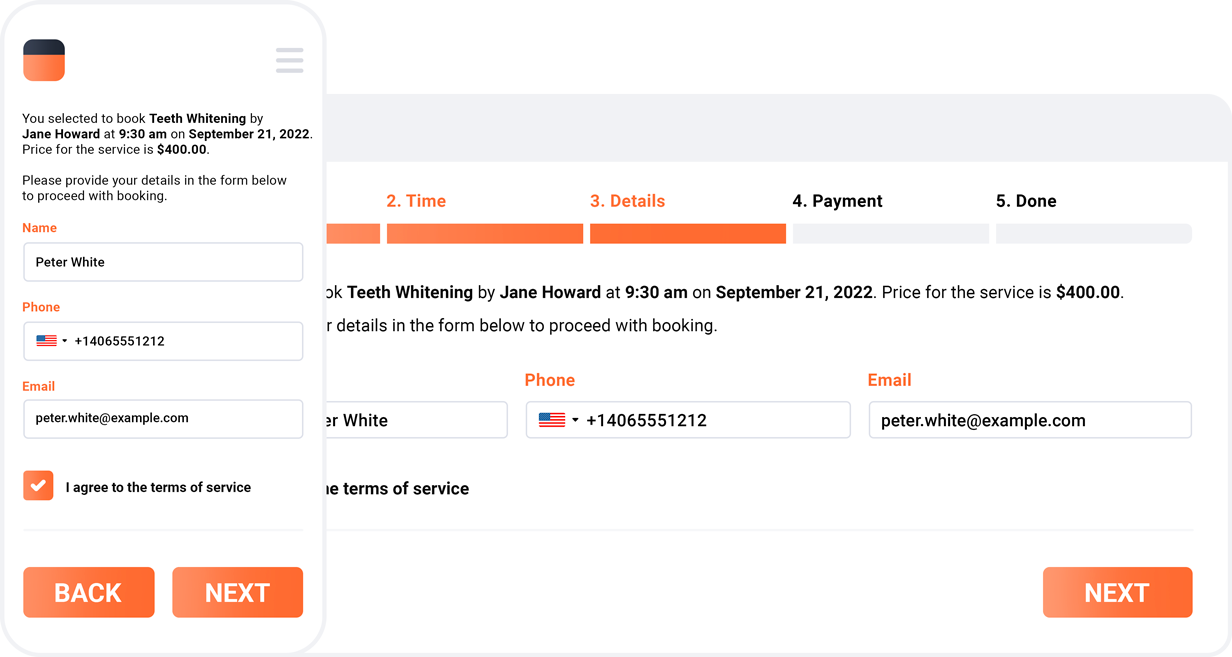 Step 5: Payment
The client can decide between multiple payment options, including online and offline payment (such as cash on arrival). There are more than 10+ online payment options that you can select from and enable for your plugin. You can integrate and offer coupons.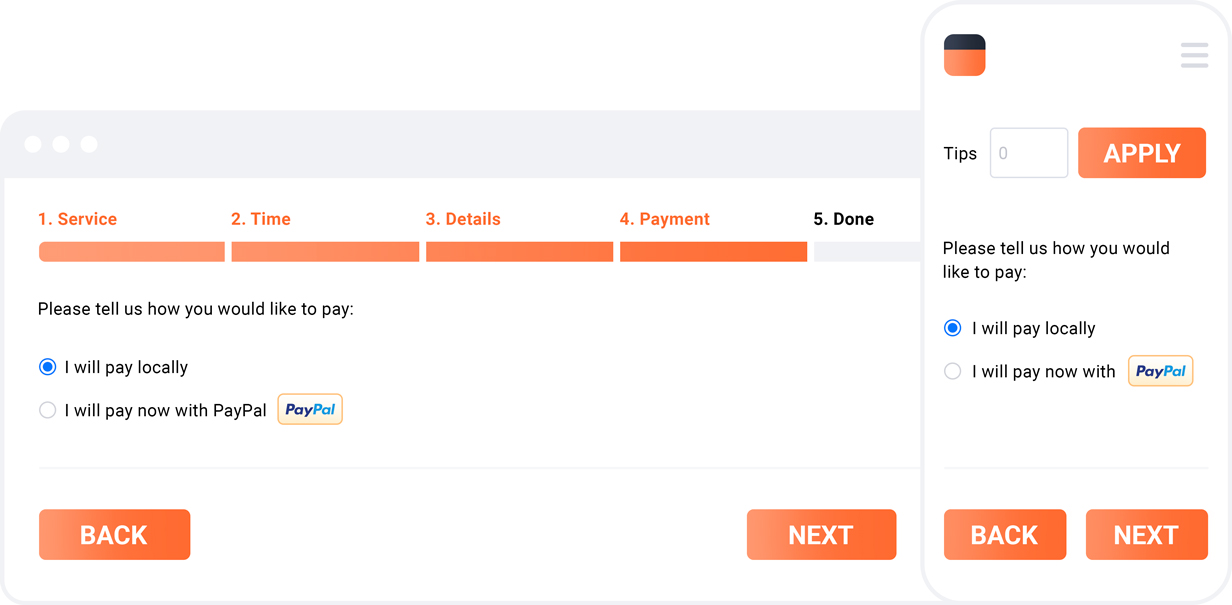 Step 6: Booking Confirmation
Now the appointment is confirmed. It is recommended to set up notifications, so a confirmation email and a text message (SMS) with booking details will be sent to the customer. See how to set notifications up with their videos.
If you are using the pending appointments feature, is it recommended to change the wording of this last step to such as a simple acknowledgement or heads-up to say that you'll be in touch to confirm the booking would be better option.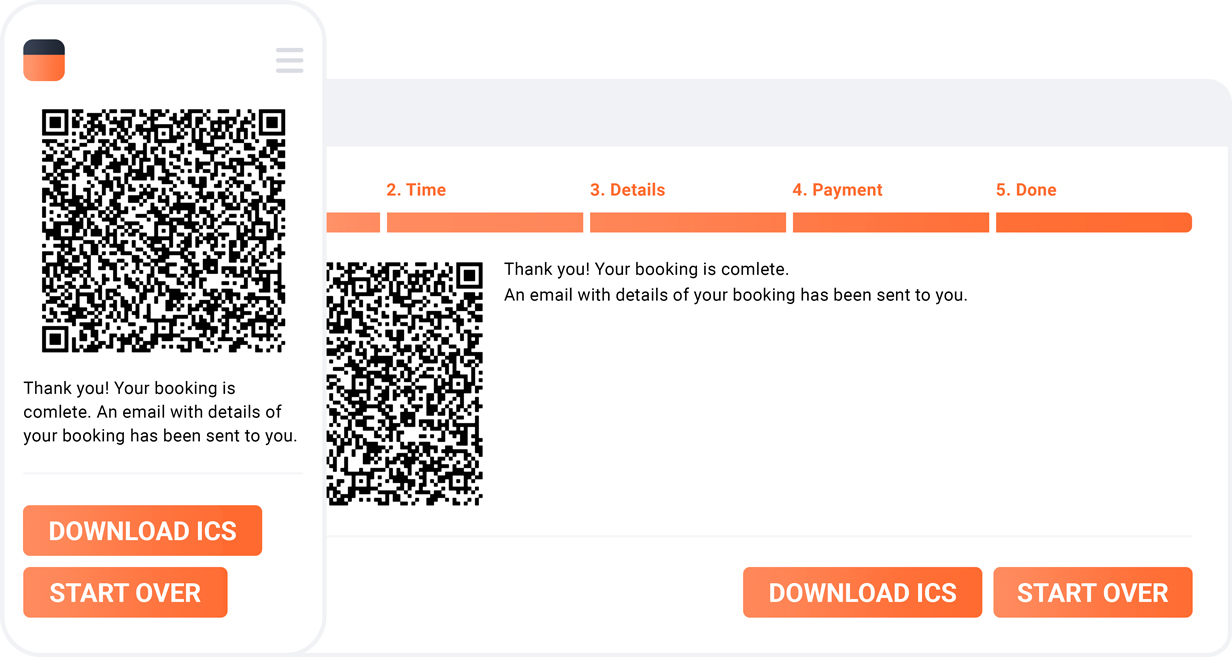 In summary, for so much value it is priced at $89, I think its a great buy for all the customizable features you need to stay competitive in your business as well as to make your clients lives easier in booking appointments with you. On top of that, your staff also becomes more productive and you have payments, a little HR and all of the booking needs met. Only downside might be the seemingly high price. But all good things come with a price right?
Reviews
Overall review is 4.55 out of 5, pretty legit. You can find some negative reviews but those i believe are not genuine/ violating envato's guidelines as the marketplace is a guardian for this.
For all the above value the price is $89, if you use many of the features you should buy it. I used to struggle with such issues connecting multiple free plugins but in the end you just spend more time and end up with problems.
Item rating is 4.55 out of 5, based on 1008 ratings. If you are not yet convinced, the sales numbers of 34+k would definitely convince you that this is indeed very popular and useful, otherwise ratings and sales for it wouldnt be that high. If this plugin suits your business needs, do check them out for more details here.
This is the 3rd best seller booking appointment wordpress plugin on codecanyon, raking in so far a total of 12.3k sales since 13 nov 2014 of the plugin launch. It has positioned itself to be simple and perhaps so called the simplest appointment booking in the market. This plugin is quite well thought after in terms of the benefits derived from the features.
Multiple Calendars and Booking Agents
First, you can have as many calendars as you require, with each of them having their individual time slots, schedules and custom fields. This means you can have multiple calendars and multiple booking agents as each calendar can be assigned to a booking agent user for them to manage their individual calendars.
Guest Booking
To ease things for your clients, especially today with everything going online thanks to pandemic, most first time clients irk at the cumbersome need to give their personal details in signing up for an account on your business site so as to access your service/consultation, when they havent tried your service – here you have your solution of allowing them to make a guest booking. They only need to give their name and email address to book an appointment which serves the primary purpose of them finding you and you servicing them, without mandating a whole lot of intimate personal details from them before they can book a first time visit with you. At the sign up stage is when drop off is highest, so it is wise to simplify this step to maximize leads coming to appointments for your sales closing.
Custom Time Slots
One of the problems faced by many business owners when it comes to time slots is that every business has their own needs that are different from one another and this customization can prove to be very expensive in terms of implementation. Due to the large and almost never ending variations that can occur, Booked plugin presents its benefits – Custom Time Slots. Should there be a circumstance where you need to add vacation days or once in a blue moon kind of off day (different from usual norm). you can utilize the custom time slot feature. Easily customizable to your needs and preferences, it allows you to simply leave out default time slots and add your own custom calendar using their easy-to-operate builder.
Endless Color Possibilities
To those of us who are particular about colors and designs, you have almost Endless Color Possibilities as you can easily select using the already built-in color pickers to design your calendar to appeal to the eyes however you want it to.
Custom Fields
Every business has different needs and hence will require custom fields for booking details, here you can create your own custom booking appointment fields to get any information you wish to collect for each booking. Just click on a button to create fields in any category such as text, paragraph, dropdowns, checkboxes and radio buttons. Of course you can also choose to make them compulsory or required as you desire.
Front-End Calendar Shortcode/Widget
To make the use of such a versatile calendar truly useful to visitors, you definitely want this appearance on your site to be welcoming and pleasing to the eye in terms of engagement. You will be delighted to know that you can display your appointment booking calendar from small to large size as a shortcode or a widget from the Front-End Calendar Shortcode/Widget feature.
Powerful Appointment Management Calendar
If it is so easy for your visitors/guests, it must also be easy for you while checking and looking at the overall bird's eye view of your operations and activities. Simply log in and you can be on top of your appointments from your calendar like this. Also appointments that are pending will be displayed in a list for your approval making things a breeze for your operations.
Responsive and Device Optimized
Now you may be concerned if this design and appearance of this plugin is device responsive, the answer is yes. This appointment booking calendar shortcodes and widgets is responsive and looks very pleasing to the eye on any smart device.
Customer Profile/Appointment Management
Say goodbye to the days where customers hound you for their booking history and details and not to mention forgetting their passwords etc. With the Customer Profile/Appointment Management feature, they can have their own profile page to manage their own login credentials, avatar and also manage their pending and approved appointment bookings instead of taking precious time away from your customer support staff, so they can focus on things that bring higher business value i.e. more profits.
Custom Login/Registration Form
To help your business look professional and customer ready/friendly, you can easily display a login or registration form anywhere on your website using the [booked-login] shortcode.
Reviews
Overall review is 4.26 out of 5, pretty good already. You can check out more reviews on their homepage.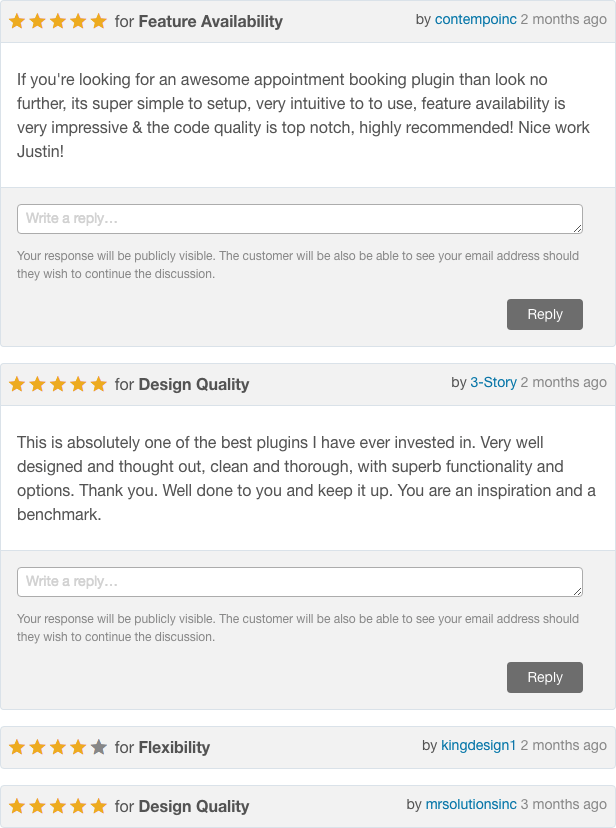 For this simple plugin the price is $49, if the above features are what you need with simplicity, you should consider it.
Item rating is 4.26 out of 5, based on 1008 ratings. If you are not yet convinced, the sales numbers of 12+k would definitely convince you that this is indeed popular and useful, otherwise ratings and sales for it wouldnt be that high. If this plugin suits your business needs, do check them out for more details here.
Last but not least, this is the 4th best selling event booking wordpress plugin on codecanyon in terms of sales, raking in 9.4k sales since 2014, not too bad a feat! The name of this plugin (Timetable Responsive Schedule) already tells us what its focus is on – timetable scheduling. As you can see its really very clear and easy to have a overview of all the activities in a week color coded easy on the eye. This plugin is perhaps most suitable for businesses in the gym industry, school, where events happen by the hour and few key details are necessary to be easily seen by the audience. Lets go through some of its core features.
Responsive Layout
It solves the most common pain point visitors have and also present the best browsing experience as well as upkeeping your brand's professionalism – being responsive over any smart device.
Booking
The sleek timetable you see can be clicked on and immediately a booking of an appointment for an event can be made. Online reservations for restaurants, gyms etc can benefit from this plugin.
PDF Generation/Export
If your business is in the line of needing such detailed event activities information, or the supervisor needs or prefers such tallied information either online or printed via pdf then you must seriously consider this plugin compared to the others. You can easily generate a PDF or export to PDF from your timetable view.
Event Manager / Event Occurrences
Sometimes clients or visitor leads might want to browse events based on their nature instead of day schedule and if you havent found good solution for that, this is one solution that you must look into. This is because you can easily create events with their easy-to-use custom post types. You can also use event occurrences shortcode to show a list of all occurrences of a single event happening on your premises or on your schedule.
Upcoming Events / Fully Customizable
To attract and plan ahead in advance for the online or offline attendees, you will be in good stead if you can show them on an eye catchy side of your website the upcoming events or all of the upcoming events in a form or a scrollable list that is easy on the eyes, yet effective. They have an integrated widget that you can use to display the form or list. I think this feature brings alot of benefits to businesses to always get attendees in advance or sales ahead of time.
Timetable Shortcode Generator
In wordpress you really want to be able to quickly and simply build your timetable or edit your current timetable schedules and you can achieve this using the timetable shortcode generator. Simply choose the events, categories and timetable columns you want to be shown and select the time format, layout for your event block, dropdown menu, filtering tabs, colors, using even google fonts, custom CSS etc. Quite versatile and useful actually.
Visual Composer Integration
The visual composer integration is of course useful and you should make the most of this if you need. You can apparently create a timetable in under 3 minutes look at the easy process below.
Reviews
Mostly very good reviews with of course some occasional negative feedback which I shall leave it to you to judge over here.
With a rating of 4.53 out of 5, on 316 ratings, its not too bad. Getting 9.4k sales of the plugin is also impressive – top 4 best seller. For this relatively simple plugin, which is focused on timetable scheduling, the price is only half of the 3rd best seller at $29. If you arent needing that many features this is a good buy to consider. You can see more details on their main page.
What is the Best WordPress Event Calendar Booking Plugins?
To sum up, in my opinion, if you dont need that many features and you dont need payment features, EventOn and Timetable Responsive is good enough. Bookly Pro is really for complex operational businesses like dental and collecting online payment is crucial including deposits. Booked is simpler than Bookly Pro and almost half price cheaper so you really need to consider your needs before commiting to one of the four. Even though they are top 4 best sellers for event calendar booking appointment wordpress plugins, based on your needs I would think just one would suffice. Let me know your comments if you find this useful. If you still cannot decide, you may want to hop over to wpsuperstars, kinsta or athemes for more alternatives.
If you find analyzing so many wordpress plugins just to make a purchase to be too time consuming, you might be better off checking out envato's unlimited wordpress themes, plugins, logos etc downloads starting from $16.50/month for your website. The good thing is you can stop your subscription anytime and honestly if you can find something you like in the subscription pool, its many times cheaper than getting a standalone wordpress plugin.