If you are a person that deals with online marketing and understands the values of email lists then you will really enjoy this article since we round up the 10 best Mailchimp plugins for wordpress. Mailchimp is one of the best plugins that can help you with digital marketing. In this online environment, everything needs to be as efficient as possible. The entire world is going digital so that means now there are more opportunities for automation than ever before. Mailchimp helps you automate the email sending part of your marketing campaign and also offers plenty of useful tools.
Over time this plugin can also help convert your visitors to subscribers and eventually customers which is the end goal for most people who use it. If this isn't enough of a reason for you to be interested then don't worry since MailChimp helps you in a lot of different ways as well. It will allow you to build a massive email list, create amazing newsletters, run professional high-quality marketing campaigns, find and engage with your audience, and more. It can also help you gain subscribers from social media such as Twitter and Facebook with its integrated campaigns across multiple platforms.
As you can understand now, this is a powerful plugin that can really elevate the level that your website operates in. This is completely free up until you reach the 2000 Subscribers mark and 1200 emails sent per month. This is completely understandable also the pricing is not that bad either, starting with the most basic package at $9 a month and up to $299 for the most pristine deal. It all depends on which one do you need for your online business. Now let's look at some of the best 10 MailChimp Plugins for WordPress in 2021.
10 Best MailChimp Plugins for WordPress:
The MailChimper Pro is a WordPress plugin that will allow you to use MailChimp and many other providers on your website. These kinds of plugins are important because they allow you to collect the email addresses of visitors with fancy newsletters that gain user's attention easily. This plugin will directly connect with MailChimp services and the newly added email will be stored in their databases instantly.
You can fully customize the signup forms and make them as you wish them to be, if you want you can also translate every text area there is. It's really simple to set up and even a beginner can do it quickly. All you need to do is to add your email address to the form or even your MailChimp ID will work.
The developer of this plugin has the Elite Author badge given by the Codecanyon marketplace which means he is a verified and legit seller that has been around for some time. This plugin gets the seal of approval and quality check by the Envato marketplace as well.
When you purchase this plugin you can expect future updates to ensure compatibility and 6 months of support from the developer. If you want to extend the support to 12 months instead then this will cost you an additional $8.63. While the plugin itself will only cost you $28.
You can find a live preview here.
Subscribe by Mailchimp is a relatively new WordPress plugin but it definitely does the job very well. It will help you gain more email list subscribers in a fancy way by clicking on a subscribe button. This entire plugin is developed with jQuery and once the user clicks on the button an amazing form pops up where users can subscribe to your online store.
The plugin is really simple to set up and will only take you 5 to 10 minutes to complete. You will be able to track your subscribers' statistics and many more. The developer has announced that big improvements are coming to the plugin in the near future with features such as 3 Custom form colors, a new advanced user interface, Google analytic integration, etc. Subscribe by Mailchimp will cost you only $13 and you will get 6 months of support from the developer also, if you want to extend it to 12 months it will cost you an additional $3. This product was quality checked by Envato marketplace so no worries there.
You can find a live preview here.
The WordPress Mailchimp Subscription Plugin is a really smooth plugin that integrates MailChimp to your online business. This particular plugin is new but the Author is established in the Codecanyon community since it has multiple badges that ensure a certain quality. As a matter of fact, the plugin has been quality checked by the Envato market as well. The installation method is fairly simple but to set it up properly there are quite a few steps so make sure to take your time with it.
The most important part is to add your MailChimp API key which you can find under, MailChimp Settings. You can change the popup display duration, colors, the radius of the box, and many more. You will get 6 months of support when you purchase the plugin but if you want to add 12 months it will cost you an additional $6.38 whilst the regular plugin costs $22.
You can find a live preview here.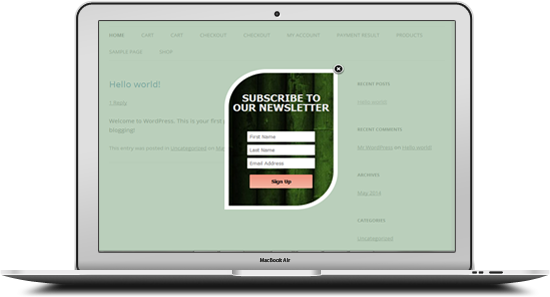 The Mailchimp Custom Popup Subscription for WordPress is an amazing plugin that will help you increase the subscribers' list tremendously with its fancy features that it offers. You can create custom popups and inside them add YouTube videos, any image, custom HTML code, or whatever you desire. This gives you the ability to fully customize the experience for visitors and tailor it to your website's theme and overall color variation. This is one of the best ways in which you can convert visitors to members and eventually subscribers of your email list. One of the best features of this plugin is its ability to fully customize it since this can be the differentiating factor of you earning emails. The developer has the Elite Author badge for this product and also a bunch of other badges in general in the Codecanyon marketplace which ensures a certain quality. And speaking of quality the Envato market has also quality checked this product so you have nothing to worry about. The plugin will cost you only $21 and with it, you get regular updates and 6 months of support but if you want to extend it to 12 months you will have to pay an additional $6.
You can find a live preview here.
Advanced Social Widget MailChimp Edition plugin is a really powerful tool that you should have on your website. It's an all-in-one social media widget that will allow your visitors to connect to all your platforms from one place, your website. This is done through a widget that you can place on the sidebar and it isn't something that will distract users from your content.
Visitors will be able to subscribe to your newsletter, follow you on Twitter, visit your Facebook page, Follow your Instagram, and many more things from one place. You can choose which social media platforms to show and what icons to use, you have complete control over the widget so that you make it as appealing as possible. This is important since you don't want the visitors to focus on these instead of the products in your store, so fine-tuning it is essential.
The plugin also has some interesting features such as Super high-quality Retina enabled graphics and icons, Dynamic Google button variations, Facebook like feature and like count, Twitter Follow feature and followers count, and many more. You can buy this amazing plugin for only $13 and with it, you get 6 months of support from the author which you can extend to 12 months for an additional $3. It is also quality checked by the Envato marketplace so you know you get something useful.
You can find a live preview here.
MailChimp Comments is one of the only plugins for WordPress that allows your subscribers to comment on your posts or pages via MailChimp. What is the best feature of this plugin is that if someone leaves a comment on your website then he or she gets immediately added to your subscription list. Some might say that this is unethical to some degree but you can configure the plugin how you want to respect your users' privacy so don't worry about it.
With this plugin, if you have an interactive content audience you are going to increase your email subscription list really fast. The plugin has some awesome features such as Double opt-in to avoid mailing violations, keep user IP, translation ready, and many more. It is really simple to install and set up and even beginners can finish the task in just a matter of minutes.
This is also made by an Elite Author and the product only has 5 stars reviews so you know this is a great plugin overall. It's also quality checked by Envato to top it off. For only $12 you get this plugin and regular updates as well, which is a really good deal. You will have 6 months of support for free but if you want 12 months you will have to pay an additional $2.63 fee.
You can find a live preview here.
Ninja Popups for WordPress is one of the most popular and most sold plugins in this market topic. With more than 38,000 sales and an average rating of 4.5 stars you can guarantee that there's quality with this product and this is backed up by Envato as well which has quality checked it. With this plugin you can design and create professionally looking popups to make visitors take action in your website. These are usually great to increase conversion and to make people buy more products on your store.
You can easily integrate MailChimp and a lot of other mailing systems such as GetResponse, JetPack, InfusionSoft and many more. It's a fully compatible plugin which will also get updated frequently to ensure compatibility even more. The developer has an Power Elite Author badge on Codecanyon and that's really impressive. For only $24 you get the plugin and 6 months of support from the author, but if you want to have 12 months you will need to pay an additional $7.13.
You can find a live preview here.
The WooChimp plugin is really impressive since it integrates MailChimp with your online store that is run on the WooCommerce plugin. With this one plugin you will be able to launch powerful marketing campaigns, manage your newsletter subscribers, and track the performance of your campaigns individually. When you think about it these two plugins are the perfect fit for each other, one runs the store and the other helps get user in it.
However though it is not as simple to set up since this plugin is different from the others since it offers the full capability of MailChimp eCommerce functionality. What that has extra to offer are things like multiple mailing lists, subscriber groups, merge tags and much more. Even though it's simple to install it will take you some time to get accustomed to all the features that this plugin will bring you.
This product is quality checked by Envato and the developer has a Power Elite Author badge as well so quality is guaranteed. When you buy this plugin you will have frequent updates in the future and 6 months support from the author, at only $39. If you want an extended support for 12 months then this will be an additional $12.75 you have to pay.
You can find a live preview here.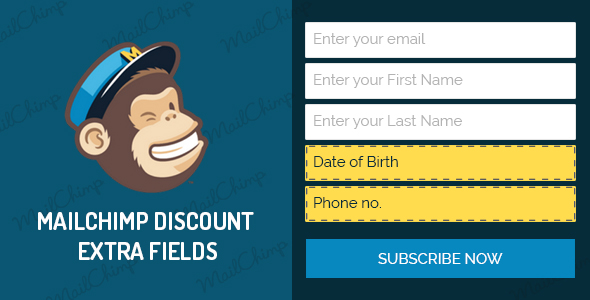 The WooCommerce MailChimp Discount plugin sounds really simple at first but is really impressive and smart. What it does is that it helps you grow your mailing list by encouraging visitors to subscribe to your newsletter so that they can profit a discount code. It's a simple idea but is proven really effective and especially when conversing people that aren't too sure whether to buy or not.
This can really help you and make a decision for the users since they are getting a discount and there's a psychological factor there. You can customize the popup as you want and set the discount rate whatever you feel like so no worries. This developer is also an Elite Author on Codecanyon which means quality.
It features an amazing and smooth backend to customize the plugin, you can set it up easily, you can restrict the coupon to the registered email only so there are no loopholes, allows you to show form fields as per your liking and many more. This plugin will cost you $30 and you will have regular future updates to ensure compatibility and 6 months of support from the developer. If you want 12 months of support instead then that will cost you an additional $9.38.
You can find a live preview here.
The Visual Composer Mailchimp Addon is a simple plugin but it does its job really well. It's an addon for the WP Bakery Page Builder plugin, and all it does is insert the MailChimp subscription form to the previously mentioned page builder. This is really important especially if you have built your entire site with that page builder. Even though it's really simple it still has some cool features such as an option to redirect url, option to change the colors of the form, option to change the colors of the button, design using the VC elements and much more.
All you need to do to make this addon work is to insert your MailChimp API Key and that's it. This product is quality checked by Envato so you can expect quality from it. It will cost you only $23 and you get frequent future updates and 6 months of support from the developer. If you want  extended support than that will cost you an additional $6.75.
You can find a live preview here.
So, which Mailchimp Plugin better suits your needs?
Well, hopefully you found some useful plugins for your website in this list as it's made out of some of the best ones on the market. Integrating MailChimp is really important in your online store succeeding since it's proven that it will increase your conversion rate and guarantee more clients which is always good.
I recommend you should have at least one method of generating some email lists from your store and you can easily do that with any of these plugins featured in this article. Some will be able to provide even more tips and tricks to increase conversion so don't hesitate and pick one that feels the best for your situation. If you have any questions for me then don't hesitate to leave them in the comment section I will try to reply to all of them as soon as possible.