You've built a great site. It has loads of excellent content, growing traffic, and it's doing pretty well on conversions too. But something is missing. The numbers are always coming up just a bit short from where they should be. You aren't getting the conversions you should be getting.
Why is that? Why is your site failing to close the deal? What are you missing? Jennifer Meher wrote a great article on this subject and we are going to focus on one of them – Consistent Communication.
Common Mistakes in Newsletter Email Marketing
One of the most common mistakes website owners make relates to building a subscriber list and then nurturing that list. Sure, they collect subscriber details and do all the things they should be doing when it comes to sending order confirmations, shipping details, etc. What they aren't doing though is to work that list by feeding it with information and more that help to bring prospects and customers back to the site. In short, they fail to stay engaged.
This is where the humble newsletter and email marketing comes into play and this is where WordPress Newsletter plugins, with their layers of functionality, make the entire process run smoothly and profitably. They are all very easy to install and fairly easy to implement and once done, all you'll have to do is create the content and get it ready for delivery.
Think Beyond Building Traffic
The thing to remember is this, and it's easy to miss. Building a great website isn't just about driving traffic to that site. The number of visitors means very little unless they are engaging with your content and converting. If you look at website rankings, this is borne out.
The sites that rank at the top don't just have volumes of traffic. They have traffic that sticks and that means, traffic that spends lots of time on that site. A visitor that makes a quick visit and returns to the search looking for something else, at least in terms of search results, is offering a big "thumbs down" on the search results.
Mailing List and Newsletters Deliver
Newsletters are one really good way to solve this. They prime the audience. They get them interested in specific content or offers. They lead the traffic to exactly where they need to be so they find what they are looking for and when they find it, they'll be ready to get engaged. You can learn more about what makes a great newsletter from this WikiHow Article.
So, now you have the what and why behind WordPress Newsletter plugins. The next question is how. How do these plugins help you spark interest and drive conversions?
There are a couple of ways this happens. The first is to simply ask, at appropriate times while a visitor is on your site if you can send them a newsletter or other email content. It isn't always "ask and you shall receive" but it is certain that if you don't ask, you won't receive. So, the first thing these newsletter plugins do is to help you ask effectively and at the right times for permission (Opt-in) to email them regularly.
The next thing they do is help you manage your list so the right prospects are getting the right content consistently without overwhelming them with too much, too often. With a good WordPress newsletter plugin, you'll be able to track who you've sent content to and whether that content has generated a response.
The next element in this equation is when. When should you start building your email list? When and how often should you communicate with subscribers? How do these factors help determine the effectiveness of your newsletter communications?
For example, if you are in a BtoB environment, sending newsletters on Monday morning may not work as well as say, mid-morning on Tuesdays or Thursdays when workloads may not be a high as they are at the start of the workweek. If you're playing in the BtoC arena, sending out some types of newsletters might perform better when delivered at the start of the weekend or around the lunch hour or quitting time. The best WordPress Newsletter plugins will help you answer these questions by helping you track engagements with your newsletter content.
5 Important Attributes to your Newsletter Strategy
Before we start talking about specific WordPress Newsletter Plugins, let talk a little about the key attributes you should be looking for. There are 5 keys.
Allow visitors to sign up for your newsletter and make that process as simple as it can be.
Don't directly ask them to sign up. Convince them that they should. Sell them on the value your newsletter will deliver. Through testing a reporting, these plugins should help you track how effective your sales pitch is.
Be sure that any forms you're using are responsive. In other words, make your popups and signup forms mobile-friendly.
Send newsletters that include engagements with clear calls to action. Don't just get them excited and leave them to find their way back to your site. Give them a clickable link that gets them to the exact place they are excited to visit. Your popups should facilities this and offer autoresponder integration that tracks this.
Reward your subscribers. Make this a value proposition for them. Give them exclusive offers and track how those offers are working to convert your subscribers. Again, the plugin you choose must facilitate this.
Presenting Our 10 Best Newsletter WordPress Plugins in 2021
Some plugins do all of this. Some plugins do some and work in conjunction with others to get the rest done. We'll include both in the following list.
10. Emails & Newsletters with Jackmail
4-Star – 29 Sales – 21 Comments
This is a complete WordPress newsletter plugin system that helps both in the creation and the distribution of your newsletters. This includes some simple, yet powerful automation tools where your posts can be used to automatically generate new newsletters.
The automation happens based on triggers that you set. Simply decide what type of content and how many posts will be pulled into the newsletter and the plugin takes it from there. Once the triggers are reached the newsletter is generated and sent.
This plugin also has a nice email builder tool that acts a lot like most drag-and-drop web design tools. This makes it fast and familiar to use. An even faster approach is to use one of the ready-made templates that are included with this plugin.
The plugin syncs up with other plugins like Ninja Forms, Contact Form, WooCommerce, and others so activity within any of these can trigger an email event in this plugin.
This plugin also provides email distribution for 5,000 emails per month with options to subscribe to higher volumes.
This plugin is being regularly updated and is fully compatible with the latest version of WordPress and WooCommerce. It's also actively supported through their direct support site and CodeCanyon support.
The cost for this plugin is $69. It includes 6 months of support that can be extended to a full 12 months for an additional $24.
There is no live preview available but you can review screenshots that will give you a feel for how this works.
4-Star – 1,953 Sales – 246 Comments
One of the keys to effectively marketing with newsletters is to effectively build your mailing list and that's where WordPress Newsletter plugins like this one play an important role. It is an event-driven popup plugin that encourages visitors to sign up for your newsletters and other content.
This particular plugin works hand-in-hand with MailChimp, one of the most popular email marketing platforms on the market. Essentially, this tool provides names of people that have opted to receive your email and that is exactly what Mailchimp is looking for.
With this tool, you can easily create signup points with popups, lightboxes, sliders, sidebar widgets, flip boxes, and registration points in the header and/or footer bars on all or any page on your site. It is also designed to be fully responsive so you can have separate designs that will fit perfectly on almost any device.
This plugin has not been updated on CodeCanyon since 2018 but it is being actively updated within WordPress and is actively supported through direct and CodeCanyon support forums.
This plugin costs $25 per site and comes with 6 months of support that can be extended to 12 months for an additional $7.50.
You can explore the functionality of this plugin with their Live Preview.
4.5-Star – 42 Sales – 43 Comments
This is arguably one of the most unique email/WordPress newsletter marketing plugins on the market and yet, the reach of this plugin is comparatively minuscule. It also has a very quiet chat channel on CodeCanyon with the last message posted there dating back 6 months. Still, with the range of capabilities included in this plugin and the no-limit abilities this plugin offers, it's certainly worth considering.
You can use this plugin to set up an email campaign, automate newsletter distribution, and provide things like subscription updates and other calendar-driven remainders. It also provides autoresponder functionality so when someone responds to your email, this plugin can automatically process that response. This means things like unsubscribe requests require no manual intervention.
Full campaign reporting is provided, including the ability to produce printable and sharable PDF versions. If you are providing marketing services to clients this functionality is a real-time saver. If you do want to extract and customize the reporting you can accomplish that as well.
For the automation of email distribution, you do need a host or other server service that allows you to run custom Cron jobs. These are special routines that are automatically triggered based on the criteria your set. This is not always available on all hosting services so keep that in mind as you review these plugin options.
This plugin costs $35 per site you install it on. That includes 6 months of support. If you want to extend that to 12 months there is an additional cost of $11.25.
Check out the Live Preview here but one more note of concern. There is a link for a live demo that isn't working.
4.5-Star – 244 sales – 48 Comments
Using a unique "Story" approach to building newsletters, this WordPress Newsletter plugin helps to automate the development of various newsletters that can then be sent out to specific groups within your email list. For example, you could have a story that is included in all newsletters but then have some area of interest or geographic area-specific stories. This allows better content targeting that fits your segmented audience.
This is a great way to target specific audiences so they are getting only the information most relevant to them. That helps ensure they will open and read what you are sending and that creates an enhanced level of interest and loyalty that should result in measurable revenue improvements.
Stories are implements as a custom post type and they are built in the same way as you would build any WordPress post so there is no need to recreate anything. Created your posts and then decide if that post should become a story. If yes, save it as a Story and you are ready to assign that story to one or more of your newsletters.
This plugin is being actively updated and supported both through their direct support forum and on CodeCanyon. However, the latest version of the software has not been loaded on CodeCanyon. It will be updated once you install it on your WordPress site.
This plugin has a price of $29, with 6 months of support. That can be extended to 12 months for an additional $9.
There is no live preview for this plugin but you can review screenshots using the Screenshots button on the plugin page.
4.5-Star – 257 Sales – 212 Comments
This is an interesting one in that this WordPress Newsletter plugin is reaching what the publisher has called its "end of life", but it's already being replaced by a new plugin named BeeMail. They are providing an upgrade path for current clients though so this is still a very viable choice.
MailFit and BeeMail both provide full automation of email/newsletter marketing with auto-send functionality, coupled with an autoresponder process. They also have an easy-to-use email template builder that you can use to create custom designs, or you could choose to use any of the predefined templates that are included.
This plugin also helps you manage your subscriber lists so you can control what they will receive, when they will receive it, how often they will receive your email, and when they were last contacted, making this an effective CRM tool as well. You can also import subscriber lists from external sources so if you are migrating to MailFit there's no need to rebuild any of your lists.
It is being actively supported with activity as recent as a few weeks ago. However, you will not download the latest version on CodeCanyon. Instead, you will get updates directly through WordPress once you have this installed.
The cost for this plugin is $39 with 6 months of support. For an additional $12.75 you can extend that to 12 months.
A Live Preview is also available as you consider your plugin options but it is currently showing the new BeeMail plugin. It should still be useful for review purposes.
4.5-Star – 421 Sales – 62 Comments
Building an email list is the foundation for any effective email marketing campaign and that is what this WordPress Newsletter plugin is focused on. With an easy-to-use popup designer, you can create eye-catching popups that are purely focused on collecting email subscribers at various points on your website.
Popups can float or can be stuck to any of 12 points on a screen so they are always visible and ready for subscriber input. The popups can be customized using more than 80 option settings, along with a significant number of Font Awesome icons.
This plugin is also GDPR compliant so if you are working anywhere within the European Union, you will be good to go. It also integrates with WordPress-native Personal Data Tools. This means you will be in a good position to meet personal data reporting requirements should you be asked to do so.
This tool also provides tight integration with autoresponder tools from Mailchimp, AWeber, GetResponse, iContact, Campaign Monitor, ActiveCampaign, Mad Mimi, and others.
While the latest version of the plugin has not been uploaded to CodeCanyon, it is fully compatible with the latest version of WordPress. It's also being actively supported on CodeCanyon's chat support and their support forum.
The cost for this plugin is $19 with 6 months of support. Extend that to 12 months for an additional $5.25.
There is a set of 6 demos for this plugin that you can access here.
Using a combination of popup and push types, this is a WordPress Newsletter email list building tool that delivers easy-to-implement forms at just about any point on your website. They explain that their main gold in the design of this tool was to break with old popup patterns that have become an annoyance for my users.
They took a fresh look at how to present these forms so they are still highly effective while still being unobtrusive. They argue that this allows their tool to do a far better job of collecting subscribers at a much higher rate.
They support all of the main email services as well, including Mailchimp, AWeber, GetResponse, iContact, Campaign Monitor, ActiveCampaign, Mad Mimi, Constant Contact, MailPoet, Mail Relay, and Mailster.
While the version available on CodeCanyon isn't current, the updates within WordPress make this fully compatible with the latest version of that platform. It's also being actively supported on CodeCanyon and their support site.
This plugin will cost you $25 per site as a one-time licensing fee and that includes 6 months of support. You can extend that to 12 months for $7.50, or a total cost of $32.50.
There is a Live Preview available for review that takes you through many of the form types and positioning options so you'll come away with a very good understanding of how this works.
4-Star – 3,051 Sales – 602 Comments
Like the previous WordPress Newsletter plugin, this is focused on collecting leads for your email list that are fully opted in and ready to feed with your best content and latest offers. It takes a different approach to this process though and one you may have come across on many other subscription sites.
This plugin effectively locks content by blurring it and displaying a simple form that requires a name and email address to unlock. Once a valid email is entered, the plugin vanishes and the content becomes readable.
It can be implemented with a single opt-in or you can use a double opt-in where a confirming email is sent and must be responded to. In most countries, this is a requirement if you are hoping to avoid being labeled as a spammer.
You can also import subscribers from any of your current lists and integrate them with all of the most popular email services. These include Mailchimp, AWeber, GetResponse, iContact, Campaign Monitor, ActiveCampaign, Mad Mimi, Constant Contact, MailPoet, Mail Relay, and Mailster, and others.
This tool also allows you to have users subscribe using their social profiles like Facebook, Twitter, Google, and LinkedIn. By doing so, they are allowing you to grab basic data from their profiles that you can then integrate with the mailing list. It also acts as a content lock that requires a sign-in with any of these platforms or by entering an email address directly.
This WordPress Newsletter plugin is available for $26 per site you install it on. That includes support for 6 months, with the option to extend that to 12 months for an additional $7.88.
The current version is available on CodeCanyon, with subsequent updates delivered directly through WordPress. You'll also find active support on the CodeCanyon support forum and their platform.
A Live Preview is available here.
4.5-Star – 1,333 Sales – 286 Comment
This WordPress Newsletter plugin is a great list-building tool for those that are offering content downloads of any type. With this, the visitor must first enter a valid email address before they will be able to download the requested content.
It also supports a double opt-in process where a link is sent that allows the download to happen, effectively creating a double opt-in process that is compliant with all of the anti-spamming regulations. It's also compliant with GDPR so working anywhere in the European Union is okay too.
This also supports locking files that are hosted remotely so this isn't limited to content that is hosted on your server or website host. It can be anywhere on the web.
It is fully up to date both on CodeCanyon and within WordPress. It's also being actively supported on the CodeCanyon platform and their site.
A single site license costs $17 and includes 6 months of support that can be extended to a full year for an additional $4.50.
Have a look at their Live Preview to get a good feel for how this can work for you.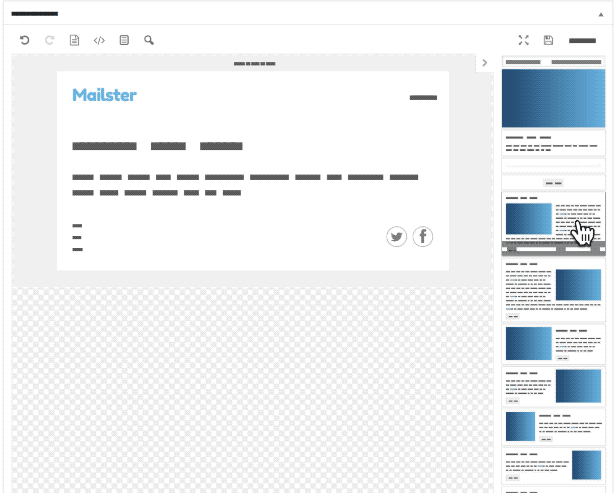 4.5-Star – 24,548 Sales – 8,342 Comments
This WordPress Newsletter plugin is the last on our list but the first in terms of functionality. It is fair to say that all of the functionality offered by all of the other plugins on our list are available here, with some unique capabilities as well.
For example, they have integrated the Unsplash library of images that have proven helpful in grabbing attention, holding interest, and reducing bounce rates. They also have tight integration with your RSS content so you can use that same material to feed your newsletter and email campaigns.
Email templates are developed using a comfortably recognizable drag and drop process so creating new campaigns is simple and once you build templates they are easily reused. You can also start with ready-made email templates so you never really have to start from scratch.
The other function that stands out with this plugin is their campaign analytics that offers in-depth campaign performance tracking that can be easily shared. This is a real-time reporting function as well so you have up to the minute information you can act on if an adjustment is needed.
This is also unlimited in terms of the number of lists and the number of subscribers you can manage and mail to, with detailed customer data available for each that includes all of your contact and their response activity.
Last, this plugin offers a free trial so you can install it and play with it risk-free.
A single site license will cost you $69, with extended support adding $24 to the total cost, making this the most expensive WordPress Newsletter Plugin on our list, but given the functionality offered, it could be well worth the extra money.
There is no live preview as there is with the others on this list. Instead, it is a free trial that you can start here.
Summary
These and some of the free plugins you'll find on WordPress make newsletter marketing a real option when you are looking for an effective way to improve your online revenue streams. They are relatively easy to use as well so you can focus on developing content without having to worry very much about the nuts and bolts need to deliver that content into the right hands.
Our personal preference is for Mailster but any of the WordPress Newsletter plugins we've listed here should work well too so if budget is a concern, start with a less expensive alternative and grow from there. Just be sure to get started with something so you can start seeing the real value that can be developed with newsletter and email marketing.