WooCommerce is a huge and largely popular plugin for WordPress. It is really useful and powerful since it can turn your website into an online store or eCommerce in just a matter of minutes. However, this is made possible by using WooCommerce in conjunction with other plugins to help the store feel more complete and add functionalities. In this article, we will show you some of the best WooCommerce add-on plugins for checkout so that you have a better conversion rate.
Even though WooCommerce on its own will help you develop some amazing and functional websites still there is a need to add more so that it looks and feels perfect. It all depends on how user-friendly your website is since that's the main correlation with sales being made. Well, enough about it and let's look at some of the best addons for checkout.
Our 10 Best WooCommerce Checkout Add-on Plugins List:
WooCommerce Recover Abandoned Cart
Woocommerce Easy Checkout Field Editor
Woocommerce Direct Checkout, Skip Cart or Checkout on Same Page
WooCommerce MultiStep Checkout Wizard
Instantio – One Page / Direct Checkout for WooCommerce
WooCommerce Checkout for Digital Goods
WooCommerce Checkout Fields & Fees
Woocommerce Dynamic Cart Notices
2Checkout Payment Gateway for WooCommerce
EP WooCommerce Advanced Checkout Addons
The WooCommerce Recover Abandoned Cart is a must-have add-on since it will help you get more sales drastically. What it does is that it will recover the abandoned carts which could happen for a large number of reasons. Such as internet shortage, miss clicking out of the website, closing the cart by accident, and many more. All this gets dealt with by the plugin and when you come back to the site next time your cart will be waiting for you, and if it has your email it will automatically send you a reminder if you abandon a cart.
There's a lot of customizations that you can do with that email, and as an added feature if the user doesn't respond to the email within a specified amount of time you can send a coupon code. This will drastically increase the chances of that person buying and is a great feature. This plugin comes with 6 months of support and constant future updates making sure it will work on any version of WordPress that you have. The WooCommerce Recover Abandoned Cart will cost you 49$ but I can guarantee it will be worth it in the long run.
You can check this plugin out here.
The WooCommerce Easy Checkout is a really cool extension for your online store. It basically allows you to edit, add or delete fields on the checkout page. There are a number of reasons you would want to do that and most people enjoy a more custom form than the generic one. It features a slick Drag and Drop Admin UI that will make it super simple even for a beginner. You can change the default checkout fields with 15 types of new ones making the checkout more interesting. It's one of the best plugins that allows you to add your own flair to the checkout page which hopefully will lead to more conversions. This addon will be updated frequently and you will also get 6 months of support from the author. It costs only 19$ and that's a great deal.
You can check this plugin out here.
This is a really powerful add-on for WooCommerce as it offers a lot of features that greatly impact the user experience of the website. You can have 3 different types of checkouts for your website and each of them is unique on its own and can match any type of theme that you might be using. You will be able to create an additional Call to Action button, customize the 'Add to Cart' button, and more with this plugin. The developer has an Elite Author badge which means he is reputable and has made a large number of sales. The support will be excellent according to a large number of reviews and you will get 6 months of it when you buy the plugin. This addon will cost you 29$ and you will get regular future updates as well.
You can check this plugin out here.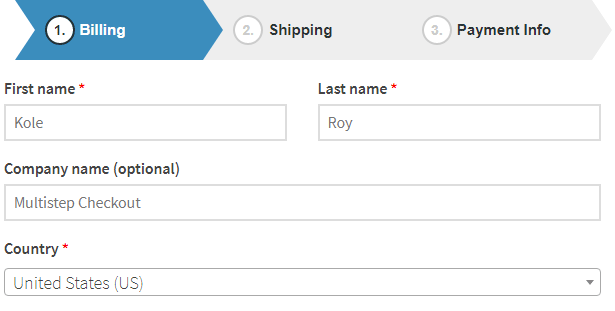 The WooCommerce MultiStep Checkout Wizard is one of the best plugins in the category, it has been a trending item for a long time and has made more than 5000 sales whilst keeping an average rating of 4.50. Your users will have a much more simplified checkout process and that might be the key difference that will land you more clients. The plugin is designed to work on every device and browser so you won't have any compatibility issues. It's really simple to set up, and you can choose from a few premade templates or edit them yourself. You will get 6 months of support and frequent updates from buying this plugin, which will cost you only 19$.
You can check this plugin out here.
Instantio is a really good add-on for your WooCommerce store. It converts the long and multi-step checkout process into a fast and efficient one-page checkout which wouldn't take longer than 10 to 15 seconds. The whole process from 'Add to Cart', to inserting the detailed information that usually takes a while to complete will now be super easy and without even reloading the website, which could make the customer more inclined to finish the purchase rather than abandoning the cart.
Your customer will be able to perform a Direct Checkout in just a matter of minutes of work setting it up. It will highly benefit your online store so why not implement this plugin. You will get 6 months of support and frequent updates as well. This add-on for the WooCommerce plugin will only cost you 24$.
You can check this plugin out here.
If you have an online store that deals with digital goods especially, then I would suggest you install this plugin as fast as possible. One of the main reasons the WooCommerce Checkout for Digital Goods is made is to shorten the time that your visitors can buy the product. Some online stores are lazy and don't even bother to change or fix the checkout page and that means that they ask for unnecessary questions such as the physical location. That is nonsense when dealing with digital products, and there's when this plugin comes into action.
You can remove any field on the checkout form that isn't relevant to the type of item that the client is purchasing. This will make the user experience much smoother and can greatly increase the conversion rate. What is awesome is that you don't need to set up or configure this add-on, just install and activate it, and you are done. After purchasing this plugin you can expect frequent future updates, 6 months of support from the author, and at a cost of only 18$.
You can check this plugin out here.
The WooCommerce Checkout Fields & Fees as you can guess by its name it will help you edit checkout fields and add fees or discounts when the fee you enter is negative. This is really useful and you may really benefit by messing around with this plugin and its features. You will have access to a number of different field types that will have logic rules to enter on your checkout form. That can be done easily by a simple and straightforward visual editor so that even a beginner can do it in just a few minutes. The field types can be text, text area, file, number, country, date, and many more. Another cool feature is that the fee that you add can be conditional which means that the fee values changes depending on some factors such as the shipping country, the user role, the zip code etc. A thing to keep in mind is that you need WordPress with a minimum PHP version of 5.5. You will get 6 months of support and regular updates for this addon that will cost you only 20$.
You can check this plugin out here.
The WooCommerce Dynamic Cart Notices is a plugin that will encourage your website visitors to buy a product by seeing other cart notices that happen in your store. This is a really smart idea that works better than you think at first since it makes it feel like it's an environment in which people enjoy shopping. You can edit and customize the notice based on the minimum amount, products in the cart, categories in the cart, a suggested coupon, a deadline, and more.
All these things and much more can be configurated in the plugin settings page and you will be surprised at some of the things you will be able to edit and change. The UI is not complicated but definitively a beginner will have a hard time noticing everything. It's best you take your time and tweak the options as much as possible so that you find a winning combination that will trick users into committing to buy a product. As with all the plugins on this list, you will have 6 months of support and future updates. This amazing plugin will cost you only 16$
You can check this plugin out here.
The 2Checkout Payment Gateway for WooCommerce is a really useful plugin for your website since it allows the customers to make purchases with 8 new payment methods. If you haven't selected a payment method and this is your primary choice then you won't be disappointed by it. However, it can still be a great addition even if you have a primary payment integrated on your online store.
This addon allows you to accept payments from multiple currencies such as Electronic Funds Transfer, international Wire Transfer or a 2Checkout branded Payoneer MasterCard. The developer is awarded with the Elite Author badge from codecanyon marketplace, which means you will get a certain kind of quality from his products.When you buy the plugin you will get 6 months of support and regular updates for the future to maintain compatibility. This add-on is going to cost you 25$ but it's definitely worth it.
You can check this plugin out here.
This advanced checkout add-on is one of the best in the niche since it offers so much options and it's generally great. You will be able to edit and customize the checkout form and this is really important since you can improve the user experience a lot by doing small subtle things. The types of fields that you can add are text fields, text areas, dropdown select menus, multi-selections, radio buttons, a checkbox and many more.
As you can already see this plugin offers a lot so that your checkout form looks just as you imagined it would and hopefully it will make users enjoy your store more. Setting it up and tweaking the settings of the plugin is not really difficult to do but it will require you to spend some time on it until you are fully capable of operating at full capacity with this addon. You will get 6 months of support and updates in the future. Don't hesitate to purchase it now if you need it since it's a nice offer, from 40$ now you can get it at only 24$.
You can check this plugin out here:
Closing Thoughts
When you have an online store it's important that everything feels right and that it will closely portray what you had in mind. It's important that your vision for the website is followed from the user's beginning journey on your main page with the end which is the checkout process. A lot of webmasters make the mistake of not editing or personalizing the checkout phase and this is a big factor on users not completing an order.
Hopefully, a lot of you are inspired to have at least one of these WooCommerce checkout add-ons on your online store so that you claim their benefits. There are a lot of good choices here from which you can select from and I'm sure you will find the right one for you. If you have any questions for the plugins featured on this list leave a comment and I will give you an answer as soon as possible.