If the world was just the 100 miles or so that surrounded your business, you never give a single thought to how to process a purchase in anything other than your local currency. That isn't the world you're playing in when you move to e-commerce.
That world has no borders and no one currency or language. That world is limited only by how far you are willing to reach. Now, you are unlikely to need or even want to deal with all 180 currently circulating currencies, but you could easily be dealing with dozens, even if you limit your reach to the world's major markets.
Add to that the introduction of bitcoin payments and you find an entirely new level of opportunity and complexity, along with a perceived level of volatility that is unique to this digital currency.
Building an E-Commerce Empire
Still, if you are serious about growing your e-commerce empire you need to employ the right tools – tools that allow you to engage with customers in ways that make them comfortable. One of the ways you do that is to offer pricing and payment methods in their local currency.
Studies have shown that as many as 25% of customers will abandon their shopping carts when they are unable to pay in their local currency. Not dealing in local currencies also unveils a hidden cost for buyers that will pay between 3% and 5% service fees when paying in a foreign currency. Take a quick read through this article by Michael Bilotta to learn more.
This article will walk you through a review of 10 leading WooCommerce Currency Switcher plugins that take the complexity out of selling in local currencies.
4 WooCommerce Currency Switcher Plugins Attributes to Take Note
To varying extents, WooCommerce Currency Switcher plugins share some common attributes that will be important as you extend your global reach.
Customers should be able to choose their preferred currency but the default should be based on their location. If in the UK, the pricing should default to Pound Sterling, while someone in France or Germany would default to Euro.
Exchange rates should be updated automatically. Currencies fluctuate and keeping up with those fluctuations will become increasingly difficult as your global reach expands. Automatic updates eliminate the problem.
It should also allow manual settings for exchange rates. Currency fluctuations, especially on low margin sales, can destroy profitability. You can protect yourself from these fluctuations by setting an exchange rate that protects your margins.
It should also allow you to enter fixed prices in each currency so you can eliminate any exchange issues. When dealing with a small number of products and a limited set of currencies this can eliminate any issues while still meeting the needs of your customers.
Why are these attributes important?
As your market reach expands, so does the complexity of managing your e-commerce activities. You have supply issues, shipping issues, customer service issues, and more to work through. By employing an effective WooCommerce Currency Switcher plugin, you are removing one major piece of that complexity.
Your pricing becomes stable and automated. Your profit margins are protected. And most importantly, your abandon rates are sharply reduced with the acceptance of prefer/local currencies.
Our 10 Best WooCommerce Currency Switcher Plugins
| | |
| --- | --- |
| 10 | My Woo Multi Currency WordPress Plugin – WooCommerce Currency Switcher |
| 9 | Woo365: All in One WooCommerce Plugin |
| 8 | Role Based Pricing Pro For WooCommerce |
| 7 | WOOCS – WooCommerce Currency Switcher |
| 6 | WPCS – WordPress Currency Switcher |
| 5 | WooCommerce Multiple Currencies |
| 4 | Tax Display by Country for WooCommerce |
| 3 | WooCommerce Ultimate Multi Currency Suite |
| 2 | WooCommerce All in One Currency Converter |
| 1 | WooCommerce Multi Currency – Currency Switcher |
3.5-Star – 114 Sales – 87 Comments
Advertised as the cheapest WooCommerce Currency Switcher plugin on the market, Woo Multi Currency has all of the key features we've listed as being important.
It allows customers to choose their preferred currency and at the start, that currency is defaulted based on the location.
It also does both manual and automatic exchange rate updates so you have the choice of setting prices at the product level or just defining what currencies you can accept so the plugin can keep the rates up to date.
This plugin is integrated with the WordPress Multi-Language plugin as well so many of the settings you'll need are combined. That makes the setup easier than it would be if the two plugins were disconnected.
These multi-currency options are available on both regular prices and sale prices, set by region so you can set a sale price in one location and not others or have it applied across all locations.
The last version uploaded to CodeCanyon dates back to April 2020 but the plugin is being actively updated to keep up with the latest versions of WooCommerce and WordPress. It's also being actively supported on the CodeCanyon support board.
The authors provide a live preview so you can see how it works in real life. This same link will get you to their documentation as well.
This is priced at $24 with the first 6 months of support included. You can extend that support for an additional 6 months for $7.88.
4-Star – 67 Sales – 38 Comments
This WooCommerce Currency Switcher plugin is a very different kind of beast in that it's several plugins that become available with this one installation. It includes 115 total plugins that they suggest you can use by simply selecting the ones that best suit your needs.
The ones we are interested in are all related to our list of key features you should be shopping for. These include a currency switcher, where you can all of the world currencies and crypto-currencies. It also has functionality that automatically detects the local currency, allows products to be individually priced in multiple currencies, and even extends this functionality to external products you may be selling as an affiliate marketer.
In total, 15 unique modules deal with currencies and pricing that you can make good use of and they are all tightly integrated with WooCommerce. Additionally, there are several others that you may find interesting additions to your website as your work to present products in the most effective way possible.
This package of WooCommerce Currency Switcher plugins will set you back $18 and that means it's also the least expensive. This includes 6 months of support with the option to extend that to 12 months for an additional $4.88.
The latest version on CodeCanyon dates back to 2019 but once you install it, it gets a full set of updates that bring it in line with the current versions of WordPress and WooCommerce.
There is no live preview or demo for this package. You'll find screenshots that help give you a feel for how this works.
4.5-Star – 568 Sales – 195 Comments
This WooCommerce Currency Switcher plugin has two real purposes and both are completely compatible with pricing and processing in multiple currencies.
First, it allows you to set up tiered or group pricing. For example, you can set pricing that is discounted for members or even groups of people based on how much they have spent with you. Then think of those groups based on the country they live in. You can set pricing in local currencies on that basis.
It does include currency switcher capability but it does not appear to include automatic updates for exchange rate variations. That could be a real drawback if you are dealing with many volatile currencies but not as important if you're working with the major currencies that tend to be more stable.
The latest version that has been uploaded to CodeCanyon is about 9 months old. Reading the message board, it appears that they are working on releasing a new version (v. 4.0) so this may change soon. I did notice some recent concerns on the board with the current version and how it's working with the most recent WooCommerce. If you are interested in this one it may be worth waiting for the release of 4.0.
This WooCommerce Currency Switcher plugin is the most expensive in the group, with t per-license cost of $60. That does include 6 months of service. To extend that to a full 12 months is also relatively expensive at $20.63.
There is no live preview but there is a preview video that will walk you through the functionality of this plugin.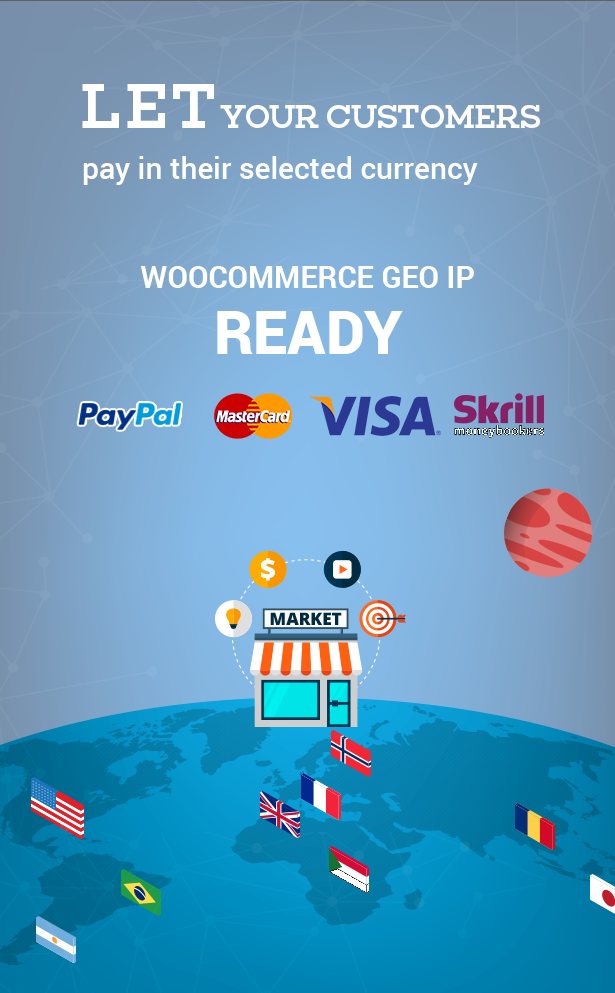 This WooCommerce Currency Switcher plugin is 3 plugins in one, starting with the ability to automatically set a default currency based on location and allowing a customer to select their preferred currency. To complete the picture, they have added WooCommerce Multi-Currency that allows unique currency-based pricing, and WooCommerce Multi Pay brings these currency variations into the cart checkout process. Together, these three tools meet all of our criteria for the best currency switchers.
One of the most important keys in this plugin is the automation of currency exchange rates. The tool automatically aggregates currency rates for 7 sources and applies that data to your pricing module so you can always be sure you are offering the best possible rate. You also have the option to updates rates as infrequently as once a month or as often as every 5 minutes.
The latest version is available on CodeCanyon with subsequent updates delivered through WordPress and the normal plugin update process. It is fully compatible with the latest versions of WordPress and WooCommerce and integrates well with the latest page builders too. It's also fully compatible with WPML (WordPress Multi-Language).
The price for a single site license is $27 and there is a free trial so you can get hands-on before making a purchase commitment. That includes a half year of support that you can extend to a full year for an additional $8.25.
You can walk through a live preview that will give you a good feel for how this all comes together. They also offer a set of video tutorials that you can walkthrough.
5- Star – 280 Sales – 95 Comments
In terms of functionality, the WooCommerce Currency Switcher plugin does everything we've identified as important, plus one item that we and you might miss.
This plugin addresses update delays that can occur when caching is used to speed up website performance. In essence, these tools create a copy of a site's pages and store them in the cloud for quick retrieval. They may even store them on a visitor's local device.
The problem with this is that as rates are updated the cached copies may not be. This plugin coordinates pushing rate and pricing changes out as they happen so once the changes have been applied, they are fully distributed.
Like the other currency switchers, this also looks for the latest rates from a set of predefined aggregators. What this plugin allows you to do is select which of these you will depend on for your rate tracking. That could be an important distinction, especially if you're working with especially volatile currencies.
This plugin has been recently updated on CodeCanyon and is actively supported there and on the author's support forum. Updates are delivered through the standard WordPress update process.
There is both a free and a pro version of this plugin but the free version does limit access to some key functionality. The pro version costs $19, with 6 months of support that can be extended. The 6-month extension adds $5.25 to the total purchase price for a single license.
They offer both a demo site and video tutorials you can review before you purchase your license.
5-Star – 72 Sales – 90 Comments
The WooCommerce Currency Switcher plugin is built to be simple. It requires only a few steps and you'll have all that you need to manage multiple currencies efficiently.
All that is required once you have this plugin installed is to activate it, select the currencies you want to work with, and decide how often you would like those rates to automatically update.
From there, the plugin will work within WooCommerce to display the right default currency base on the Geolocation but it will also allow users to change that rate to any other you have activated on your site.
When it comes to processing payments, this plugin allows you to use all of the most common payment gateways but it also allows you to process specific currencies through select payment gateways. If a specific currency is processed with lower carry rates on one gateway, as opposed to another, point that currency automatically to the cheaper gateway.
This plugin was very recently updated on CodeCanyon and is actively support there and on their customer support forum. It is and will remain fully up to date with WooCommerce and WordPress.
A single license costs $24 with 6 months free support and an additional 6 months available for $7.13.
You can explore live demos for both the Admin and Customer portions of this plugin. The user name for the admin section is demo while the user name on the customer site is demo2. Both use demo as the password.
5-Star – 901 Sales – 82 Comments
Don't let the name put you off the scent on this one. The name highlights a need all of the other WooCommerce Currency Switcher plugins don't address, and that is the varying tax regulations in each of the markets you may be working in.
You will though have to join this with another WooCommerce Currency Switcher to meet all of the requirements we've highlighted as necessary.
To that end, it is fully integrated with WooCommerce Currency Switcher that was review earlier in this article. Join this and together you'll be truly set to sell in any market you wish.
This plugin is triggered by Geo locations so it will automatically set the default country and that will allow the currency to be set as well.
The main drawback of this solution may be the budget. Alone, this license costs $49 with 6 months of support and an additional $16.5o to make that a year. Add $27 for the currency switcher and this becomes the most expensive solution on this list. Still, the tax functionality makes it well worth considering.
This plugin has been very recently updated on CodeCanyon and is fully compatible with the latest versions of WordPress and WooCommerce.
There is no live preview available for this plugin. You'll need to depend on what you can glean from these screenshots.
5-Star – 974 Sales – 974 Sales
This WooCommerce Currency Switcher plugin checks all of our boxes, starting with the ability to automatically set a default currency based on Geolocation.  It then allows price variations, set by currency, on everything from the main product to product variations and coupons.
The plugin is fully compatible with Paypal and all of the other leading payment gateways so regardless of where your customer is, they will be able to complete their purchase with convenience.
You can set specific prices if you wish for each currency or you can let the plugin do that for you based on the current exchange rate and your base currency. This makes setting up new products easy while helping to ensure you are getting the right price no matter what the currency is.
Exchange rates are automatically updated based on your preferred frequency and your preferred aggregation source. This plugin is also cache compatible so changes you may to rates and prices are immediately pushed out to all cached copies.
The last update on CodeCanyon dated back to 2019 but there have been regular updates that bring this plugin up to date with the latest versions of WordPress and WooCommerce. It's also fully supported both on CodeCanyon and their support forum.
A regular license of this plugin will cost you $41 with 6 months of online support. You can extend that to 12 months for an additional $13.50.
If you'd like to walk through a live preview, you'll find it here.
5-Star – 1,243 Sales – 616 Comments
This plugin claims to be the most feature-rich WooCommerce Currency Switch plugin available and that could well be true, but for only one reason.
First, it provides all of the features we've identified as necessary for this type of plugin so, on that basis, it is on par with all of the others.
This includes the automatic detection of local currencies based on Geolocation as well as the ability for a customer to select their preferred currency. It also links through APIs with all of the leading sources for up-to-the-minute rate changes. It's WPML compatible too so you can talk to customers in their preferred language while offering them local pricing.
The one feature that may support their argument is the ability to customize the currency switcher through direct CSS coding, so if you have the skills and the desire, you can build a unique currency switcher that could help you stand out in the crowd.
This WooCommerce Currency Switcher plugin was last updated on CodeCanyon at the start of 2019. However, it has been consistently updated since then and is fully compatible with the latest versions of WooCommerce and WordPress. It's actively supported on the CodeCanyon support page and the developer's forum.
A single site license with 6 months of support costs $31. Add $9.75 to extend that to a full year.
You will find a live preview and several screenshots that will help give you a good feel for how this works.
5-Star – 6,274 Sales – 542 Comments
Did someone say "Elephant in the room"? This plugin is by far the elephant based on the number of active users that are employing this plugin, compared to all of the other plugins combined on our list. And, it is comparatively very well priced.
But first, let's look at the features. You can support any of more than 180 world currencies. You can automatically detect the proper default currency for each visitor based on the Geolocation. You can set rates at the product and variation level or you can let the price float based on the selected currency and the current exchange rate. Rates are automatically updated based on your set schedule. Finally, it is fully compatible with WPML and Polylang so the language of your site and the currency default are in sync.
The plugin, through consistent updates, is compatible with many other WooCommerce plugins too. Most interesting is the integration with WooCommerce Bookings so those doing rentals, offering classes, setting appointments and more can also work just as easily in local currencies.
The plugin has been updated on CodeCanyon at the beginning of November 2020 so it is reasonably up to date and continues to be updated through the normal WordPress standards. It is fully compatible with the latest version of that platform and WooCommerce. It's also actively supported on the CodeCanyon support board and directly by the Author.
The cost for this plugin and a standard 6-month support period is $32. Extend the support to a full 12 months for an additional $10.13. There is a free version as well and the author suggests you try this first before buying so you can be sure it meets your needs and is fully compatible with any other plugins you are using on your site. You can download the free version directly through WordPress and once you're happy, return here and buy the full license.
For a live preview click here.
Summary
Unlike some other plugin categories, all of the 10 best WooCommerce Currency Switcher Plugins options in this category should do a good job for you. They all hit all of the key features you should be looking for and they all seem to do a good job supporting their plugins.
I considered all of this when I employed one on my sites and decided to go with the Elephant. I figured with 6,000+ installation on the pro version they must be doing something right and I've been happy with the choice ever since.