In this article, we will introduce you to our best 10 picks for WordPress Slider plugins but first, let's look at what these are and dip a toe into the raging debate over whether these are a good or a terrible idea for your website. In this debate, there seems to be no middle ground.
What is a WordPress Slider Plugin?
These are utilities that place a revolving set of images (Carousel) on your site. Typically, this is found at the top of the Home page or in images or other galleries that are displaying a group of related content. For example, you might have a set of "Hero" images on your home page that are intended to grab a visitor's attention quickly; highlighting some of the main reasons why they should stick around and explore the rest of your site.
It's also used to create a carousel effect where things like products or new blog posts can be highlighted and where the visitor can quickly access anything that catches their eye.
So, WordPress Slider plugins are designed to capture attention and hold it, thus reducing bounce rates and helping improve conversion rates.
Are WordPress Slider a Boon or the Bane for SEO?
You can start with this excellent article by Alan Smith – Slider in Web Design. What you'll see very quickly is that there is two very distinct sides to this argument, and as we've said, there is practically no middle ground.
The Benefits of using WordPress Slider plugins
Some web designers argue that they help present content in a visually engaging manner while using less of the page, and they do this with the immediacy needed to quickly grab a visitor's interest. There is no need to scroll to get to what a visitor has come to the site to find. It is right there in front of their eyes.
This means the user's attention can be quickly captured and held. You have a better chance of converting that visitor now that you have them engaged and that's potentially money in the bank.
It's a great way to group similar content. Doing this makes it easier for you to highlight, and for users to discover, the things you want them to focus on.  It could be a group of helpful blogs or maybe a collection of new products you're presenting. Whatever it is, organizing it into a slider creates a focal point without having to scroll.
Potential Downside using WordPress Slider Plugins 
Sliders can be slow to load, especially when it comes to presenting images and a slow site is a proven killer when it comes to bounce rates. Visitors simply do not have the patience to wait for a slider to load and begin rolling.
Sliders most often are set to scroll automatically but if the timing isn't spot on, it can become frustrating for a visitor. They can miss things and once again, that will impact bounce rates.
Some have argued that sliders look more like advertising than anything a visitor would want to engage with. You've probably seen this type of slider in banner ads. A visitor hasn't come to your site expecting to be bombarded with advertising and probably won't stick around if that is the first impression they get.
Sliders, it is argued, hurt search rankings, first by negatively impacting bounce rates and then by failing to provide the kinds of metadata and textual content search engines feed on.
How to Maximize WordPress Slider Benefits
While sliders, in their early forms, did have a negative impact on load times and SEO ranks, they have come a long way from those early days.
The best WordPress Slider plugins help you build efficiently, with images that are optimized, and with the kind of responsiveness that helps to ensure excellent crossover from desktops to smartphones. This is especially true when developers start from prebuilt templates that are already optimized.
These new sliders also address the SEO issues. They load quickly and with all sorts of settings, they can become exceptionally interactive. This means bounce rates are reduced, providing the first important bit of SEO help. Then, they provide the ability to add all of the most important metadata within the content of the slider. This means the search engines have the food they need to understand your content and rank that content accordingly.
You do still need to take care to use optimized images and to effectively group your content so it makes sense for the visitor but with a bit of care, WordPress Slider plugins offer a great way to grab attention, stimulate interest, and drive conversion. Check out this article by Jaka Šmid – 7 Design Tips on How to Choose, Modify and Improve Your Slider Image – as you develop your approach to making great use of sliders.
Here are our 10 best picks of WordPress Slider Plugins:
4-Star – 3,835 Sales – 826 Comments
With this WordPress Slider plugin, you get the ability to build 5 distinct types of sliders. This is important since it gives you the ability to employ a broad set of content presentation approaches, in various positions, throughout your website.
This slider produces these as a fully responsive solution that uses touchscreen navigation, making it natural on both smartphones and desktops. It's also fully compatible with iOS, something that has been a challenge for many plugin developers across a wide range of plugin tools.
It deals with loading issues by allowing your sliders to link to external URLs where large images can be served up. By allowing this they address one major concern with sliders; the slow load times and image quality.
In terms of control at setup time, this plugin includes all of the navigation and setup controls you should need, including positioning, size, an automatic or manual interface for the user, and various text controls that work smoothly.
This WordPress Slider plugin is priced at $21 and that includes a half year of support. You can extend that support to a full year for an additional $6. This developer offers several types of WordPress plugins beyond this slider and is also offering a special deal where you can license all of them at a discount that could prove interesting.
CodeCanyon does have the latest version of this plugin on their platform, with future updates delivered directly through the standard WordPress update process. It is being fully supported on the platform as well. It is fully compatible with the latest version of WordPress.
You can check out their live preview here.
4.5-Star – 182 Sales – 52 Comments
The author of this WordPress Slider plugin claims that this slider is the most unique slider on the market today. They also claim that with their slider you can create sliders in a cinematic style that closely resembles the types of adverts that make iPhone ads such a standout. If you are going to use a slider, creating something as memorable as these iPhone ads should be a real plus.
They also advertise its compatibility with "Any theme & Visual Page Builder". This is particularly important since few of us build sites from scratch anymore and why would we when themes and drag-and-drop capabilities make the building process so much easier and faster. Any plug that isn't compatible would not be worth the license price.
This author has addressed one of the key concerns with sliders; their tendency to distract and diminish the message you are trying to deliver, by creating a unique visual experience, that is engaging, or at least that's the argument they make. You have to review some of their samples and decide how well they've done that job.
The version of this slider that is loaded on CodeCanyon is fairly recent – December 2020 – and it is fully compatible with the latest version of WordPress, and by default, any theme or page builder that is also up to date. Support is offered both here and on their support forum.
The cost to license this WordPress Slider plugin is $25. Support runs for 6 months with the option to extend that to one year for an additional $7.50.
They have several demos available and many of these can be downloaded and installed on your site so you don't need to build from scratch. You can also find a live preview here.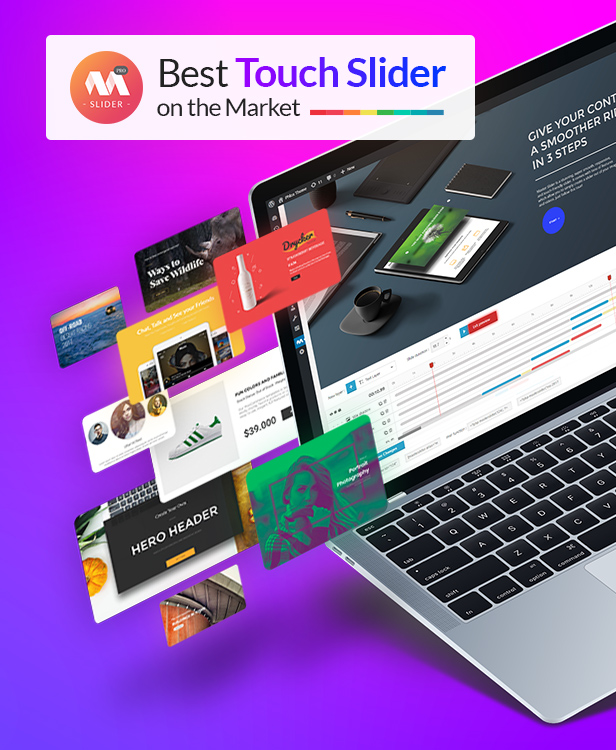 4.5-Star – 28,445 Sales – 1,834 Comments
Designed especially for touch screens, this WordPress Slider plugin offers very smooth navigation on any touchscreen device from laptops, to tablets and smartphones. It also employs hardware acceleration that makes both the loading and transitions fast, thus addressing the concerns for delayed loading leading to abandons.
This is a layer slider and that means you can layer content on the slide easily, starting with the background and building up from there with images, text, and interactive calls to action. These layers are loaded based on a unique timeline for each slide, allowing for limitless possibilities in your slide presentations.
It also comes with access to 70+ pre-built sliders so you'll most likely never need to start from scratch. Just find the one that best meets your needs, modify that content, maybe tweak a setting or two, and you are good to go.
This WordPress Slider plugin is integrated directly into Visual Composer; a popular page builder, and it's fully up to date with the latest version of WordPress. It has just recently been updated (Feb 19, 2020) on CodeCanyon as well so when you purchase this one you are getting the latest version without the need for additional updates. The author provides support on the CodeCanyon forum and their direct support page.
You'll find a complete preview, with live examples, here.
4.5-Star – 29,242 Sales – 2,969 Comments
With this WordPress Slider plugin, you are getting a slider that is light, fast, touch-ready, and fully responsive. They don't overload this with dozens of fancy transitions that you are unlikely to want or need, or that will impact the speed of transitions from one slide to the next.
They have taken this light approach in several areas, all to deliver speedy sliders that capture a visitor's attention before they even think about clicking away from your site. They point to two reviews in particular that support this argument – a review on WPExplorer and a review on WPHub.
This WordPress version is built on an HTML base version that also enjoys 20,000+ active installs, making this one of the most widely used plugins on the market.
The latest version loaded up on CodeCanyon was published in the middle of August 2020, with subsequent updates provided through the WordPress standard update process. It is fully up to date with the latest version of WordPress and is tested on Mac, PC, iPad 2, iPhone 4, HTC Desire, Lumia 920, Surface, Blackberry PlayBook, and Kindle.
Support is provided on the CodeCanyon support forum and directly with the author.  The price per license is $24 with 6 months of support. Extend that to 12 months for an additional $7.13.
This is their live preview.
5-Star – 118 Sales – 20 Comments
This is one of 2 WordPress Slider plugins from this author and as the straightforward name suggests, they have kept this light and focused on creating great sliders that perform exactly as intended. Most importantly, this slider plugin helps focus on conversions by keeping slide designs fast and simple.
It does support an unlimited number of slides, multiple sliders on a page, image loading directly or through remote access using a URL, customizable interactive elements like CTA buttons and badges, including various text and title features.
This is a layer slider that you build up from the background to featured images, text, and buttons, so you're able to control the look and feel at a fairly granular level. It's all touch capable as well so what you build for the desktop transports seamlessly to almost any mobile device.
The license for this WordPress Slider plugin is $24 but there is one caveat with this plugin. The author does not offer support. This plugin is purchased as is so if you do have any issue you'll have to search for other users that may be able to help you sort through them.
It is fully up to date with WordPress and the leading page builders, as well as WooCommerce, and based on the rating, it seems to perform well.
For a detailed look at what this plugin can do you can run through their Live Demo.
5-Star – 255 Sales – 22 Comments
As the name suggests. This WordPress Slider plugin is focused on delivering eye-catching transitions that are fast, smooth, engaging, and even exciting. Add to this the inclusion of responsive animations that you can layer on, and this slider delivers all of the functionality you'd expect and maybe a bit more.
The plugin is delivered with access to several free templates that will offer you a great head start on your slider design process, with several more premium templates available directly from their site. This means you are unlikely to ever need to start a slider from scratch, saving both time and money.
It does include special settings for both smartphones and tablets so what you design will look and feel great on almost any device, even if the layout varies from one device to another. As opposed to a plugin with automatic responsiveness, this allows you to design specifically for each size device. That means you take control rather than letting responsive defaults impose a result.
For the sake of speed, this plugin supports "Lazy Loading". This means that the slider doesn't start loading until it becomes visible on the screen. If you have multiple sliders on the same page, this can drastically reduce your page load times.
The version available on CodeCanyon as of this writing is date February 11, 2021, so it is current. Updates to this version will be delivered directly through WordPress and they do offer full compatibility with the current WordPress version.
A license will cost you $27 per site and that comes with 6 months of support. If you'd like to extend that to 12 months, the additional cost is $8.25. You can take advantage of a free demo so your purchase is risk-free.
Start first by reviewing their Live Preview and if you like what you see you can grab their free version too.
5-Star – 45- Sales – 84 Comments
One of the concerns with sliders is their potential to distract from your main message. This WordPress Slider plugin takes a very different approach to deliver slider content that still offers benefits while eliminating this concern for distraction.
They do this by allowing the slider to hide behind tabs so only when a visitor touches or clicks on the tab they see the slider content.
Now, these will not be big and bold image sliders but you can do things like product sliders and coupon sliders and it should work well for blog sliders as well.
This offers a slider approach that addresses the concern voiced by some about the pitfalls of these plugins while still delivering many of the benefits. However, if you are in the camp that advocates for using well-designed sliders in other more traditional forms, this plugin will not meet your needs.
The version of this slider on CodeCanyon is fairly recent having been uploaded there in December of 2020. It's also fully up to date with WordPress, bbPress, BuddyPress, and WooCommerce.
A license for this WordPress Slider plugin costs $25 and that includes 6 months of support that can be doubled by adding $7.50. It is fully supported on CodeCanyon and through their online support channel.
They offer both a Live Preview and a Video Preview.
5-Star – 732 Sales – 67 Comments
One of the most common ways sliders help with presentation comes with the way testimonials are displayed on a page. They need to be eye-catching, reflecting the feedback that demonstrates how well your business serves its community of customers.
This WordPress Slider plugin focuses on just that so you can display your testimonial in the best possible light. The plugin distributes columns automatically to fit the page and the device being used. It provides clear and eye-catching layouts that effectively highlight key information. And it delivers these with 6 predefined templates so you can get this up and running in minutes without having to worry at all.
This WordPress Slider plugin is developed by the same team that builds Slider, #6 on our list, making them the only developer to have 2 entries in our top ten. Like that one, this too does not benefit from direct developer support but it does get regular updates that keep it fully up to date with WordPress, BuddyPress, Visual Composer page builder, and WooCommerce. It's also advertised as working with any WordPress theme without needing to customize any settings.
This plugin has a license price of $22 per site, while the more complete Slider plugin is just $2 more so unless this type of slider is all you need, the other more complete version may be the better choice.
Have a look at this Live Preview to see how it works.
5-Star – 415,171 Sales – 22,393 Comments
This is one of the oldest and best-known WordPress Slider plugins on the market, with both free and pro versions to work with. It's often prepackaged with many of the top WordPress themes, demonstrating how trusted this plugin software is.
It was and still is primarily a slider tool for building most any type of slider you can imagine but with all of the various controls, interactive elements, and responsive layout management, site developers have used this as a page builder for some sites. It's especially effective for one-page websites.
It runs efficiently and the setting interface helps guide developers so the results run and display with speed and accuracy, both in terms of size and placement on any device. When these guidelines are followed load times will not be a problem.
It also has a well-thought-out visual editor that allows you to see exactly what you are building, as you build it, and to test those layouts right there based on various device sizes. This advanced workspace is one of the leading reasons people give for 5-star ratings. It's also SEO friendly, with settings joined to the design process that ensures the right metadata is available for the search engine crawlers.
This WordPress Slider plugin has been recently updated on CodeCanyon, it is fully up to date with WordPress and has been updated as well to work seamlessly with all of the major page builders and with WooCommerce.
The cost for a license is $59 and that gives you access to a library of premium slider templates and 6 months of support. You can extend support to one year for an additional $20.25.
Their Live Preview will walk you through the plugin and templates.
5-Star – 102,740 Sales – Comments 9.983
This plugin is right up there with Slider Revolution as one of the most trusted WordPress Slider plugins on the market. They are probably interchangeable in the 1 and 2 positions on this list. In terms of sales, it is #1 on CodeCanyon.
It too has a set of highly advanced features but Is not commonly prepackaged with any of the leading page builders. That probably helps explain why their total install base lags behind but still, with 100k+ it certainly has a large user base and one that could be argued is the stronger since users have had to find and select this one rather than falling back on one that comes with their theme.
Interestingly, their CodeCanyon product page provides very little information but they do offer an in-depth demo page that provides great examples of this plugin's capabilities. This includes a real-time layout editor that allows you to see what you're building as you build it and to test that design on various device sizes.
They too have made this slider plugin SEO friendly meaning; you will be able to set many meta tag/metadata values from within the slider design so the search engines can find and understand what is being displayed.
The cost, including 6 months of support is $25 with an extension of 6 months available for $7.50 more. It has been recently updated on CodeCanyon, is fully up to date with the latest versions of WordPress, WooCommerce, and Visual Composer.
For a more in-depth feature review you can scrutinize them here.
Summary
These all do a good job of delivering great sliders. Most are also designed to address most, if not all, of the concerns of those that say sliders are a terrible idea.
From my personal experience, both Revolution Slider and Kreatura do a great job of delivering a stunning presentation while keeping load times fast and while also feeding the search engines so your slider doesn't work against your site rankings.