Engagement is the key to capturing your website visitors and potential clients' attention to keep them coming. If you feel like your WordPress site could use a boost in this area, the first thing you should consider utilizing is a survey plugin. It may sound minimal, but you won't believe the difference it can deliver to your website's traffic. Not only does this plugin allow your customers to get in touch with you, but it also allows you to gather organic feedbacks about your business.
In this article, we're going to discuss why it's worth investing in this WordPress plugin. And since there are hundreds of survey form builders, we'll also provide you with a guide on choosing one for your website. Towards the end, we'll present you our picks on the best WordPress survey plugin, which you can choose from. But before we proceed, let's start talking about what this WP feature is.
What are WordPress Survey Plugins?
This type of plugin provides you with forms of surveys, quizzes, or polls for your website visitors to answer. You can compare this feature to online survey platforms; the difference is that your visitors' responses will be directly linked to your WordPress site. Survey plugins are a great way to build a connection among your potential prospect. You'll also be able to make the right decisions regarding your offered services according to their opinions and feedback. The best thing about these survey plugins is that you can easily design your own forms and publish them from your dashboard.
There are so many WP forms plugins today, and you could say that these are separated into two categories: the free and the premium. Most people tend to go for the free plugins because it would cost nothing to set up survey forms for their site. Still, what they don't know is they're missing out as free survey plugins have limited customization features and these lack in terms of data collection from the feedbacks.
While free survey plugins still allow you to utilize basic and sufficient features, it's better to rely on the premium ones to take your website to the next level. As expected, premium form features provide you with advanced options to help you define your service further. This plugin would be a useful addition to grow your business reach and increase your prospects.
Why You Need a WordPress Survey Plugin?
As mentioned, having this WP tool can boost your website traffic and grow your business. But what exactly are the benefits you can expect from using this on your blog? We've listed down the advantages you potentially have when incorporating this plugin with your online presence:
Increase your audience engagement.
Because survey forms urge your visitors to interact with your blog's extra feature, your website won't be a one-stop place for them. While your engaging articles will keep your readers' attention, they'll stay longer if there's an entertaining form survey they can answer.
Get to know your potential customers better.
A survey is one way to keep up with your customers' interests. From their feedbacks or opinions, you'd be able to tailor your content or services according to the niche you're going for; and the best part is that you know what your audience exactly wants to see.
Improve and develop your business or brand further.
Survey forms can generate organic feedbacks from your prospects; from these results, you'll be able to pinpoint specific factors that would help your blog be more user-friendly and make your projects more accessible to interested customers. You can also use survey results to identify your next strategy to improve your site and find a way to present your services better.
Factors You Need to Consider When Choosing Your Next WordPress Survey Plugin
Before we go straight to our recommendations, let's first talk about what features you need to check out on a plugin before making any purchase. While you'll get to the list of our top picks towards the end, it's important that you know about this handy guide for your future reference.
Not all WP survey plugins offer easy-to-use configurations to create a form. Ensure that the plugin you're opting for isn't heavily based on coding. Choose survey builder with a drag and drop feature because it allows you to design and customize your forms easier.
An excellent survey plugin provides you with tools and features that allow you to represent your brand and services the best way possible. These tools should include flexible options for logos, color varieties, and media support.
Ensure that the WordPress survey plugin you're considering offers advanced features that let you generate and record all the feedbacks through multi-page forms and conditional logic. Some plugins also allow you to recover and save partial entries.
Look for a WP survey that can let you view the reports by compiling the raw data and formatting it into an easy-to-follow detailed chart. Other plugins even feature real-time updates, which will show you accurate results.
Not all users use their desktops to scroll through your site; most people actually use their phones in viewing websites. With that being said, ensure that you're opting for a survey plugin that can display forms on different devices, such as desktop, mobile, and tablet.
While you're getting a WP survey plugin to invest in your website, keep an eye on the price you'll be paying. Make sure that premium charges provide you with sufficient features to take your website to the next level.
8 Best WordPress Survey Plugins
This section is probably your most anticipated part of this article, and we're getting straight to it. Get your WordPress dashboard ready because we're presenting you our top 8 picks for survey form plugins below: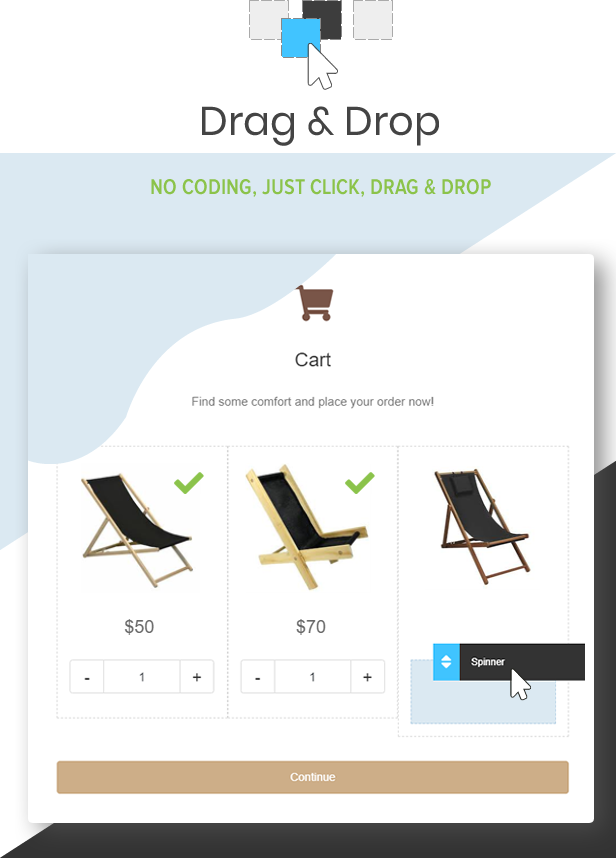 First on our list is the NEX Forms WordPress Survey Plugin. It's considered one of the best plugins in the market for building various forms, from simple to more elaborate. It also provides the user with lots of additional features to help you customize the survey forms as close to your brand's theme as possible; these include forms for contacts, cost estimation, booking, application, quick question, Paypal, quizzes, feedback, pop-up, order, multi-step, survey, and payment.
NEX Forms also features Form Analytics, which allows you to view the stats of your form's overall views, submissions, and interactions. The results can be shown in different charts, like polar, radar, line, bar, and pie. You can also rely on its Submission Storage and Export to have all the generated results appear in your database and admin panel; additionally, you can also view results in Excel.
When it comes to building forms, this plugin offers many customizing tools to help you create forms that would catch your visitors' attention. You'll have access to more than 1200 Google fonts, 660 icons, and modern design selections. The plugin also allows you to create templates for future usage, as well as duplicate existing ones. You can set up your personal preference for faster form creation.
There is so much that NEX Forms has yet to offer, but the best thing about this survey plugin is that you can utilize unlimited forms with incredible add-ons and advanced features.

Next up is eForm, which is famous for its form management solutions that include surveys, data collection, quizzes, user feedback, and payment/cost estimations. Like the NEX Forms, you can also use unlimited forms and integrate them into your WordPress site. eForm guarantees flexibility to help you step up your online presence for your website.
This survey plugin comes with heaps of add-ons and customizing tools to help you personalize the forms you'll be putting up. You'll have the Drag and Drop Form Builder, which won't require you to code to publish the forms; however, you can still do so if you know CSS for custom coding. When building forms, you'll be able to use these sections to your benefit:
Form Settings: It has 30 themes you can choose from and utilize various fonts and sizes.
Form Elements: You have access to use more than 35 elements to add to your form.
Form Layout: This section lets you arrange your form's layout and add elements to it. The builder will save every change interval so you won't have to worry about losing your progress.
Element Settings: The settings will appear when you click on the settings; this lets you adjust the elements' appearance, validation, interface, and logic sections – where you can assign how the element would work in the form.
Additionally, eForm works with mathematical evaluators, which make it easier for you to build forms for cost estimation and payment. This plugin's Smart and Secure File Uploader lets your users upload files while protecting your database from risky inputs. EForm provides you with a comprehensive submission review in graphs, charts, and statistics regarding reports. Indeed, this WP survey plugin would potentially give you all you need for creating forms! Check it out here.
If you want to utilize polls for your website, TotalPoll Pro is your way to go. This WP plugin lets you make eye-catching polls using templates and extensions. It's incredibly user-friendly, and you can build your own poll within a minute. The builder utilizes a drag-and-drop system so that you can easily make polls without the use of coding. TotalPoll Pro also has an optimized interface, which will help you adjust elements with ease.
When it comes to customizing polls, you'll be able to use over 5 customizing settings and 5 unique field types. You can also spice up your polls using images, videos, audios, and texts. The great thing about TotalPoll Pro is that the voting forms you make can be accessible to visitors using laptops, tablets, or smartphones. 
As for the results, you'll be able to track each one through the plugin's informative log. A visual overview will also be provided so that you can see what TotalPoll Pro generated according to the data log. See latest price of plugin here.
This next WP plugin lets you build forms with incredible visuals to grab your viewers' attention and boost user interaction. Modal Survey is one of the famous survey plugins in the market, featured in several online magazines like WPEverest, ThemeGrill, ElegantThemes, HubSpot, iThemes, and SoftwareFindr. These recognitions definitely mean that Modal Survey isn't just your average WP plugin.
Like NEX Forms and eForm, this plugin also offers a complete form package that can be used for displaying surveys, polls, question and answer sections, and more. As much as Modal Survey ensures that your visuals for your visitor are at best, it also guarantees that you'll have stunning formats to view the feedback and results.
When it comes to the building process, this WP form plugin doesn't disappoint. You'll have access to customizing tools to create forms suitable for your website's theme. Do you want to incorporate the trending trivia quizzes with your platform? Modal Survey lets you do that! Do you need product recommendation polls to increase sales? You've got a setting for that, too. The customization features that this plugin comes with let you use over 650 Google fonts, colors, and backgrounds to create attractive forms.
If you want to save your time but still want to make high-quality forms for your visitors, you should definitely check out Modal Surveys.
If you're not familiar with coding forms, Super Forms is the perfect plugin for your website. While it still allows you to make a custom CSS for your forms, it's not strictly required, and you can just utilize the plugin's drag-and-drop builder. Super Forms is one of the easiest WP survey form plugins in the market with its simple form-building mechanics.

Super Forms comes with more than 50 demo templates you can use for different purposes, so you don't have to stress out if it's you're building your first form. You'll have access to more than 30 element fields and 850+ icons to bring your form to life. You could also level up your choices by including images; this function is useful for showcasing your products and services. Lastly, you've got a Live Preview feature, which allows you to view the changes you're making in real-time.
This plugin also lets you to save your form preferences as well as duplicate them for faster building. If you need more features, you can check out some of its add-ons, including MailChimp, WooCommerce, Email Templates, Calculator, Signature, and Front-End Posting. The best part is that your created forms are translation-ready for multiple languages, from front-end to back-end. For more details you can visit their homepage here.
Indeed, our next plugin is the "Ultimate" Form Builder in WordPress! You can build various forms for different purposes, such as booking, feedback, interactive, conditional, inquiry, call to action, file upload, opt-in, multi-step, quotation, simple contact, and surveys. If you're still getting started on you're creating your first form, this WP plugin has got your back; it comes with 9 demo templates, which you can easily use.
The Ultimate Form Builder supports drag-and-drop form elements so that you won't have to code your way through the process. You can also customize all you want because this WordPress plugin gives you access to tons of design options and settings, from background theme, fonts, font colors, rating colors, padding, and more! You'll have access to many advanced user-requested features, like multi-form options, advanced date picker integration, and advanced dropdown integration.
Get the most out of this premium WP plugin and create fun and exciting forms for your website. Boost user-engagement and expect organic traffic in the long run.
Coming at seven is the Form Builder, which boasts its GDPR Compliance for ensuring that the forms don't collect sensitive user data and initiate cookies. Form Builder has got all the tools you'll need to create interactive fill-up forms for your users. This plugin lets you utilize a wide array of forms to help you get to know your prospects better.
Whether you need a booking form or a feedback form, Form Builder has it all. Creating forms has never been easier because you won't have to code to make configurations. The WP Form plugin also fixes the layout for you and finds the best way to display the forms on your website. You'll have five different theme choices to customize the widget according to your site's aesthetic. You can easily integrate the forms on your WordPress blog through WordPress Shortcode, WordPress Gutenberg Editor, Native WordPress Widget, or Visual Composer.
If you want WordPress forms that are easy to create, find them at Form Builder. The best part is that these forms perfectly fit on any device, whether smartphone, tablet, or desktop.
Our final form plugin in the list is the Advanced Poll for WordPress. If you really want to take your user engagement to the next level, one of your best bets to do so is to utilize polls. Visitors and potential prospects love forms that don't take much of their time; polls fit just right to this category. This plugin allows you to easily create attractive and interesting question forms, which you can display on your WP pages, posts, and widgets.
You won't have a hard time creating polls with Advanced Poll because it provides you with various customizing options and building tools. You get to use up to 8 gorgeous themes to personalize your polls, according to your website's aesthetic. This plugin is also supported with tons of font and font color options to beautify your forms. You can use different answer elements to spice up your poll choices; you have access to use images, media, and HTML as your poll answers.
Most importantly, you can easily integrate your created polls to your WP site using the widget or anywhere else using the Advanced Poll shortcode. The plugin comes with security features like CAPTCHA, show result, and cookies to protect you from fake or spam results. Additionally, Advanced Poll traces every vote made on your poll and lets you see the overall answer statistics with day and country graphs.
Which is the Best WordPress Survey Plugin?
There you have our top picks for the best WordPress survey plugins. Our personal favorite is the NEX Forms because of the range of features it comes with. We're certain that you'd definitely enjoy incorporating this plugin with your WordPress site. It has tons of customizing tools and element options to help you personalize your forms according to your business's theme. NEX Forms would be a great help to boost your user engagement. Check out the rest of our recommendations and see what would suit best with your WordPress site.