Are you finding a suitable wordpress theme to install for your real estate website? In this post we have curated the best real estate wordpress themes, available on the market, for your consideration. These themes are purpose built and visually attractive that you can easily use to create your real estate website or your client's website.
The right Real Estate WordPress theme not only changes the complete look and feel of a website but also enhances user experience. All of us love the idea of an ultra stylish, modern home and that is exactly the kind of feeling your customers will get once they land on your page.
On the surface, most of the themes on our Best Real Estate WordPress Themes list look the same. After all, they all feature advanced search options, responsive design, easy-to-use dashboards and Google Maps directory integration. However, if you look closely you'll see that all of these themes can be customized in any way possible. Most of them include either Visual Composer or Elementor to help you build your page from scratch. These premium drag and drop page builders are best for optimal flexibility.
We specifically hunted for themes that give advanced search and filtering tools. They provide your visitors with the ease of searching exactly what they are looking for. The ability to feature your agents (if you're a big company) or your portfolio is the second most important feature that a real estate theme should have. This is a key selling point for the real estate business. We made sure that our selection of themes provides these two important features.
There are innumerable themes that are good enough to design a real estate website with WordPress. However, we have run the extra mile and selected only the top of the heap for you. All the features are mentioned for your convenience. Consider all themes, shortlist some and select the one most appropriate.
UNLIMITED DOWNLOADS: 50+ Million WordPress & Design Assets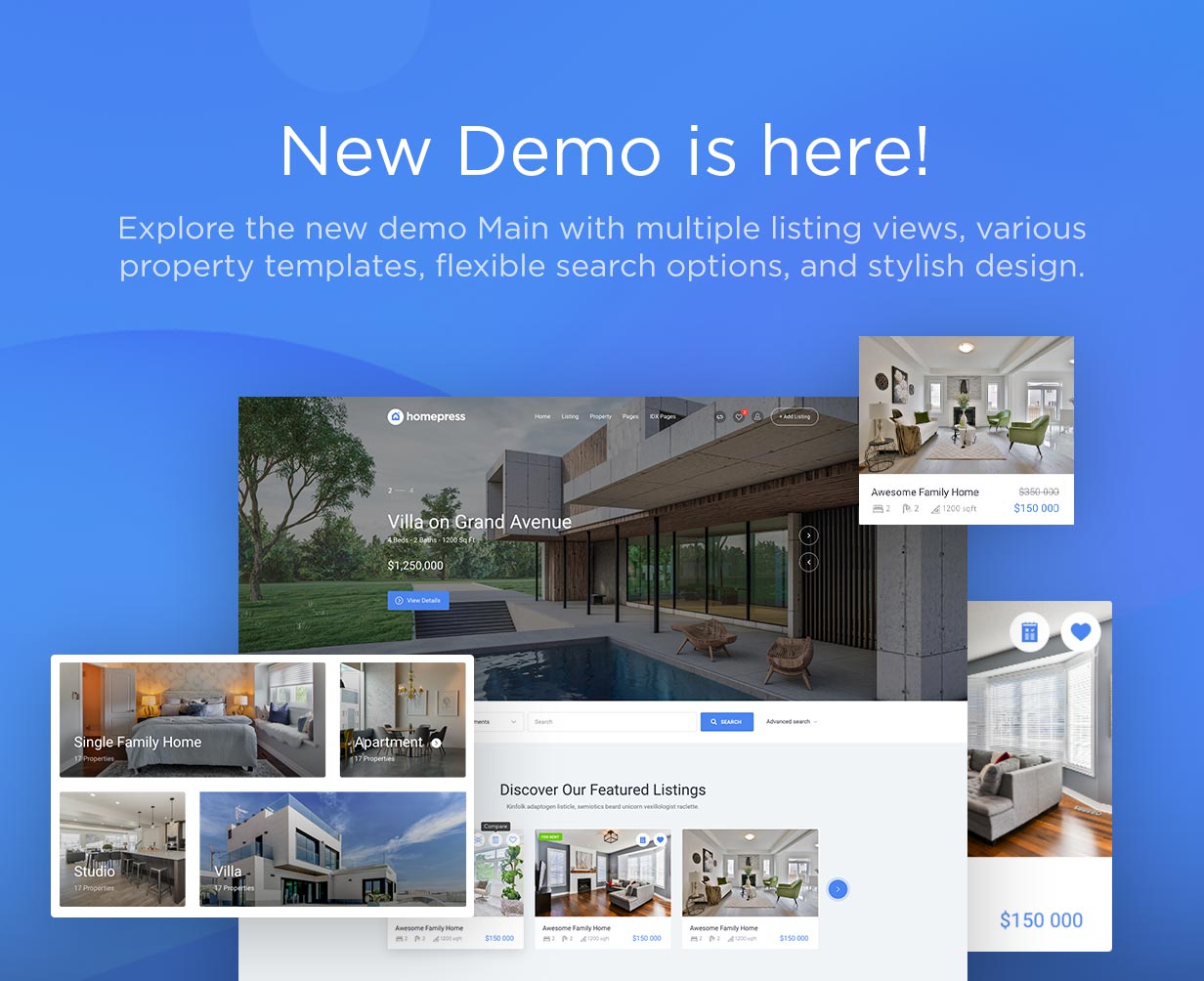 Nothing is better than going home to the family and eating good food and relaxing. But you know what's even more relaxing? It's finding a great WordPress theme that would take care of your business needs in all the right ways.
HomePress is a premium real estate WordPress theme that delivers beyond expectations. Featured by a powerful uListing plugin, it offers Advanced Search Functionality. This ensures that your clients have unlimited search fields, autocomplete search suggestions and Radius search as well as Geolocation at their disposal. 
Apart from Google Maps, it provides OpenStreetMap and MapBox integrations. While Google Maps is a universal paid mapping service, OpenStreetMaps is a free mapping source which allows displaying and editing maps using free geographic data. MapBox, on the other hand, is a flexible mapping platform for building customized maps and property details.
This theme offers 10+ demo website pages. All the options are equally impressive and stylish. You can choose whichever one you deem fit for your business. The package also includes some great templates for other pages. Integration with Elementor Page Builder ensures that you can customize any page to suit your taste. There are some fantastic single property pages. However, Quick View will allow your customers to quickly access important information without having to go to the individual product page.
It offers some really useful pre-built real estate tools that can help your customers in making decisions. These include mortgage calculator that quickly calculates mortgage payments for properties, Saved Properties that allows users to shortlist properties to visit by saving them to the favorites' page and Compare Listings enables comparison of properties against each other by their features and parameters. All these features will provide your customers with the ease of 'all services under one roof' and helping to turn your visitor into a prospective buyer.
For realtors, HomePress provides Page Statistics that gives property owners and agencies a statistical view of audience numbers in their properties pages. Separate profile pages and powerful administration functionalities allow you to add agent details and monitor the information displayed on the website.
Since HomePress is built on BootStrap4, so you can be sure that it's extremely mobile friendly and 100% responsive. There is still a lot left unsaid about the features of this theme. We encourage you to visit their homepage and get to know all the amazing attributes in detail.
Despite the fact that global pandemic put a lot of pressure on the real estate market, 2021 saw a rebound in real estate business around the world. Your timings couldn't have been better. Let Avlar help you in creating a website that gives a luxurious layout to your landing page and excellent user experience.
Avlar is a relatively unexplored theme as compared to others but its developers, ProgressionStudios, have a proven track record of producing high quality themes. As such, Avlar has an aesthetic layout that is both delightful and lavish. Images and font stand out against the white backdrop. However, you can customize the theme using colors of your choice. Making changes is easy due to Drag & Drop Page Builder. Customization is always fun with Visual Composer.
Front end login and registration allows users to make accounts,manage their profiles and post properties from the front end. It also includes Photoshop files for multiple pages and elements. Moreover, this theme is Retina ready and optimized for SEO.
With a one-click demo installation your website will be up and running in no time. Be sure to check out their live theme here.
Clean, sharp, extremely flexible and ultra modern are a few words that can describe Houzez. This theme has everything you need to take your online property management business to the next level.
Whether you're aiming for a single page website or assigned to build a full fledged online real estate portal, Houzez has got you covered. Equipped with 30+ Elementor widgets, this theme can help you design innumerable wonderful and responsive property detail pages. You can increase pages as your business grows.
Design unlimited search panels with drag & drop search builder, layout the search panel with tabs to manage search according to type, status or cities and display the Search Panel anywhere on your webpage. It offers freehand draw grids so that you can easily handle page layouts, infographics and presentations.
Front end dashboard boasts features such as Property Management (to manage and maintain property listing), CRM (to track customer relations), Insight Property Data (observe various usage stats from your clients), Frontend Submissions (allows agents to submit listing directly without having to login to WP panel), saved searches (for ease of users), Email alerts (to keep your clients updated) and Invoices (to manage and deliver customer invoices).
It has five demo modes to easily build a website, full IDX support to import property listings from other sources, 360 interactive Virtual Tour of properties and properties gallery and media. One of the features that we like about this theme is that it allows for monetization. It lets your visitors submit property listings against a fee for this service. WooCommerce support enables you to collect one-time fees as well as recurring submission charges via your webpage.
Thanks to its smart design and high level flexibility, Houzez deserves to be shortlisted and explored further. Click here to walk through their live preview.
WPEstate is a premium real estate theme fundamentally designed to serve agents and agencies. However, you can also use it to allow users to submit their properties for free, for a fee or based on a monthly subscription.
Use advanced search forms to create unlimited custom search fields. It comes with auto-complete location and categories. Display properties with full width slider, masonry style, vertical slider or horizontal slider gallery. You can control the global header and choose to use it with Slider Revolution, Price pins, Custom pins, Google Maps, Image header.
Choose to customize mega menu and logo placements as you deem fit. Custom typography, unlimited custom colors, Email alerts, Retina ready and Responsiveness for modern designs are some other noteworthy features. It is also very convenient to use PayPal, Stripe or Wire Transfer for financial transactions.
A great website is a game changer for a successful business. To see a live demo of this theme, click here.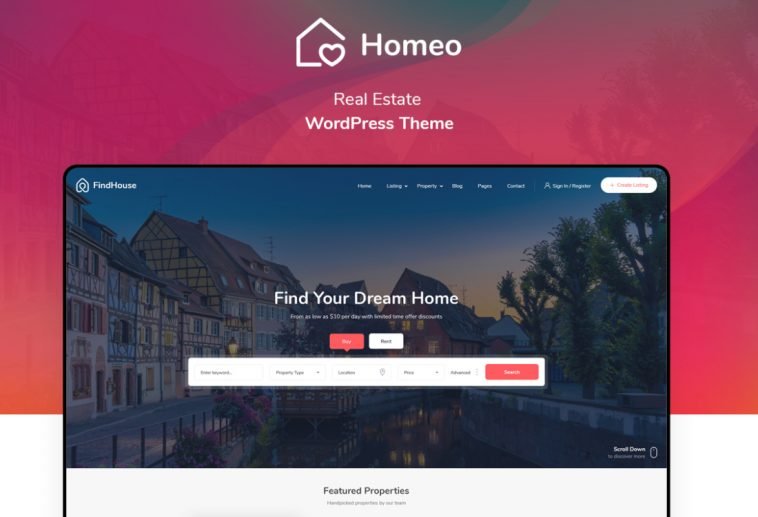 Homeo has 10 demo designs to create the real estate WordPress site that your business needs. This theme pays special focus on monetization.
The library of prebuilt homepages is fully focused on providing great customer experience. It allows users to search for properties in the areas they are interested in. You can create interactive property listings for just about any kind of property using 13+ Property List and 5+ Single Property List.
Front-End Management, Multi Language support, 360 Virtual Tour, 1 click-demo import and 50+Elementors widget make for a great user as well as developer experience. It includes Google Maps integration along with OpenStreetMap and Mapbox.
We especially like the price formatting options. They are very flexible and functional. You can define currency with a currency sign, use number formatting options to denote decimal points, decimal places and thousand separators. You can also use alphanumeric text instead of price amount or add your custom suffix and prefix.
With fully responsive mobile design and a list of useful features, Homeo is a competitive option in this list. Click here for a live demo experience.
A luxury home listing can boost the property's selling price by 8% just by the inclusion of the word 'luxury'. However, such a listing also needs a luxurious website to look convincing. This is where Realtyspace comes in. It is a lush and versatile theme that would definitely impress clients.
It features 5+ homepage variations and 2 drag and drop page builders to provide the most comprehensive customization experience. Among the demo homepages you'll find an attractive layout with video background. Another one is an aesthetically pleasing layout that showcases full screen animated slide shows. Yet another attractive layout includes a strategically placed large Google Map icon that lists your property listing by location.
Interactive search tools allow your users to search through different listings as per their requirements, thus reducing their search time. Additionally, features such as blog feed, contact form modules, front-end property management, agent profiles and testimonial displays serve to increase the performance of this theme.
It is bundled with Visual Composer, Slider Revolution and Advanced Custom Fields 5 Pro. These plugins will help you in doing so much more with your website layout such as creating custom page layouts, efficiently managing content with custom fields and building advanced content sideshows.
Advanced IDX & MLS integration for dsIDXpress, for iHomeFinder and Canadian CREA DDF platform. Some other useful features include the photo gallery pages, useful short codes, the contact page designs, the testimonial and FAQs page template, pre-made color scheme and background pattern. One of the handiest tools in any real estate theme is front-end form submission that allows agents to submit their properties to your site. This tool works seamlessly in Realtyspace.
SEO Optimized, WPML integration, CSS3 animation and advanced typography are some of the many features that set this theme apart from others in the online market. Don't just take our words for it. Have a look at its amazing features and genuine user reviews.
Home is where love resides and memories are created. Rentex will give you that ultimate power to present people with an opportunity of finding that memorable home. It's a relatively new theme in the market but looks promising.
When setting up your website with this theme, you actually get 10+ template variations to choose from. Every option looks authentic and sets your website a class apart. Rentex promises high standards and they are clearly delivered in each and every template. It's a one-click demo installation and you're good to go.
Thanks to a full screen image slider and comprehensive image gallery for individual listings, the photos and images of properties are in the limelight. With each listing it gives you the space for 360 Virtual tour as well as displaying property location and details of surrounding areas via Google Maps, Mapbox and OpenStreetMap.
There are essentially 12+ Listings styles and 6+ Property layouts. Custom post types and custom fields allow you to add all the necessary information about a property. WordPress users will definitely find it straightforward and familiar. Moreover, custom fields and posts also make it easy for your potential customers to filter through listings and find exactly what they are looking for.
You can customize the Agency and Agents page with Grid and List Styles. There are numerous blog styles that you can use to implement content marketing strategy and increase your online visibility. Elementor drag and drop page builder makes customization easy as pie.
It offers great customer support and regular updates. We think you should give Rentex a try. Click here for a live theme preview.
AZhomes is a fully functional WordPress theme that not only caters to realtors and property sellers but also to home construction companies. It may not have multiple demo versions like some of the other themes in this list. However, if you're looking for a quick and easy way to make your website online then AZhomes is the answer.
It gives a simple, clean and clear-cut design. Less choices means fewer decisions to make and ultimately less time required for the installation process. Your website will be up in a jiffy. Nevertheless, it doesn't mean that this theme is inflexible. There are still numerous customization options and many features that you can enable or disable to suit your business.
This theme was designed after careful considerations and it is clearly visible in the plethora of options available with features. It gives great functionality, ready to move-in house gallery, sold houses portfolio and custom navigation through houses put on sale.
Easily integrate your social media handles on your website. Positioning and ordering of homepage elements is totally customizable. There is a competent selection of Sidebar widgets. They can be used to display agent profiles, customer reviews and a custom contact form.
Template for all essential pages such as About Us, FAQs, Property submission and details, 404 error and featured properties are already included. This theme works great for small real estate businesses since single property pages have been optimized with best SEO practices. This ensures that your visitors convert into leads.
If you want to see how this theme looks and feel then take it for a test drive! Try the live demo. Click here to access.
We believe that behind every great property manager there is a substantial amount of tolerance and a smartly designed website. While we can't help you with the tolerance part, ExpertEstate can definitely help you with the website. It gives you the access to drag and drop interface for building a tasteful homepage that your property business needs.
Some of the optional modules include advanced search and sorting criteria, Google Maps integration for pinpointing exact locations, detailed agent displays, social media feeds, featured property displays, property listing slide show and multiple search tabs for filtering the listings.
It gives 3 modern and smart displays to choose from. A carefully crafted color palette and pre-designed essential page templates are at your disposal. Create your website in any style and color that you want. Individual property templates ensure that no detail goes unmentioned.
Customizable mortgage calculators, embedded video features for properties and convenient Google Street View API-powered features for property listings, all add to a great user experience. These may be the very services that make your customers return to your page again and again. 
You can create a solid foundation for your business with ExpertEstate. Look at the live preview here.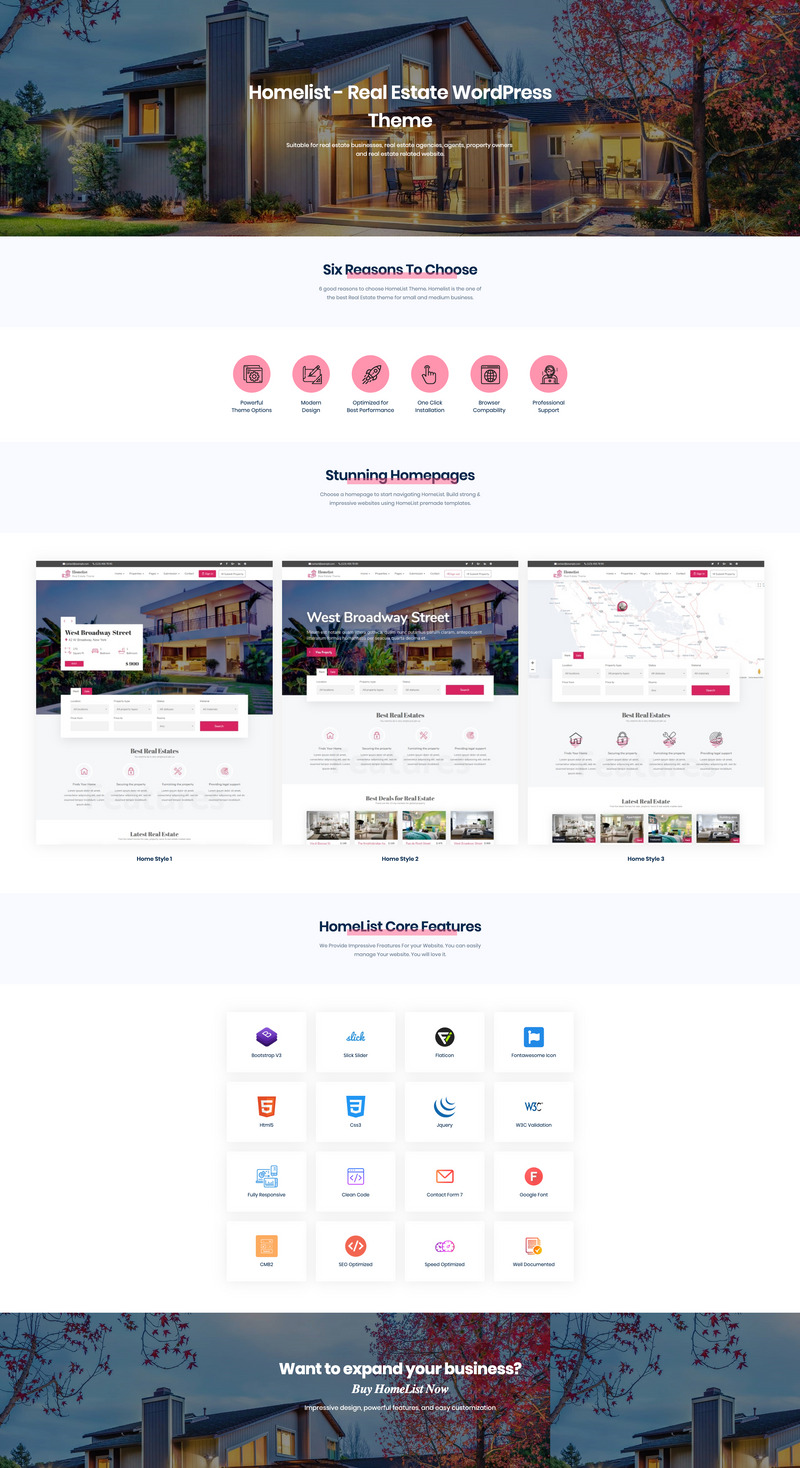 Homelist is an elegant and modern theme that has been specifically designed for creating real estate websites with WordPress. It is equally good for providing rental services as well.
To set up your website Homelist provides you with four stunning homepage configurations and modules. This lets you create the front-page layout that is tailor-made for your business. The intuitive search tool makes it easy to filter through property listings according to a range of criteria. This will help your visitors and potential leads find exactly what they are searching for.
All pages are 100% responsive and look equally good on all devices. Rich user interface kit contains a wide variety of website elements to ensure a hassle free installation process and no prior coding knowledge. Complete localization and WPML support will enhance your online presence.
Premade page templates can be applied to blog, gallery and individual landing pages. When a visitor does click through to an individual listing, the design of property pages allows you to really showcase your offerings. Each property page includes a clear property overview of best features, a detailed property description, checkbox for property amenities, floor plans, video tour, interactive Google Map to show exact location, land valuation and even nearby public facilities. You'll also find the profile and contact details of the agent handling that property. However, custom widgets provide you the ease of controlling and customizing all these elements on your page.
This theme has a lot more to offer. View the live demo here.
Real estate is an enormously competitive field. There are extremely high chances that your area already has one or two successful and popular real estate brokers or companies. So how do you corner the market? Get in Realto. A mobile-friendly premium WordPress theme that offers all the right widgets to develop a responsive website.
2+ pre-designed homepage templates and one-click installation will make the designing experience as easy as possible. It contains tools for featuring property listings, rentals and agent services. It offers some powerful front and back end features that are focused on providing hassle free user experience.
Unlike other themes in this list, Realto is not designed with page builders such as Elementor or Visual Composer. Rather, it is built on Bootstrap. However, there are various options on the widgets and you can conveniently edit your website. You can also add new style files and get more out of your theme. For a live demo, click here.
When starting a real estate business a nice, clean and modern website must be an essential part of your business plan. Vilagio has been built to power rental real estate businesses.
You can create a listing for your accommodations on offer and enable live reservations via MotoPress Hotel Booking plugin. Smartly crafted pages enable you to display all accommodation particulars such as capacity, amenities, extra services, bed types, size, photos etc.
Advanced search options will enable your users to track down the exact property that they are looking for. Ease of online and offline payments through PayPal, Stripe, 2Checkout, Braintree and others. Using date blocking feature you can set default booking rules (maximum and minimum days to stay) as well as custom (mark any date as unavailable via admin settings and guests won't be able to book accommodation during this time).
Responsive and balanced design makes for a great visual experience. You can create different pricing ranges according to high and low seasons, benefits and extra services. All in all Vilagio is well worth taking a closer look at. Click here to view the live demo.
Real Estate is a solid and highly flexible WordPress theme that can be easily customized. Built with Elementor page builder, it gives over 50 extra widgets to suit all customization needs. It is integrated with all JET plugins and WPML.
You also get a bonus high quality stock of images dedicated to the real estate niche. Parallax, full-screen slider and attractive portfolio make site navigation an awesome visual experience. Each page template is well crafted and easy to use. Google Maps integration helps users find exact locations. Contact form and social media feed integration help users in contacting you.
With a nice blend of sleek design and helpful features, Real Estate is a great example of modern WordPress themes.
Yet another theme designed to cater rental real estate businesses, Alpen House provides some spectacular features and sophisticated web design. It offers a comprehensive accommodation reservation system. You can create an active accommodations directory and also allow direct reservations via booking plugin.
Channel Manager allows for synchronizing all submitted bookings to your site with those on OTAs like Airbnb. Choose to automatically confirm bookings via email or manually, with or without payment.
Pre-built module pages allow for attractive display, Elementor drag and drop page builder makes customization easy and flexible. Although, this theme is for rentals but its customization features make sure that it looks equally good for any real estate business. View the live demo here.
Conclusion
Real estate business is not all about money. It is actually about matching the right buyers with the right sellers. A stylishly designed website with necessary functions can do this for your business. Themes such as Houzez, HomePress, Avlar and Realityspace serve to enhance the buyer-seller bond. All WordPress themes in this list provide great customization options and flexibility to create a website that serves to strengthen your presence in the real estate market.
We hope this post has been useful in pointing out the best real estate wordpress themes on the market for your selection. You may also be interested in checking out Creative Multipurpose WordPress Themes.


Should you need access to a variety of premium plugins to build your wordpress site, do also check out envato elements' subscription plan starting from $16.50/month or Monsterone's subscription plan from $14.95/month.