Scouting for a wordpress directory plugin to organize your listings? Here we have curated the 8 most useful wordpress directory plugins for listings that you want to install for your website.
The WordPress platform is multi-functional as you might have already figured out for yourself and that is really great since it allows you to do so much. If you are looking to create a directory on your website you can easily do it by installing a wordpress plugin. The whole process is simple so come along with me and you will be able to learn how to do it step by step.
Directories are really important for certain businesses since they serve as a user-friendly database, where you can find pictures, search bars, detailed information, location, contact details, and much more. Even Google and other search engines integrate these directories into their platform. For example, when you search for ATMs near you, Google shows you a map with all the locations and information that you might need.
If you think this might be a great addition to your website and/or business then I suggest you get started with creating directories as soon as possible. It's not a complicated process and with the correct guidance and information that you will find in this article, you are going to do it in no time.
What does a great Directory Plugin offer?
When looking for a Directory Plugin there are some things that you need to look for, which will have a say in your decision in the end. Does your directory reveal personal information about people? Do you intend on charging other businesses for ads? These are some of the questions that might alter your decision when picking the perfect directory plugin for you.
However, there are some features that should be standard no matter what your uses with the plugin are. You should be looking at a plugin that has options to add new listings and modify the older ones, to perform payment collection if you charge for the listing, rating, and reviews, media support, customizable form fields, bookmarking tools, and finally, a location-based search module with Google maps integrated. Let's look at some of these features in more detail.
Media Support, it's a really important aspect of branding. You don't want to showcase your amazing listing and without taking credit at all or without promoting your branding anywhere. Most people don't want to see a listing without pictures of some kind and that should be the most important reason as to why your directory plugin should have this feature.
Payment Gateway, is essential if you are running an Online directory website since it's the business model that requires it. It's important you have that kind of option available because you don't know the kind of payment method your potential client will be looking for. Having it available and ready might potentially sway the visitor your way and that's important.
Customizable Form Fields, is a great way to alter your directory listing form so that it better soothes the visitors. Since there can be directory listing for a number of different products there obviously need to be custom forms and with this feature, you will make visitors have a better user experience.
It all depends on which one do you need for your online business. Let's look at some of the most useful Directory Plugins for WordPress.


		

UNLIMITED DOWNLOADS: 50+ Million WordPress & Design Assets



	

		

8 Useful WordPress Directory Plugins for Listings
Directories Pro
GeoDirectory
Business Directory Plugin
Web 2.0 Directory plugin for WordPress
Sabai Directory – Business directory plugin for WordPress
Listdom – Advanced Directory and Listing Plugin
Directorist
Advanced Classifieds & Directory Pro
Directories Pro is one of the best directory plugins for WordPress and it allows you to do so much, making it really useful. With it, you can build any kind of directory that you want such as a directory for community-driven businesses like Yelp.com or Google+ Places, a property directory, a website directory, local places directory, and much more. This plugin has a lot of amazing features and is really versatile, truly one of the best in the market.
Not to forget that it's extremely compatible and fully responsive with every device and browser so that your visitors have no problems. It's essential that users see the information without any issues and because of this plugin's frequent updates, there's none. As a result of its caching feature users will notice faster performance and better user experience overall.
With Directories Pro users can search with advanced filters and even have the autosuggestion feature enabled if you want them to have it. Customers can also leave reviews and rate the listings without having an account or registering. This will lead to way more reviews and rates which will help your listing get noticed more by the search engines.
This product has two badges, the first one is that this product has been featured on the CodeCanyon website and the other one is Elite Author which means there have been a lot of sales. It's important that you know the quality of the plugin you are getting and from all of the badges and the reviews that have been left I can say that this is one of the best products. Keeping a 4.83 average rating while having more than 4500 sales is an impressive feat.
This plugin will cost you only $39 and you will get frequent updates in the future and 6 months of support from the developer. If you want to have an additional 12 months of support it will cost you $12.75 extra. Overall it's a great price for an even greater plugin. You can find a live preview here.
2. GeoDirectory
With this fancy plugin, you will be able to create a directory on your website in just a few easy and quick steps. Its impressive User Interface will make it extremely simple for visitors to use it and navigate around. Also, this plugin is free which means no extra costs on additional features so you are all set from the start.
Your visitors will be able to find what they are looking for on your website without changing the appearance of the site. You can still have a fancy and modern-looking website with the directory as well which is an added bonus. The front-end power of this plugin doesn't end there. The plugin also offers a form that allows others to submit listings, which means that your directory will scale a lot more and quicker.
When a user searches for a listing on your website, the results will be displayed by geo proximity. The closest and most relevant options will appear first and this might be beneficial in most cases. 
You can integrate this plugin with Google Maps easily. Next to every listing that you will have there will be a map that can be clicked. Visitors will be able to find the location instantly when clicking on the map. This is really important because you keep users on your site and you improve the experience that they have using your listing service.
As I said in the beginning you can get this plugin for free by searching it in your WordPress plugin directory. However, if you want all the products that the author has for this plugin there are some bundles that offer all the themes, multiple location support, advanced search feature, reviews, premium support, and more. The cheapest package will cost you only $99 and it's every 4 months. 
You can find a live preview here.
3. Business Directory Plugin
The Business Directory Plugin is one of the best all-in-one plugins for your WordPress website. You can use it as it comes out of the box and still there are a few great features that it has but most people generally use it with other add-ons as well. I suggest you try the free version initially and if there are things you need to add you can do that easily.
The plugin comes with a built-in reCaptcha tool that will help you avoid spam on your directory listings. This is important since there might be bots trying to flood your directory with spam and this single feature denies all of that instantly.
This plugin is going to give you all the tools that you need to compete with leaders of the industry it's just a matter of how well you use them. However, with the base plugin, you are not going to do that since it misses some important modules such as discount codes, file attachments, Google Maps integration, 2Checkout gateway module, a rating module, and much more.
The thing is all these modules will cost you a lot if you intend on buying them separately and that's why the Business Directory Plugin has special packages for you. The cheapest package that has unlimited listings, ratings and reviews, file uploads, featured listing, 1 year of support, etc, will cost you only $99.50 a year. Whilst the Elite package that has all the pro features such as strip integration, payfast, WordPress multisite, all directory themes and all the features from the other packages will cost you $299.50 a year.
You can find more info about it here.
This plugin will offer you one of the simplest and quickest ways to build a directory website. You can also transform an existing website into a fully-featured directory listing business. It has some amazing features that will make your life easier so let's dive in and look at them in more detail.
You can set up multiple revenue streams and control them directly from your Dashboard on WordPress. This is really convenient if you intend on using the plugin to create paid listings as well. Having the ability to control the revenue flow directly from your dashboard is really impressive and time-saving for the website administrators.
The plugin also allows for users to submit their listings which is great since it can increase your directory listing meaning you can get noticed more by the search engines. Another thing that can help with the search engines and user experience is the ability to integrate Google maps into your website. This plugin does that flawlessly and it's even available for new listings as well.
Your visitors will be able to view the listing which shows location-based results.
I can talk about the features of this plugin all day but I won't do that, instead here are some of the best and most important features that you will get. The ability to print listings, to download them in a PDF file format, to have SEO-friendly pages, to add images, YouTube and Vimeo video attachments, custom fields with custom icons as well, and a lot of customization features such as coloring, etc.
With more than 7500 sales and a 4.53 rating, I can say with confidence that this plugin will not disappoint you. For $39 you get the plugin with 6 months of free support from the developer and frequent updates. If you want 12 months of support you need to pay an additional $12.75.
You can find a live preview here.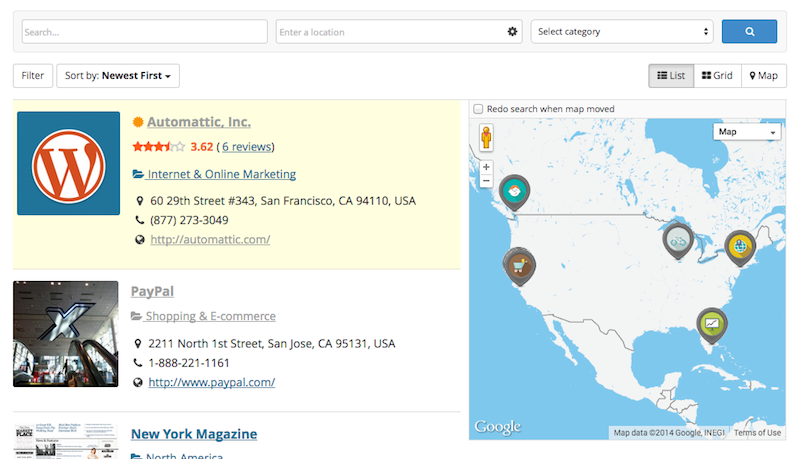 The Sabai Directory plugin provides all the important features that you will ever need for creating a directory website without using complex coding to make it happen. You as a beginner will be able to walk through all the features and options that the plugin offers and be able to understand and tweak them easily. Your business directory can be set up in a matter of minutes with this amazing plugin its plentiful features.
You will be able to build a community-driven local business directory such as the giants at Yelp.com, Yahoo! Local and Google+ Places. The developers and coders will be happy to use the plugin and add functionality to it since it's really intuitive. Novices on the other hand will be able to create complex things in such a simplistic way that they never thought it was possible. The plugin is compatible with every version of WordPress since it gets updated regularly so in terms of reliability and compatibility you're all set. 
Some of the most important features that this plugin has to offer are, the ability to add new or claim existing listings, to post reviews with a star rating system, to add photos to listing and reviews also, to be able to vote on listings, and most importantly to monetize the listings with PayPal. There will also be the ability to add a customizable fully interactive map to the listings, which helps with the location-based search that this plugin also offers. Visitors will be able to get the directions from the listings immediately from your website which will improve the user experience a lot.
With more than 9000 sales this product has kept a respectable average rating of 4.5 in the CodeCanyon marketplace and the developer also has earned the Elite Author badge so it's even more impressive. You can get the plugin for only $29 and with it, you get frequent updates in the future and 6 months of premium support from the author. If you want to extend the support to 12 months that will cost you an additional $9. You can find a live preview here.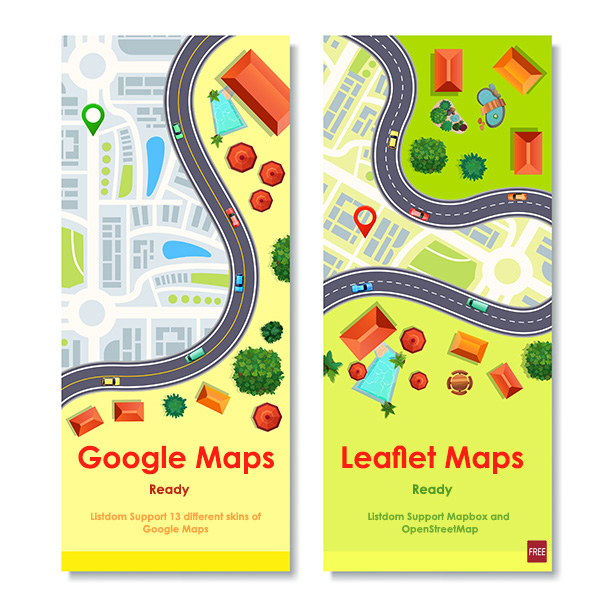 Listdom is a great WordPress plugin that will help you create a listing and directory website in a few simple steps. One of the main differences between this plugin with others on this list is that here you will find a lot of them to choose from. You can show the listings in over 80 different skins and styles making it one of the most fashionable plugins on the list. 
Don't worry though appearance it's not everything that this plugin is about. The features that you will find in this plugin will impress you also. It's really important that you understand how to make the changes and create the listings yourself. That's why with this plugin you can configure and set up everything in a matter of minutes and even a beginner can do it.
If you are interested in having maps with your listings as well don't worry since Listdom has you covered here too. You can easily integrate Google Maps or OpenStreetMap so that your listings are more complete. The data can be shown in a slider, grid, carousel, map, or even everything mixed together if that's what you want.
Some of the key features that this plugin has to offer are, the ability to manage the listings, search form builder, add multiple price options, contact the listing owner, auto-update, translation ready, SEO plugins compatible, and many more. But what's most important it's the ability to support add-ons. You can extend the functionality of this amazing plugin with different addons which you can find for free on the plugin marketplace in WordPress.
This product will cost you $39 and with that, you get frequent updates and 6 months of support from the developer. If you want to extend the support to 12 months you will need to pay an additional $12.75. You can find a live preview here.
This plugin is one of the most visually appealing and intuitive plugins to use from all this list. It will enable you to create an online business listing directory such as Yelp.com in the quickest and simplest way. You can create the directories based on the location of the visitor, category, user interest, and many more.
The Directorist is compatible with all major themes such as Astra, Divi, etc, and the plugin is frequently updated so no worries about the responsiveness. If you use Elementor then you'd be happy to know that there are more than 25 widgets that will help you make the perfect listing page. From shortcodes, front-end and back-end listing submissions, customer reviews, and ratings, inbuilt language translator, all that and more you will find in this plugin.
You will not be disappointed using it since it has a user-friendly interface that is highly customizable making it even better for you. The plugin has a built-in SEO optimization system that also works with Yoast SEO. That means your website's SEO will be intact and will actually help you gain more visitors.
You can get the basic plugin with some great features for free which is what I would recommend you do initially. Then after you get acquainted with the plugin and you feel it's the right one for you then you can choose one of the three plans. It starts at $99 a year for the cheapest one which will include all premium add-ons and themes, but it's only for one website. And the most expensive option at $299 a year for unlimited websites, which has all the features available and it's generally recommended for agencies.
8. Advanced Classifieds & Directory Pro
Last but not least here's the Advanced Classifieds & Directory Pro plugin, which is a bit different from the rest of the list since it's free. There are some premium add-ons that the developers have made for it but you can get most of the features in the free version. You can get the add-ons for something specific such as tools for WooCommerce support, Stripe, and PayPal payments, and so on. 
The unlimited custom fields that this plugin provides is a great feature. You can modify the forms and add whatever you desire, for example, add radio buttons, assign categories to listings, add custom buttons, etc. Some other great features that you will find in this plugin are, advanced search widget, email notification when certain events occur, powerful revenue features from setting up charging plans for users, unlimited locations, renew listings, and many more.
The only drawback is you can say that for a free plugin is that it lacks the ability to process payments electronically without an add-on. Usually, the add-ons for this plugin don't cost more than 20$ so that's not that bad. However, there's an offline payment feature that will allow you to accept checks through the mail. That's an option if you don't want to pay for the add-ons.
Overall it's a great plugin that has amazing features for free. I recommend you give it a go and see if you like it or not. If you do there are a lot of add-ons that will help you extend its functionality. You can find a live preview here.
Conclusion
Choosing the perfect directory plugin for your website is not an easy task since there are a lot of things that you need to consider. The most important ones are the price and the features that the plugin will offer you. You don't need to do any more research since we have done it for you and here you will see all the useful wordpress directory plugins for your business.
I'm sure that you will find the perfect choice for you in this article since there are some of the best plugins ever made for this topic. Should you have not found a suitable directory wordpress plugin after running through these above plugins, you may want to pop over to kinsta, wpbeginner or quicksprout to check out more plugins alternatives.

If you find analyzing so many wordpress plugins just to make a purchase to be too time consuming, you might be better off checking out envato's unlimited wordpress themes, plugins, logos etc downloads starting from $16.50/month for your website. The good thing is you can stop your subscription anytime and honestly if you can find something you like in the subscription pool, its many times cheaper than getting  a standalone wordpress plugin.