Is displaying content on your wordpress site an important feature of your business? If yes, then this article will be useful for you as we curate the 8 best wordpress post grid plugins for you to consider.
Anyone of these plugins here, once installed on your wordpress site, will allow you to easily create custom grid layouts with the content of your preference. With your website empowered by these grid layouts, your content can be seamlessly displayed to your visitors and increasing their page engagement rates.
These grid layouts can help you display the most popular pages from your site, the latest blogposts and even photos or images from your wordpress media repository. You can organize the images in the order of your choice making them look like a great art piece. Not just displaying and organizing existing content you have on your wordpress site, several of these plugins here can also empower you to display and showcase external content in grid layouts from Pinterest, Instagram and even video format content from YouTube etc.
Before deciding on a plugin to use for your website, it is always good to understand the genre of content to showcase in your grid layouts. Which of these content do you display most often; social media content, images or photographs, videos and even products?
Do you need to customize the grid layouts in order to nicely display the content you have? Or you can do well with standardized grid layout templates? This will help you decide if you need grid layout plugins with builders or go for those ready made templates.
In this curation, we have a good selection of plugins for your consideration, hence be rest assured you will be able to find something that meets your needs in our best wordpress grid plugins post.
UNLIMITED DOWNLOADS: 50+ Million WordPress & Design Assets
Essential Grid Gallery equips you with the capability to create visually attractive grid layouts with various content types such as images, video and even audio from multiple external sources. You can build grid layouts in your blogposts and pages, as well as creating albums to increase visitor engagement rates. This plugin will help you to display content from various sources such as Youtube, Vimeo, Twitter, Instagram, Pinterest, Flickr, WooCommerce, NextGen Gallery etc.
On top of that, you can customize your gallery grid with content of your choice. Tap on the template library (with 50+ pre-made starter grids and skins) provided by Essential Grid to gain inspirational ideas or just utilize them right off the template. These grid layouts are not just mobile optimized but are also extremely user friendly, with a short learning curve.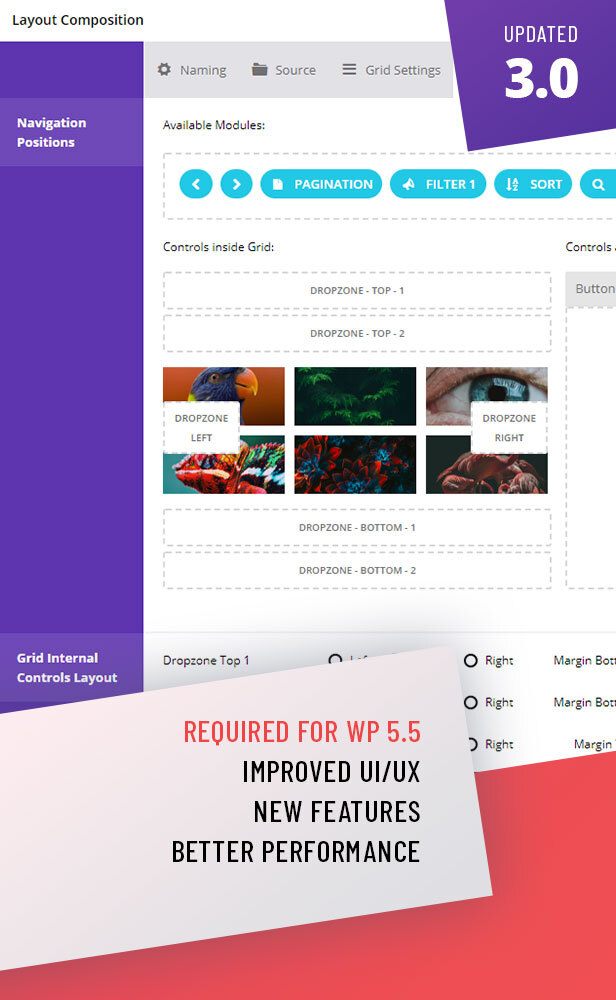 You may have more than one wordpress site and the good news is, yes you can easily import and export your 'used' grid layout, skin and meta data in another wordpress site. Elements from Visual Composer are also included. With the visual skin editor, you can literally create unlimited additional skins of your imagination. Your layouts and columns are adjustable and you have various animation types and preloaders included too.
Review by samwoods 6 months ago
I had some particular functions that I was interested in for a cobble grid and Irfan was super helpful in helping these come to fruition. I would highly recommend Essential Grid for its flexibility as well as their customer support!
Great customer support is something to lookout for when buying plugins as sometimes you need hands on support for certain features and Essential Grid is living up to it.
Have a look at its live preview before you decide.
Justified Image Grid sets itself apart from other gallery plugins by organizing or justifying your preferred images into a balanced horizontal photo grid that guides your visitor's eyeballs from the left to right, similar to how you read texts. In the course of doing so, it preserves the original aspect ratio of your images and photos, bringing the quality of content to the highest possible to visitors.
This wordpress gallery grid plugin is also very convenient in that it is full compatible with the content loading of your external sources such as with Facebook, Flickr, Pinterest, Instagram etc. It utilizes jQuery to transform the content images from external sources into a stunning gallery display. With its versatility, it is also very easy to completely remodel your existing or new NextGen galleries to achieve a superior display performance.
If you are using premium plugins such as the WP Real Media Library plugin, Justified Image Grid will integrate seamlessly with them to close any gaps between your image albums and gallery. This means you not only have access to your native media library but also its effortless when it comes to arranging and organizing your photo collection folders.
Powered by this plugin, you have the ability to add special effects to your images, such as softening, black and white or even desaturation etc. Feel free to integrate your free or premium lightbox options into this plugin's gallery and define how your images look like, after your visitors click on the thumbnail. To top it off, this plugin is mobile friendly and retina ready.
Last but not least, Justified Image Grid is very easy to use with no programming skills needed. Once installed, it allows you full control over every aspect of your image gallery. Just set the plugin to automatically take over your existing wordpress galleries. If you have more experienced wordpress users on board, feel free to change the settings to your preference at the advanced level.
Should you bundle this plugin with the WPBakery Page Builder, you can then live preview any edits of your galleries. In all, this powerful and responsive wordpress gallery grid plugin will help you display your images in the most attractive way.
Review by ErnstWilhelm 1 month ago
I don't know where to start. I love it. An extraordinary richness in order to provide users a simple way to use image galleries. I love the auto take over feature for word press galleries, the support of media library assistant galleries, giving an application wide gallery look even to NEXTGEN galleries, old stuff you can't get rid off.
And last but not least an awesome support. Thank you.
Walk through the live preview and decide.
If you frequently need to create huge grids with unlimited layouts on your website, then Media Grid plugin is your solution. This plugin leverages on masonry engine and allows you to create unlimited responsive, filterable and paginated portfolios effortlessly. The plugin uses advanced techniques that empowers you to design your own layouts to the extent of mixing up any media content type both dynamically or manually – basically it adapts to any container.
With their Visual Grid Builder, you just have to add items, size and sort them according to your desire and what you see if exactly what you get on your wordpress site. The dynamic grid function allows you to create huge grids under just 1 minute. Conveniently and quickly select either to paginate or randomize your elements after composing your base-layout.
It comes with a full media support whether you require inline or lightbox contents, from either a simple image to an image slider or audio and video player – it can all be done. You need grids in your posts? Yes, it can also be done as grids can be also filled using new or old posts, even public posts are supported. Your posts will be managed as normal grid items and have selected options to choose from.
Media Grid can be said to be a revolutionary lightbox as it supports shortcodes and HTML, with its lightbox being able to handle huge content hence keeping your pages and posts as light as a feather. Customize it using the five various layouts and other options.
Some of the other amazing features it comes along with are having unlimited attributes for your portfolio, 1 click fast setup, SEO pagination, WooCommerce and Comments integration and its item filters with real-time search ability helps when you need to find items in big grids. Of course it is also mobile responsive.
Check out the Live Preview and have a feel of what it is like before you make your decision.
Review by nancy-cloud 2 months ago
Along with being a well designed + functional plugin for portfolio + projects, the customer service is great. I tried a bunch of portfolio plugins (12 or so, free + paid) before deciding on Media Grid. You can showcase single items or multiple items in each lightbox, there are lots of lightbox options which allow custom sizing for individual items. It took me a few hours to get comfortable with the interface and set up, but once I did it was a pleasure to use, customize and populate. I did use some custom css to make it just right — there is a custom css tab within plugin settings. The designers really looked at all the variables when they made this plugin. I highly recommend this plugin for clean portfolio or project websites.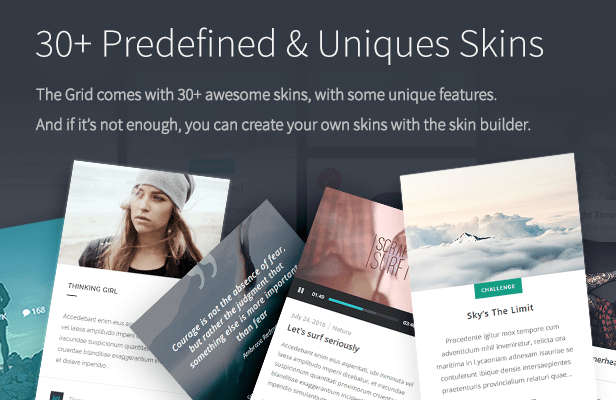 Premium wordpress grid plugin, The Grid, enables you to display any custom post types with full customization in a responsive manner. It is well designed for showcasing your portfolio to your clients, your blog, your online woocommerce shop or virtually any type of wordpress post genres. Video, audio, gallery, link, quote and standard post formats are supported by this plugin. Literally unlimited grid layouts for your imagination.
With a powerful admin panel, all the these customization and organizing work is easily controlled by the user. The Grid has also innovated by optimizing the queries and have created a custom and lightweight jQuery script in order to maximize the loading speed performance. On top of that, a custom cache system has been in-built to boost speed performance, taking considerations of your site's SEO.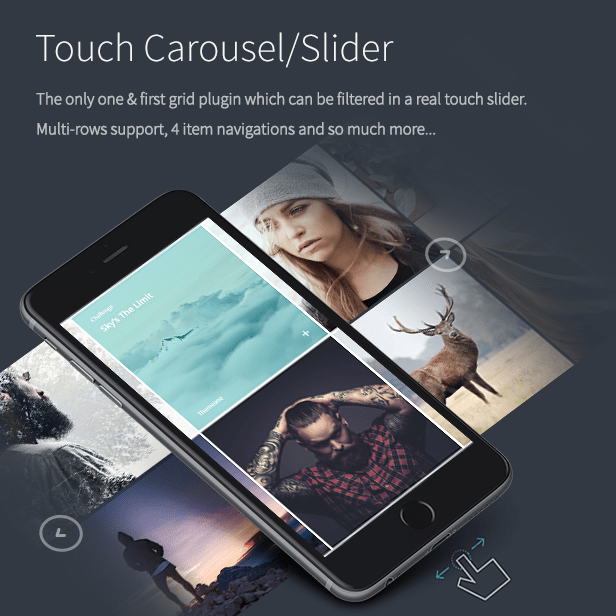 Something that stands out from The Grid is the 100% responsive touch slider. Filer any kind of grid in this touch slider. The author has also added multiple filters so you can add new skins, animations, navigation skins and preloader animations. Easy to use and being able to integrate easily with any wordpress theme, makes its one of the best grid plugin choices.
Go through the live preview and see if this is what you need.
Looking for a great plugin to help you create stunning portfolios, work showcase or teasers? Go Portfolio is the solution. This plugin is specialized for portfolio presentations and is meant to be a one stop shop solution to managing portfolios. It differentiates from the rest via the ease of use and the speed where you create attractive portfolios and integrating them into your website using the Admin panel. The plugin is also compatible with Visual Composer, making things much more easier.
Create your regular portfolios with custom post types filled with audio, video or image thumbnails and lightboxes. Easily make use of your existing blog posts or related posts and create a teaser post by simply inserting the shortcode to a single post page and excluding the current item.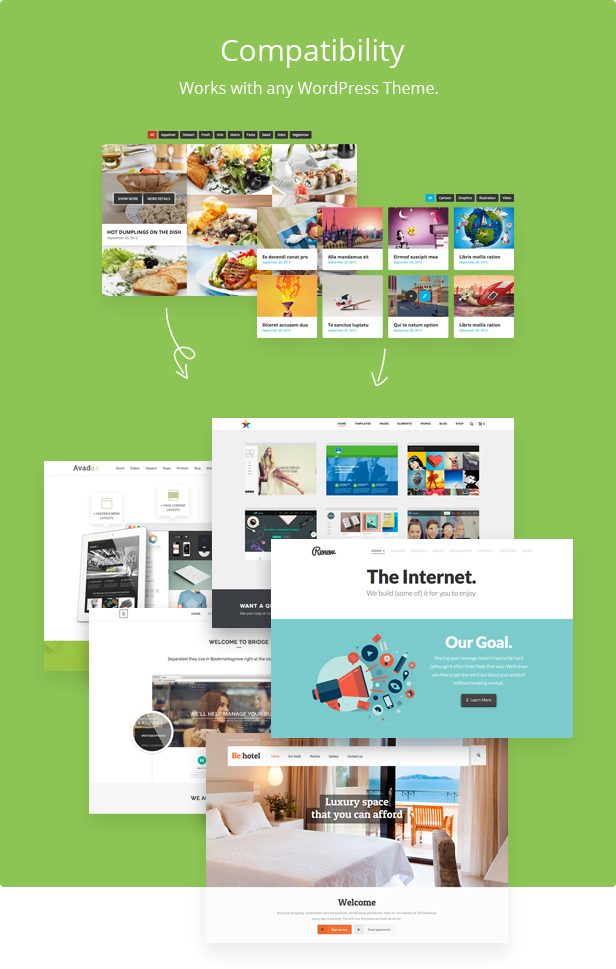 We love the flexible system that comes with it, as you have customizable horizontal and vertical spaces up to 10 columns. Design and create your filterable grid and slider layouts with optional and customizable responsivity. It also has Woocommerce support for product display.
Run through its live preview before you decide.
Cube Portfolio is a WordPress grid plugin that has a powerful portfolio system. It also provides beautiful animated filtering, custom captions and it's perfect for showcasing your portfolios, image gallery, blog posts and any type of grid content. Using a live template builder that is Visual Composer compatible, it means the user can easily control every aspect of the plugin from the fonts, colors, spacing, borders to the dimensions etc.
It is fully customizable with more than 30+ layout options. You have your built-in lightbox with support for images, videos from instagram, youtube and facebook etc. We like that it has built in AJAX pages with support for any HTML content and lazy loading support. Super easy to use for wordpress beginners and for advanced users, you can customize to your desire.
Check out the live demo and see if this is what you need.
Media Boxes Portfolio is an all-purpose wordpress grid plugin that is fast, responsive and powerful. This plugin is powerful in the way that whatever format of content you want to showcase in your grids and layouts, it can do it seamlessly. You can use this plugin to showcase your blog posts, display your instagram or pinterest style layouts or showcase your images or videos in any way you desire.
With this plugin installed, you can expect to display your content via internal wordpress media library or from external sources such as Facebook, Youtube and Instagram etc. The plugin also supports your ecommerce ambitions and you can easily showcase the range of products you have on your webstore via grid layouts to your preferred design.
Media Boxes Portfolio differentiates from others with its very powerful filter system. It enables you to even configure your own filtering. These filters can allow your visitors to decide what content is on showcase mode. You are also empowered by this filtering function whenever you have a grid layout to define what content is included in there. We also like the search system function that enables you find items you need very quickly in the current layout. Maximize the filter, search, pop up function together with the load more feature to find your item in double quick time.
This Media Boxes Portfolio still has several features that is worth exploring. Have a look at its live preview and ascertain if this is the grid plugin for you.
Uber Grid provides 12 cell layouts and 6 lightboxes to enable you to create modern content grids for your website, very quickly. Be it creating grid layouts from your blog posts, pages or just adding images grid layouts on your wordpress site, you can rely on Uber Grid.
This flexible plugin allows you to showcase dynamic content or customized content based on your preferred configuration of the grids. For instance, if you like the recent posts from your blog to form a grid, you can easily do do so with the grid layout. You can also showcase your most visited blog post in a grid layout too. On top of these, we also like that Uber Grid enables you to add WooCommerce products to your grids, enhancing the product impression onto your visitors. Of course you can also showcase content from external sources such as Facebook, Pinterest, Instagram, Youtube and also from your own media library from WordPress.
Having control and being able to customize your layouts is an important feature for a grid plugin and Uber Grid has that. The 12 cell layouts provide you with a wealth of options to apply to your grids and you can see how easy it is to do so in the screenshot below.
It also helps that Uber Grid comes with Google Fonts integration and that means you can select from more than 600+ fonts for your grid layout. With the ability to add filtering to your grids and being able to set grid items to open in lightbox windows are some of the factors that made Uber Grid popular.
Nothing beats walking through its live preview and that will help you decide.
Conclusion
We hope that this post has been useful in helping you shortlist your picks for the best grid layout plugin for your website needs. All of them listed here are popular in their own right and you may be torn for choices. A general rule of thumb is to nail down the number one need that you have in getting a grid layout plugin and match that need with the plugin that can provide it best. You may also like to read about the best drag and drop page builder plugins and best spin wheel plugins you can use to get visitor's emails.
Should you need access to a variety of premium plugins to build your wordpress site, do also check out envato elements' subscription plan starting from $16.50/month or Monsterone's subscription plan from $14.95/month.